Go back
How to Build a Nearshore Development Team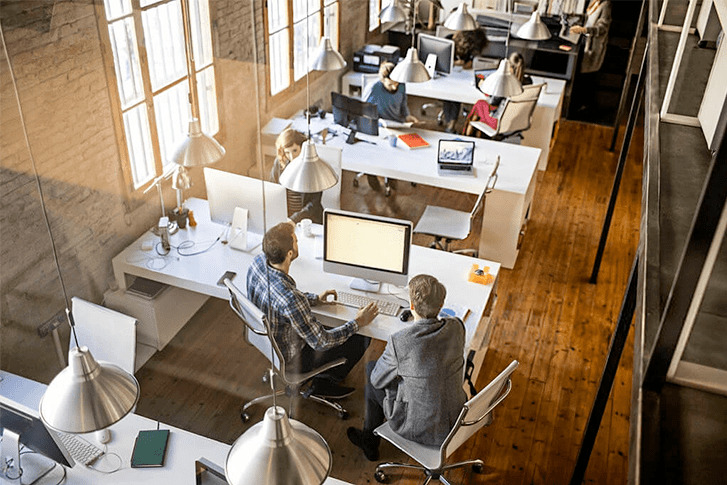 Choosing an outsource developer for a project might seem like a challenging task, especially considering how many companies are out there. Sure, offshoring is a rather popular type of cooperation between the software development companies and remote teams, but this approach is associated with differences in time zones, working on several projects simultaneously, and the overall lack of control over the teams. That's why nearshore software developers might be the best choice for business growth.
What is Nearshoring?
Nearshoring depends on your geographic location - each company that headquarters relatively close to your country and time zone might be considered a nearshore outsourcer. In Europe, Ukraine is the leading destination when it comes to nearshore software outsourcing. Therefore, when considering to outsource in a nearby location with a time zone that is suitable and has a similar culture, nearshore software development is a good choice.
Here's a list of reasons why you should build a team through nearshoring.
1. Avoid Communication Breakdowns
The struggle of communicating with people who live somewhere on the other side of the globe is a common issue. Communication rifts are one of the main problems impacting the development process in such cases. Nearshoring eliminates that problem because team members live in the nearest time zone.
The other side of the communication coin is a cultural and language barrier. It is much easier to work with people who share common values and attitudes, so whenever contracting a nearshore software development company, there's access to well-established communication with the development teams.
2. Actually Meeting the Team
When it comes to nearshore software development, Europe is a relatively small area, so travelling to any nearby country only takes a few hours. This allows easily meeting the development team whenever needed. By contrast, contracting a team from India, for example, provides precious few opportunities to actually meet the team.
In fact, Ukraine is a country in central Europe, so it won't be a problem getting there and meeting the team personally. In European nearshoring, Ukraine is currently the leading destination that has a welcoming business environment and a highly developed IT industry, and that is precisely why so many Western companies aim to be like Ukrainian nearshoring.
3. Better Management Opportunities
It is much easier to manage people when they work in the same building, but nearshoring is a middle ground between full control over the team and the complete absence of control. In hiring a nearshore development team, the main benefit is that the contractor can remain a real manager rather than just a random client who lives on the other side of the globe. Furthermore, there are diverse approaches to take: one can be a manager that can stay in touch with the team or the manager who chooses to visit the team personally.
4. Start Immediately
When ready to outsource software development nearshore, one of the significant benefits of this process is that the team starts working on the project right away. Having a project management plan ready, they may accomplish the first sprint in less than three weeks from day one.
While having an in-house team working on a project is almost always the preferable option, there are certain disadvantages as opposed to working with new teams. First of all, each newly assembled team needs some time to get to know each other. The members of the team might be reluctant to work together, which may require spending some time establishing comfortable conditions of cooperation within the team. In the case of nearshore development teams, there is no need to dedicate time to such things. Team members know each other already, so they will be ready to work once hired.
The main advantage that nearshore software development in Ukraine provides is that local teams of developers consist of highly qualified professionals that work for their companies on a long-term basis. That is why the teams are close-knit and capable of working together at their top efficiency. Also, the contractor doesn't have to handle the adaptation period or team buildings. These teams are already committed to working together and performing at the top of their potential.
5. Augment Your Team
In spite of excellent in-house team management experience and talent pool, the team may still lack a couple of highly specialized employees. In that case, hiring a couple of people nearshore is a simple solution. This only requires hiring a couple of people who have the specific skills to fill the gap and finish the project.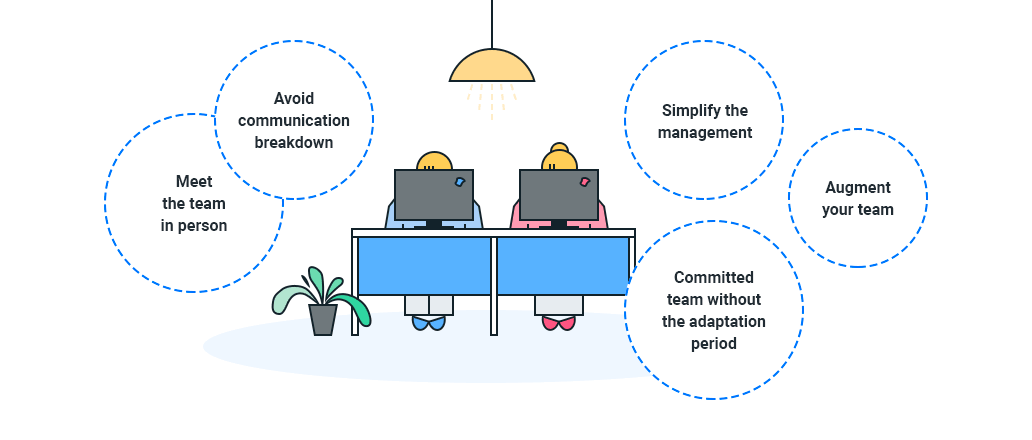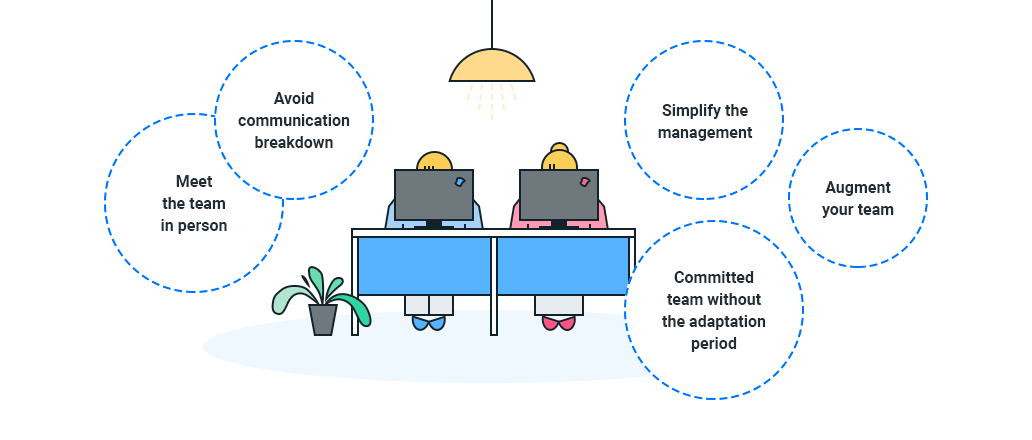 Staff augmentation allows for several advantages over the team that consists only of in-house developers, such as:
a much larger talent pool
all-around flexibility of the team
increased cost-efficiency
limitless potential for the growth of the team
the ability to construct a hybrid team that consists of both generalists and specialists
increased operational efficiency
Staff augmentation is an effective way to increase the efficiency of a team, cut expenses, and bring new talent to the project.
So what is nearshore software development staff augmentation, one may wonder. It is a business cooperation model in which the team leader creates a team consisting of both the in-house workforce and nearshore talents. This is a preferable option for when the in-house team lacks professionals for the project. In such cases, outside talent that would bring all the necessary skills to the team are to be hired.
Wrap Up
Nearshoring quickly becomes the most popular type of outsourcing in the IT industry due to the advantages it provides Western companies. Starting with the convenient geographic location of Ukrainian outsourcing companies and ending with the comfortable conditions of cooperation with the nearshore teams, it is easy to see the evident advantage of nearshoring over offshoring.
Considering the rapid development of the IT industry in Ukraine and a very welcoming business climate, it comes as no surprise that Ukraine has become a leading outsourcing destination in Europe. Nearshoring is the perfect solution for European software development companies that seek to expand their teams and augment their staff involving specialists from the international talent pool. Today, Ukraine is easily one of the best destinations for European nearshoring, so it might be the best shot at trying to outsource projects there.