Go back
All About Bespoke Software: Full Guide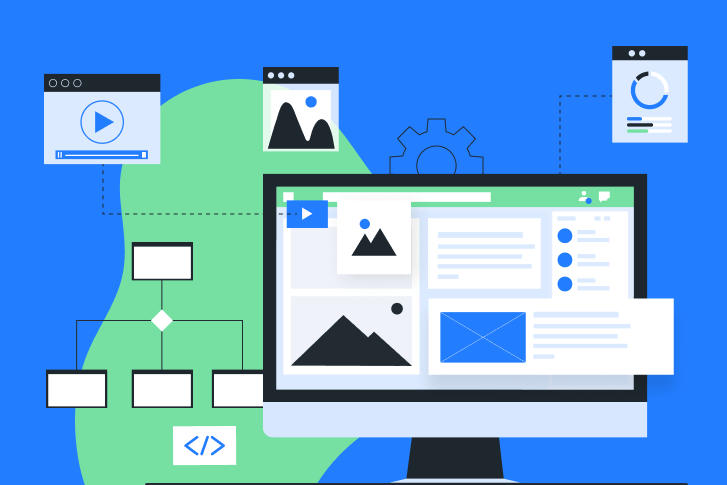 What Is Meant By Bespoke Software?
Each company has its own peculiarities. A conventional strategy isn't always possible. Bespoke software is part of a modern approach to company administration that encompasses resource management, error reduction, and the most personalized bespoke solution possible.
Let's define bespoke software: bespoke vs custom software. Bespoke software adapts to your business's demands and provides the features and optimization you need to give better service to your clients. Customized software is tailored to the needs of the client. Customers' particular needs are discussed with bespoke software programmers, offering bespoke software services. The customer requests a specific set of solutions, then the program is customized by the development team. Expectations and business needs are met by the custom software. These solutions can be used to update and rework existing bespoke IT systems or to operate with old applications.
It's the go-to option for companies who want to stand out from the competition by developing an environment that's unique to them and engineered for maximum efficiency, rather than depending on an off-the-shelf solution as many of their competitors do.
Let's Define Bespoke Software And Give Examples
What Is A Bespoke Service?
Any service that is adapted to the demands of specific client requirements can be considered a bespoke service.
Bespoke Systems Meaning
You can think of bespoke systems as a tool that helps businesses cut expenses, allocate resources to higher-value jobs, and streamline processes. A bespoke system boosts productivity, allowing firms to meet short and long-term objectives faster and at lower costs.
Tailored Solutions Meaning
A tailored solution is built on a deep understanding of the business's processes and industry requirements. Further potential uses and future expansions of the planned solution are updated based on arising demands.
What Is A Bespoke Package?
A bespoke package is customized IT solutions that a company may require from specialized software licenses to high-end computer systems for versatile industries.
Examples Of Bespoke Solutions
CRM – Customer Relationship Management
Monitoring marketing campaigns, setting appointments, maintaining contacts, finding trends, and handling customer care are just a few of the many benefits of CRM. A CRM platform uses a dashboard, as well as numerous reporting and analytics tools, to help business owners keep track of everything that occurs on their website.
Web Portals
A web portal is another useful sort of customized software. Employees log in to learn more about corporate requirements, requests, projects, training courses, and more via company-facing portals. A customer-facing portal is designed to keep clients informed about discounts, promotions, new entries, press releases, and other information. Because of their simplified structure, online portals are far more efficient than managing everything via email and spending a lot of time leaving different messages.
E-commerce Software
Multiple processes may be automated and analyzed using bespoke e-commerce software systems. They assist you in managing inventory and bookkeeping in the manner that your store requires. Meanwhile, they provide your company the freedom to expand on its own terms.
ERP – Enterprise Resource Planning
Your company's expertise informs bespoke ERP software. The creators take into account all of your requirements before creating an ideal product. Many companies want very complicated or highly customized ERP solutions that off-the-shelf software is incapable of providing.
CMS – Content Management System
A good example of bespoke application development software is a content management system. It is designed to meet the demands of the ordinary user, and it allows developers to add new features and improve the product over time.
What Is Off-The-Shelf Software?
Off-the-shelf software is comprised of pre-built programs that can be integrated into your company's system, but it does not have the special functionality that your firm might require. These applications cater to a wider population with comparable demands, but they will not provide effective solutions for specific user groups. Developers employ previously existing methods and do not design apps from scratch, making off-the-shelf choices ideal for individuals on a budget.
As the name implies, it's software that you can use immediately after purchase. These standardized programs are mass-produced and aimed at the general public, and are known as commercial software or ready-made software. They frequently include a lot of features and operations since they are designed for a wide variety of users. Unfortunately, you will not always need all of these features, and you may overlook those that are essential.
Examples Of Off-the-Shelf Software
Customer Relationship Management (CRM): Salesforce CRM, HubSpot CRM, and Zoho CRM;
Enterprise Resource Planning (ERP): Oracle, and Microsoft Dynamics;
Accounting software applications: Quickbooks, Kashflow, and Xero;
Video games: FIFA and Call Of Duty;
Antivirus software: Bitdefender, and Kaspersky;
Generic software: Microsoft, and Gmail.
Bespoke vs Off-The-Shelf Software
Aside from the distinctions mentioned, one of the most significant differences between buying an off-the-shelf product and investing in a custom solution is the level of control you have over your program.
Off-the-shelf solutions are usually accessible on a license or subscription basis, which means you don't own them but are renting them for a set length of time. With custom software, whether developed in-house or by an external bespoke software company, you will have total control over the technology.
It also eliminates the possibility of your software becoming unsupported, which may happen with off-the-shelf alternatives. Furthermore, custom software is frequently easier to maintain, and any faults that arise can be fixed more rapidly, thanks to direct contact with the development team.
Having said that, let's compare off-the-shelf solutions and bespoke software more deeply:
| | |
| --- | --- |
| Off-The-Shelf Software | Bespoke Software |
| Quick to market | Unlimited options for solutions that can be updated according to your business |
| Quick to deploy | No licensing fees |
| Feature-rich | Possible competitive advantage |
| Lower up-front cost | You can start with the core essentials and add features and functions later at any time |
| May meet most of your business needs | A solution tailored to match business needs, processes, and security requirements |
| User communities across the internet and forums provide self-help support | Direct vendor support |
| | No investment in updates and enhancements are fully controlled |
| | You own the software |
| | Possible integration with legacy and third-party systems |
Advantages And Disadvantages Of Bespoke Systems
Benefits Of Bespoke Software
Scalability
Bespoke applications are naturally scalable, they can handle company expansion as well as f scaling down, if necessary. The framework grows with the firm, ensuring a constant ideal fit.
Flexibility
Your customized software solution may be changed and adapted by your software development team to meet new requirements. Businesses must be able to adapt to changing market conditions. This flexibility is ensured by bespoke software, allowing you to stay competitive. As a result, organizations may expand into new sectors, and their customized business solutions can keep up.
Support
Bespoke software development solutions needless technical assistance. Bespoke software is tailored to the company's specific requirements. There's no need to be concerned about a third-party company going out of business and leaving you stuck without support. With bespoke application support, upgrades will take place when needed, rather than according to mass-market demand.
Custom Integrations
Off-the-shelf software is sometimes difficult to integrate with current systems.
Usually, bespoke software developers design new apps so that they can be readily integrated into other current systems, while also allowing for easy deployment.
Better Security
As bespoke software is used by fewer people, there is less potential for security vulnerabilities. You have far more control over how safe your software is with bespoke development. In this way, you'll have military-grade protection. If you have unique needs for how your data is saved and maintained, we can accommodate all of them. In fact, advanced security measures may be included in a bespoke development solution.
Competitive Edge
Because commercial off-the-shelf software is so widely available, many businesses opt for the easy way out. Custom software provides you with a competitive edge, whether it's an internal tool that your competitors don't have, a one-of-a-kind application, or a platform that's unlike anything else out there. Opting for bespoke technology will help you stand out and acquire a competitive advantage over other industry competitors, resulting in a slew of business advantages.
Automation
Customer-centric products and platforms are not the only things that bespoke software development can help with. It's also about developing internal tools to help you automate your tasks and operate your business more efficiently. Even though a large portion of the corporate sector has been digitized, there are still many areas where an off-the-shelf solution is unavailable. Custom software development is the ideal option since it can serve as the glue that binds all of your company's disparate elements together.
Disadvantages Of Bespoke Software
Time
Producing a bespoke app takes time, needs and requirements must be measured and documented, much like a tailored suit. It takes time to gather these business requirements. Likewise, it takes time to figure out how people will interact with the program.
Overwhelming Technology Choices
You won't have to work through all of these choices if you work with a software development business. However, you should have a general understanding of the ramifications of any development decision. These decisions can have long-term domino effects that can lead to expensive problems. That is why it is critical to understand your company model well.
Cost
As we mentioned before, bespoke app development may be more expensive at first. However, having a solution that truly works for your company will almost certainly save you money in the long run. That's because the expenses of bespoke software creation are substantial, so you should only commit to it if you are confident you'll get your money back, or if you have enough money to experiment with a concept without expecting it to pay off.
Need for Support
Long-term maintenance, security upgrades, and new features are all required for customized software. More than a static codebase, think of bespoke software as a living organism. It's not enough to just hand it over to your clients or coworkers and hope for the best. Monitoring performance, ensuring that everything is operating, and keeping your software healthy are all necessary.
Advantages And Disadvantages Of Off-The-Shelf Software
Benefits Of Off-The-Shelf Solutions
Cost
During the earliest stages of the purchase, off-the-shelf software is often the most cost-effective solution. Off-the-shelf software is produced for a mass market, which means the development costs are split among several users. This is one of the reasons why many businesses prefer to purchase off-the-shelf software.
Fast Implementation
All off-the-shelf software is pre-existing. That is, they have already been developed and introduced to the market. Users are not compelled to wait for the developer to complete the project. They may immediately install and utilize the program after purchasing it.
Available Evaluation
Many people use off-the-shelf software which leads to product reviews that others can easily find. Forums are one such place. People frequently talk about problems they have when using the software. Users can quickly learn about off-the-shelf software while searching through forums.
Trials
Because off-the-shelf software is preprogrammed, it frequently provides a free trial to the user. Users may test how the program works before using it. But sometimes the free trial version of the program is no longer available. Users may be required to pay in the form of discounts in order to test software.
Included Updates
All upgrades for off-the-shelf software are carried out automatically. The developer decides the changes. These updates are critical for a software's ongoing maintenance, new features, and bug-free operation. Unnecessarily upgrades, on the other hand, might create system interruptions.
Additional Features
Because commercial software is designed for a broad audience, it must-have features that will appeal to as many people as feasible. This means that if you choose an off-the-shelf solution, it might do everything you and more.
Disadvantages Of Off-The-Shelf Software
Control
Off-the-shelf software does not provide user control. Its authority is controlled by the developer. As a result, even if consumers dislike the features offered, they are unable to avoid them. They must rely on the developer's judgment.
Complexity
Off-the-shelf software is more complex as it must meet the needs of a variety of users. As a result, features consumers either don't need or want are included in the software. For the ordinary user, this makes the program difficult to operate. With so many features and functionalities, it's easy to become overwhelmed and perplexed by the program. Furthermore, with so many features, the product's usability may suffer.
Lack Of Features
A commercial product is designed to serve the largest number of people feasible. Yet even, for a product designed for the mass market, it simply cannot meet everyone's needs. This means the software may lack the functional depth you need for your business. A solution may be a hybrid or custom product, or a combination of solutions.
Lack Of Flexibility
You may sometimes take a commercial solution and make it your own by adding additional features or integrating it. However, this is not always practical, and will almost certainly need the assistance of an expert developer. This means that if you wish to make any modifications to the product yourself, you might not be able to. Even the original creator may not be able to make any improvements to the program, leaving you stuck with an inflexible system.
Scalability
When it comes to scalability, off-the-shelf software falls short. It is software that has already been developed and released to the market. As a result, if you need to grow your business, off-the-shelf software will not allow you to do so. The only choice in this situation will be to use bespoke software.
Compatibility
Another difficulty with off-the-shelf software is compatibility. Off-the-shelf software will not be compatible with all operating systems and devices. Incompatible operating systems may cause the software to crash.
Support
Despite the fact that community support is available for most off-the-shelf products, it's not the case for all of them. The level of support is determined by the size of the software package. Only chats and emails are accessible in some solutions, whereas pricey off-the-shelf software provides 24/7 customer assistance. Make sure to look into the level of support offered for the package you're interested in.
Integration
Because the product is intended for a broad audience, it will fall short of meeting deeper or special consumer needs. It should be able to work with standard applications and read common file formats. However, there are tradeoffs with all software, and thus it's just not possible to build a commercial product that can accomplish everything.
Why Bespoke Solutions Are Unavoidable?
Bespoke business software development is no longer simply a trend used by businesses to make a good first impression, it has become a requirement. Bespoke for business is the necessary choice for companies. If an organization wants to stand out from the competition one of the most effective approaches is to develop a system that's completely unique to them and optimized for efficiency, rather than depending on one already in wide-scale use.
Bespoke software is tailored to your company model, allowing you to minimize friction, and reduce errors, all while enhancing positive elements like enhanced performance and efficiency. Software tailor-made is the key to separating your company from the competition in today's world of innovative technology.
To Wrap Up
Whether you require an off-the-shelf solution, a custom software development project, or something in between, it's critical to weigh all of your alternatives to ensure you are investing where it will have the most impact. However, based on the information stated in this article, it would be fair to conclude that even if off-the-shelf software is adaptable and simple to use, bespoke software wins out because it is highly scalable and tailored to the client's, employees', and customers' needs. In a competitive and dynamic market, it's bespoke solutions that you can always count on to stay agile while remaining dominant.