Go back
Hiring Offshore Developers: Tips & Tricks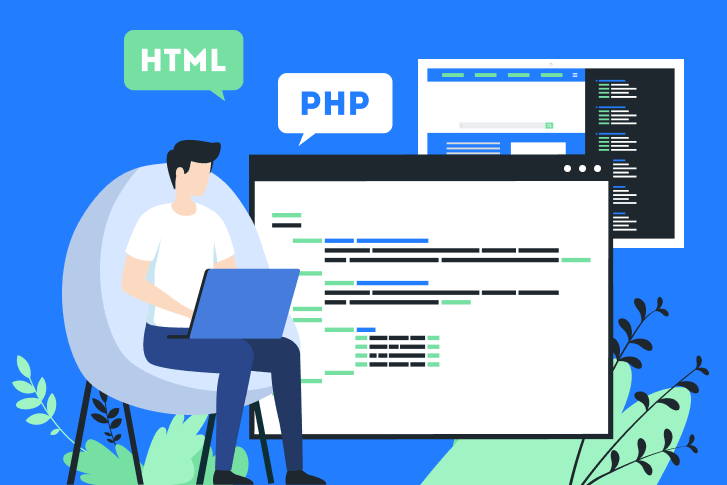 Useful tips and tricks on how to hire offshore software developers: pros and cons, best hiring practices, salaries, and locations.
Choosing the Suitable Candidate & Hiring Tips
Using offshore development services may seem like a tedious procedure, so not everyone is comfortable taking the leap. Daily, more and more companies are experiencing all the benefits offshore developers bring to their projects, so here are some tips and tricks that will help you choose the right candidate for the position, conduct a successful interview, know where to hire offshore web developers, and much more.
How to Hire an Offshore Developer: A Step-By-Step Guide
1. Define Your Needs
First things first, before hiring anyone, you should spend some time identifying who you exactly need, what type of coder will best suit your project requirements, and what your future worker will do. Never rush into interviewing candidates before you clearly outline your needs. Doing so will save you both time and expenses.
Make your priorities clear and analyze whether you need a freelance coder or a dedicated offshore developer, try to identify what they will work on, and create an estimated workflow and schedule for a better understanding of the position. This is crucial in order to find the best skill set for your project.
There are many online freelance marketplaces out there where you can find your potential freelance or contract candidates. Such sources include:
Freelancer
Toptal
Upwork
We Work Remotely
Outsorcely
Gun.io
Remote OK
Working Nomads
Flex Jobs
Hired
LinkedIn
AngelList
Hacker News
Authentic Jobs
Once you have defined your business needs, you will understand what type of developer you need and where to look for them. Here are some pros and cons if you plan to hire offshore development team, a freelancer, an offshore developer, or an offshore development firm.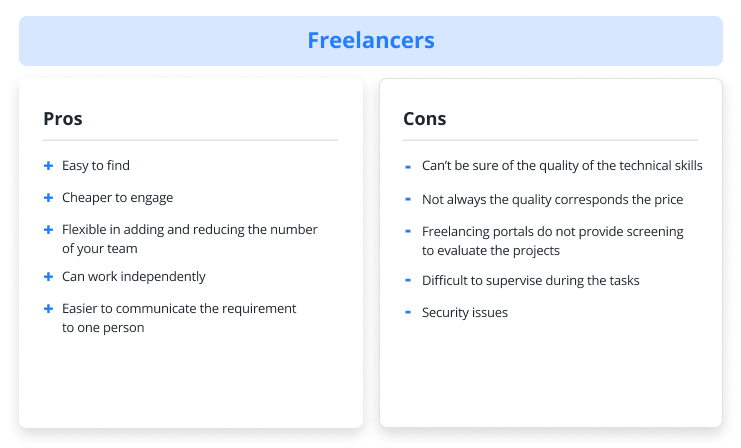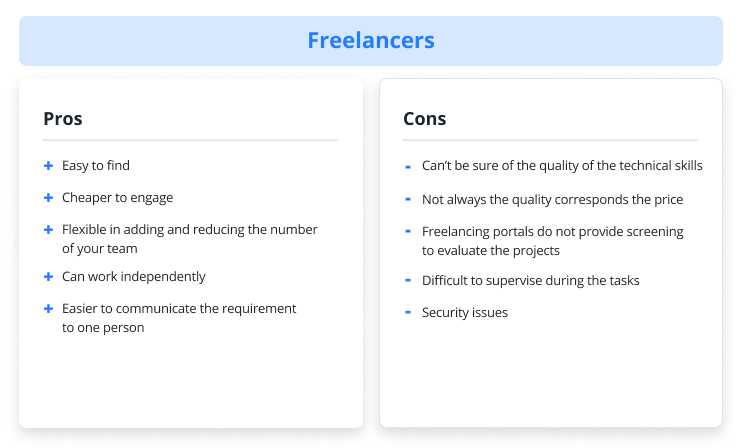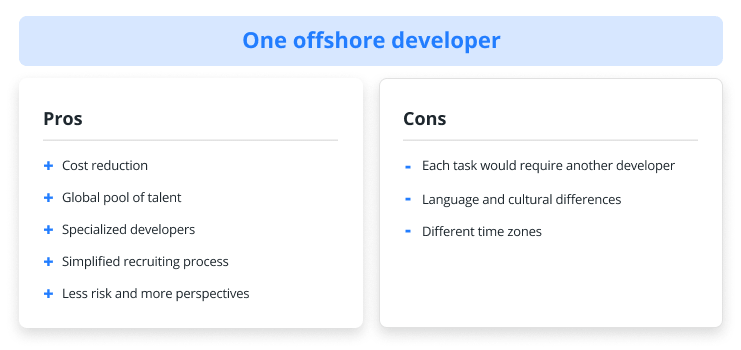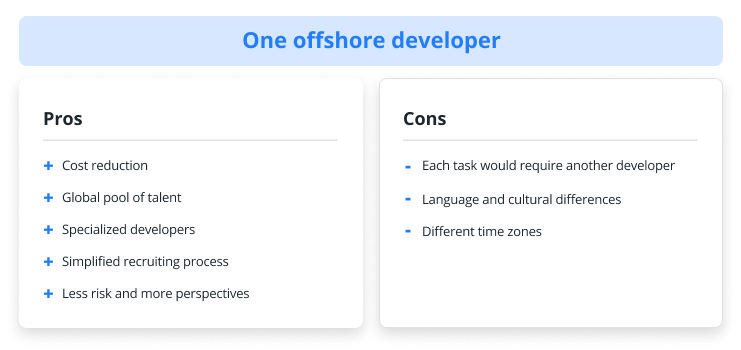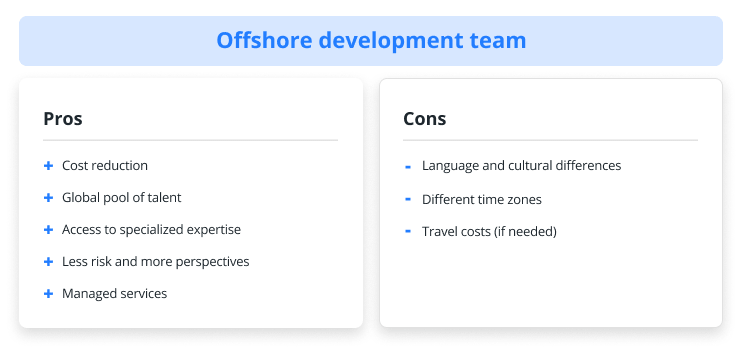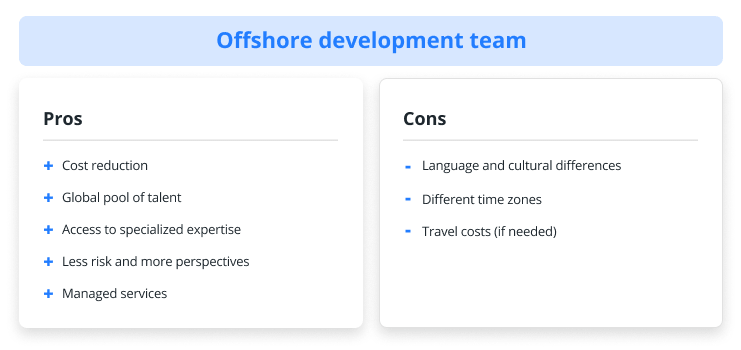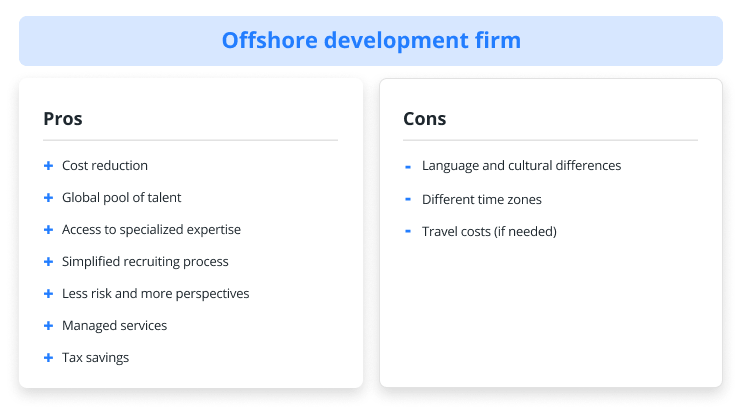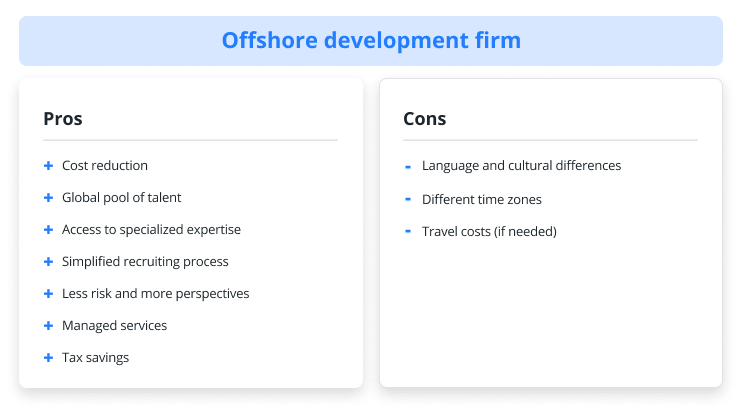 2. Create an Attractive Job Description
Creating an attractive job description is not an easy task. Simply including payment rates and responsibilities is not enough to draw the attention of the most suitable candidates. Make sure to include all the benefits of working with you and describe your company's culture and workflow in order to show that you care about your team. After that, you can carry on with the general description of the position and responsibilities.
To find a devoted developer, be as clear as possible in the job description. You have to specify in detail who your perfect candidate is and what skill set they have to possess to meet your company's needs. Usually, employers write down:
Basic knowledge of the main scripting language that they are looking for, as well as some other programming languages;
Deep knowledge of necessary frameworks;
Knowledge on how to write scalable, secure backend code that meets coding standards for a platform;
Ability to work with other team members;
Ability to write unit and functional tests.
Obviously, your list of requirements may differ, but make sure to clearly and accurately state and describe what you expect to onboard to your company.
3. Job Description Formatting and Key Phrases
Choosing the right formatting and language for your job description is as crucial as its content. Always keep in mind the type of reader that you are addressing your piece of writing to. Take into consideration that your job description may not only interest those who are actively looking for a job, but also those who could move on to their current project for a new opportunity.
Try not to make it overwhelming by writing too much unnecessary information. Instead, it is advisable to use no more than five points when writing a listing. Be practical with the information you want to include and think of some obvious points that are not even worth mentioning. Finally, avoid using clichés as they make your job description sound boring.
4. Write About the Technology and the Work Process in Detail
When creating a description for a software development job opening, it is crucial to include information about what type of technology the company uses. Do you have a QA department? Do you use automated tests or continuous integration? What is the version of your control system? Moreover, it is advisable to mention the development methodology you use in your company, as well as the type of project management software you utilize.
In such a way, you will attract the best-fitting candidates if you describe expert information about the technology your team members work with.
5. Present Your Company's Culture
Introducing your company's culture will help you find the perfect match, as there is no other feeling like being comfortable at the workplace and in the work environment. Developers care about personal and professional growth, so if your company provides that, make sure to point that out. Additionally, include information about the formality of your workplace. Is there a dress code or is your work environment more casual? Does your office offer fun amenities, such as video games or snacks, or is there a strict, formal policy? Moreover, if your company organizes team-building trips or parties and gatherings, it is highly recommended to mention that as well.
Such information will provide a clearer picture to the candidates and those who feel like they will fit in will definitely let you know.
Ask the Candidates the Right Questions During the Interview
Solely relying on the candidate's CV is not enough. Instead, it is always recommended to challenge them to ensure they possess all the skills they mentioned on their resume. Moreover, asking the right questions will define the thinking process of the candidate and their approach to solving problems. Below are some questions you should not omit when conducting an interview while planning to hire offshore app developers.
Check for a Technical Background
Focusing on this aspect is a good way to start the interview. You may ask about the candidate's previous work experience, including the responsibilities that came with their positions. Candidates should be able to discuss their technical background and work experience.
Basic Programming Knowledge
Make sure to identify the basic programming knowledge of your potential candidate. According to the specifics of your project, you should know what kind of developers you need. Do you only need to work on the front-end? Or on the back-end? Maybe you need a dedicated team of full stack developers. Thus, ask relevant questions to the potential candidates to ensure their basic programming skills and knowledge will suit your project's requirements.
Project Experience
When interviewing candidates, you should ask about their project experience. This will give you an insight into whether a developer has worked on something similar and whether they are capable of carrying on with your project. Additionally, it is advised to ask them to show examples of their past or current projects to see the whole picture of the coder's capabilities.
Ask About Completed Certifications and Courses
Asking about certifications and courses may validate the coding skills of the professional and formalize their knowledge of the language. Some of the most valuable certifications are frameworks certifications. However, rely on your project's requirements when deciding what courses and certifications are necessary.
Don't Forget About the Soft Skills
Before onboarding new specialists into the workflow, it is crucial to check their soft skills too. This will give you clarity on how the candidate will interact with other team members and communicate their needs or ideas. Pay attention to the potential employee's attitude to identify how they might respond to stressful situations and their ability and openness to learning new skills along the way. Besides, some recruiting tools can help you identify soft skills, such as tests, which will provide you with information on the applicant's problem-solving and communication skills, among others.
Why and Where Should You Hire a Dedicated Offshore Team?
What Are the Benefits of Hiring Offshore Development Teams?
Outsourcing has become one of the most popular and effective ways of hiring IT professionals. According to Statista, in 2018 only, the global outsourcing market had reached $85.6 billion, which is considerably growing year after year. Moreover, Clutch reports that 37% of small businesses were already using offshore programmer services in 2019. So, what is the reason for offshore outsourcing's such quick success all over the world? Here are some of the most influential factors of why global companies prefer to hire developers overseas.
1. Cost-effectiveness
Before 2020, people considered cost reduction as a secondary benefit, after the quality of service and agility. However, 2020 changed businesses' priorities and made organizations adapt to the situation in such a way that cost reduction is back to being companies' top priority.
Indeed, outsourcing is a much cheaper way to complete certain projects. Instead of spending resources on a full-time employee search, it is more beneficial to contact a developer network that will provide you with the perfect candidate who will meet all your requirements. You are always allowed to communicate exactly what you expect to be done; thus, you pay exactly what you asked for.
Moreover, outsourcing to other countries, such as Ukraine, Poland, or Belarus, will save you a considerable amount of money as the services are cheaper without sacrificing the quality. Here are some examples to compare offshore developers' hourly rates in the United States and Ukraine, Poland, and Belarus based on such scripting languages as Python, PHP, and JavaScript.
Indeed, reports show that the average monthly rates of a full-time coder in the United States are the following:
According to Talent.com data, hourly rates of remote coders in the United States are the following:
Sources report that the average monthly rates of full-time developers from Ukraine, Poland and Belarus are the following:
According to multiple reports, the average hourly rates of remote offshore developers from Ukraine, Poland, and Belarus are the following:
| | | | |
| --- | --- | --- | --- |
| | Ukraine | Poland | Belarus |
| PHP / JavaScript/ Python | $26-53 per hour | $40-56 per hour | $28-43 per hour |
2. Tax Saving
If you decide to hire developers offshore, you will minimize the trouble of filling paperwork. Indeed, when outsourcing, there is no need to worry about taxes, insurance, vacation, and paid leaves. Thus, it does not only represent fewer legal issues, but also less paid labor responsibilities. When you choose to hire offshore team service providers, regardless of where in the world they are located, they are the ones who take care of the paperwork and legal issues. Looking from that angle, it is fair to state that the cost-efficiency of outsourcing is tremendous.
3. Seize New Markets
Hiring offshore dedicated developers from other markets provides the possibility of establishing a presence before your competitors. Thus, you are one step ahead, seizing new opportunities and innovating. Being the first one is crucial in such rapidly changing times.
Pros and Cons of Outsourcing to Most Popular Destinations


Top Outsourcing Destinations for 2021
Eastern Europe has become one of the fastest-growing and popular markets for outsourcing. Many reasons have transformed Eastern European countries into Top Outsourcing Destinations for 2021, such as a wide talent pool, high level of proficiency, and cost-effectiveness, among others. Obviously, India and China will remain the leading outsourcing countries, however, Ukraine, Poland, Belarus, and Romania will make great competition to them, as Atomico reports that $41B was invested in European tech in 2020.
Multiple sources and insights agree on the Top Outsourcing Destinations for 2021 among Eastern Europe, Asia, Latin America, and Africa:
Ukraine
Hungary
Poland
India
The Philippines
China
Brazil
Argentina
Egypt
South Africa
How to Choose the Right Service Provider?
Taking into consideration all the changes that the Covid-19 pandemic brought to the industry, there has been some updated tricks on how organizations should choose offshore programmers service providers while keeping all the benefits and necessities in place.
Spend More Time Selecting the Service Provider
Without a doubt, spending time selecting the most suitable and profitable offshore development services provider has always been crucial. However, now, it is of even greater importance. Therefore, pay attention to your potential candidates' reviews and recommendations to obtain a clearer picture of their capabilities. The key of this process is to both develop modern and agile solutions, and do it fast as the technological trends are changing rapidly. Thus, spending more time selecting providers will definitely help you outperform competitors.
Improve Change Management
If your company is new to outsourcing, you must keep an eye on improving change management to avoid any negative perception. Many have seen failure exceptionally because of this factor. It is crucial to keep employees informed from the beginning in order to smooth the onboarding process and prepare them for the upcoming changes. Focusing on communication and getting your team prepared for the shift will save your reputation, resources, and time.
Focus on Remote Work Culture
If you decide to work with an offshore software development team, you are offering your business the possibility to globally choose among the best coding talents. This is probably one of the biggest perks of outsourcing as you are not limited to work only with in-person providers. Instead, you can look for your perfect candidate in any part of the world if you focus on remote work. You can look for outsourcing providers in countries like Poland, Ukraine, or Belarus, among others, thus getting the most value for your projects and simultaneously reducing your expenses.
Conclusion
With that in mind, it would be fair to conclude that to hire offshore software developers is one of the most beneficial ways of onboarding coders to your team. By doing so, you will get to collaborate with specialists with proven expertise who can deliver the skills your business requires and complete your projects on time. Besides, it offers you the opportunity to extend your in-house team with a dedicated professional who will provide quality offshore web and application development while supporting your team. Or, through offshore development firms, you can hire a whole team of dedicated developers who will take care of your project.
Now that we have discussed all the pros and cons of outsourcing and its best hiring practices, you know what to pay most attention to, and where and how you should invest in offshore developers. Your business will definitely benefit from the full potential of the extensive expertise of coders with a higher cost-efficiency when using all the tips and tricks mentioned above.