Go back
Stepwise Guide to Outsource App Development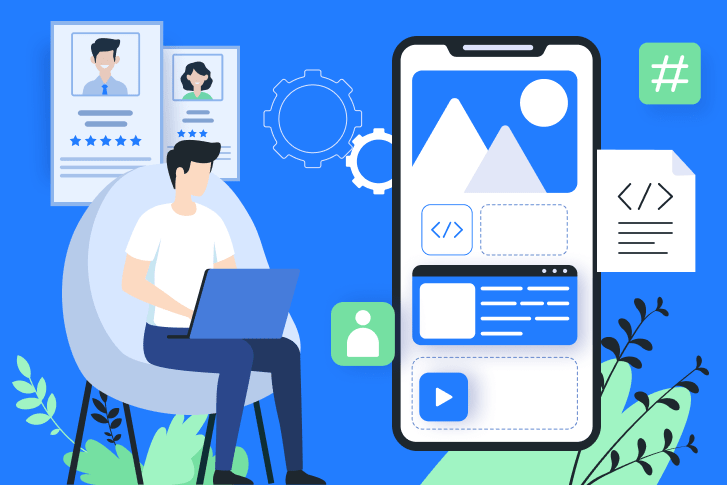 According to estimates, about 5 million applications are already created globally, and these are not only games. Apps have become an industry necessity in healthcare, insurance, real estate, finance, and retail. Unsurprisingly, the request for app developers is flourishing, and most times, outstripping supply.
Fortunately, in today's community, there are no spatial limits to digital collaboration. Therefore, to remain competitive, many businesses move beyond their organization and country to operate, find qualified IT staff and innovate.
The practice in which a business employs contractors to efficiently deliver services, infrastructure solutions, and business processes are called application outsourcing. It has become an essential part of the software and mobile application development industry.
The global outsourcing market size in 2020 was $ 232.32 billion, with a compound annual growth of 8.5% from 2021 to 2028. Large enterprises such as Apple, Microsoft, IBM, and Google have been outsourcing functions such as administration and software development for many years.
Why Do Companies Choose To Outsource?
Companies often think of outsourcing solely in terms of cost savings and solving a problem with personnel, but it can do more than just lower costs. What matters is the value that the contractor's experience will add to the company.
Outsourcing takes care of repetitive and redundant tasks such as staffing, administrative work, and security, thereby saving the company time and energy by allowing it to focus on more important functions that can exponentially increase the company's productivity and efficiency. It is about stimulating innovation and gaining access to new skills that will change the company's position in the marketplace.
These advantages are confirmed by statistics. An IBM study found that "outsourcing clients consistently outperform their competitors on key financial metrics including sales, general and administrative expenses, profit before tax, operating income and return on assets."
Before moving on to the specific benefits of outsourcing, let's clarify the difference between offshoring, outstaffing, and outsourcing to avoid confusion in terminology.
Offshoring Software Development
In this case, business processes - products and services - are performed in some other country. Mobile app development offshore is interesting due to low taxes (for example, Ukraine has tax incentives for IT companies) and lower labor costs.
IT Outstaffing
Outstaffing is a type of remote employment where a company is responsible for all, or nearly all, of an outstaffed employee's time. So, rather than working from project to project, an outstaff team member would be dedicated to one client.
In this way, it allows a client to "employ" a dedicated IT outstaff team member, while the IT outstaffing service provider acts as the official employer that pays benefits, bonuses, equipment, holiday pay, and employer taxes.
Outsourcing Software Development
In this version of the service, the business process is outsourced to contractors who, in turn, model and develop the product entirely from scratch.
Also, the customer can provide already existing ideas, and the IT outsourcing company will be responsible for the development process.
Benefits of Outsourcing Mobile App Development
It would seem that the company should outsource those tasks that it considers secondary and not so important. However, this does not apply to outsourcing mobile app development. On the contrary, companies resort to outsourcing services when they look at the project to be significant. This approach allows companies to hire the best talent with extensive experience and get your app developed at an optimized cost. Here are the most important ones:
1. Compensating for Lack of Skills and Allowing for a Fresh Look
Outsourcing can help a company fill talent gaps when projects require unique skill sets or niche expertise that they don't have in place; and when these capabilities cannot be developed in its own IT department.
Creating high-grade software often requires alternative approaches and nonstandard thinking. In tandem with an external partner, companies can create advanced solutions using modern technologies without mastering them on their own and open new capabilities and business ideas.
2. Improving Efficiency
A business outsources app development projects when its internal team is busy with other tasks. It has been found that nearly half of companies prefer to outsource app developers to reduce the burden on their in-house teams. The company can focus on operational processes and business development.
3. Increasing Development Processes
Adding external developers to your team improves your current processes. If they are familiar with agile methodologies, they are ready to provide valuable advice on any issue.
4. Shortening Time to Market
In a competitive business environment where rapid innovation is critical, and first-to-market can be a critical success factor, outsourcing is the best solution to speed up software development.
5. Raising the quality of the product
Well-built quality control processes in outsourcing companies provide reliable, thoroughly tested solutions. Suppliers are responsible not only for quality assurance but also for ensuring that the supplied code matches the parameters of your project.
6. Easy scaling of teams
Outsourcing allows you to save on the processes of hiring and firing employees. The outsourcing company is responsible for planning, hiring, as well as taxes and payroll, and also manages schedules, quality control, results, and communication.
7. Cost-effectiveness
Research shows that outsourcing can save up to 60% overhead costs. By partnering with outsourcing teams, companies save on IT ecosystems, rent and corporate events, benefits, and other payments. Development agency fees include the cost of equipment, maintenance, and developer services.
Key Outsourcing Statistics
Nearly 54% of all businesses attract support teams to connect with customers.
Around the world last year, $75.2 billion was spent on security outsourcing.
There are 59 million freelancers in the US.
78% of companies around the world have a positive attitude toward their outsourcing partners.
93% of organizations have already implemented cloud services to improve outsourcing.
45% of IT outsourcing companies say their IT outsourcing projects save money.
46% of respondents answered that outsourcing gave them access to skills that the company did not have.
It is estimated that "bad code" costs companies an estimated $85 billion a year, so getting the proper hiring is necessary and efficient.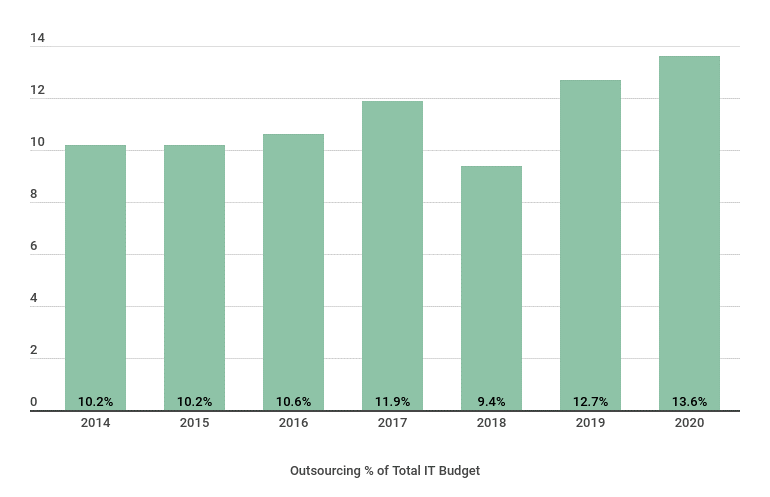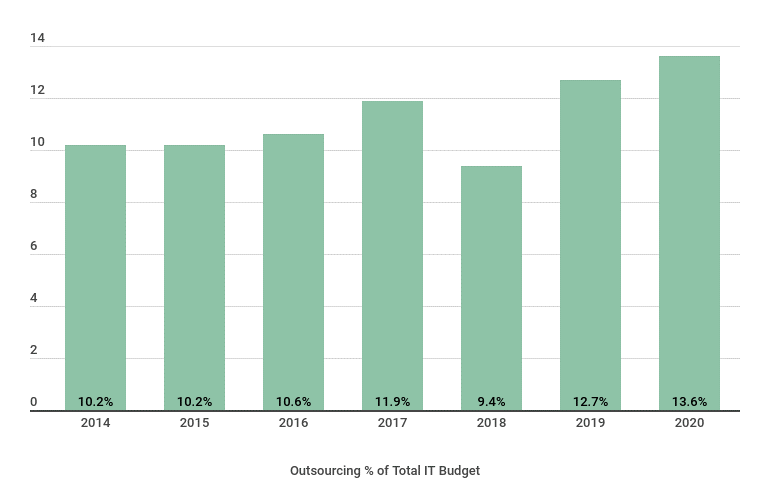 In-house Development vs. Outsourcing
Outsourcing app development has become popular worldwide, and even large industry giants are hiring teams of contractors to implement their projects.
However, some enterprises with long-term projects prefer to rely on their app development team, which knows from the inside about what is happening in the company.
| | | |
| --- | --- | --- |
| | In-house App Development | Outsourcing App Development |
| Expertise | Narrow level | High level |
| Speed | The less flexible development process | Fast time to market |
| Communication | Seamless and transparent | Geo and language barrier |
| Quality | High level of professionalism | No 100% guarantee of the project quality |
| Security | Better coordination and control | Possible problems with privacy and/or security |
| Resources | Lack of the demanded skills | Better opportunities to find an exact match for your project |
| Cost | Higher cost of management and app development | Lower cost and flexible app development |
Of course, both options have certain pitfalls.
For your own development team, you need to invest time and effort in managing your team, training, and hiring processes.
Second, maintaining your own development team is more expensive than hiring a vendor. You need a multi-talented staff to manage all aspects of a project, and this increases the cost considerably.
As far as the disadvantages of outsourced software development are concerned, there are several points to consider.
First, you may not know the actual capabilities of the company, or it may be in another country. So there are no guarantees that the result will thoroughly satisfy you.
Second, there is a possibility of misunderstanding in communication, and controlling what happens to the project is more complicated.
Outsourcing App Development Options
Senior programmer
When looking for technical help for your team, you can hire a senior programmer with years of practice who can keep technical processes running smoothly and efficiently manage teams. Hiring will require a salary and, in some cases, about 5% of the shares.
Freelance developer
When you hire a freelancer, you are hiring a person who may be an experienced developer, but the management problem is not closed. Best application developers proffer attractive hourly rates and experience. However, guarantees and measures to protect customers are in question, which could jeopardize the entire development process.
When you need a simple application, freelance developers who make use of platforms and technologies can come in handy.
Technology partner
Building an app by a software company provides more flexibility than out-of-the-box solutions, as well as better quality and time to market and less risk than freelancers. Whether you need a custom solution or a complex application, outsourcing software development to a trusted company is the right choice.
This option can be more expensive than freelancers and solutions from the box. But keep in mind that the development company will charge only for work done.
Ready-made solutions
This is usually the cheapest option and the fastest to start, but such solutions are difficult to customize and integrate if you need to switch to another system. Moreover, ready-made solutions do not imply quick changes or updates in response to market needs, which do not correspond to business needs.
If your task is to create an application for an existing business and there is no need for something unique and individual, a ready-made solution may be for you.
If in your particular case, the choice is unclear, perhaps the following considerations will help you:
If you need different skills to create a product, you will require freelancers, even if you have a technical co-founder.
A lot of successful startups have a tech cofounder who runs several freelancers.
In some cases, you can promote an effective freelancer to co-founder. But don't involve too many co-founders. This can decimate the cost of a stake in your business. So, regarding how to hire an app development company, read on.
Steps to Hiring Outsourcing App Development Team
There are many offers on the outsourcing market, and you can choose the cooperation model that best suits the needs of the project. The choice of outsourcing application model depends on:
Planned schedule.
Desired budget.
Scope of work:
app-only development;
development, maintenance, and regular updating of apps;
app development and maintenance.
The number of required functions
The amount of time a product owner can spend managing a team
Experience of the team in a specific area of ​​business and knowledge of particular rules in this area
Willingness to take on a partial project and coordinate efforts with another team (if necessary).
Step 1: Describe Your Projects Requirements
Before choosing who will turn your idea into a solution, you need to find out:
Business requirements. Explain the purpose and business concept of the future mobile app, as well as the goals of the end-users.
User needs. Think through all the interactions between the user and the app - roles, app priority functions, etc. This will help developers determine which features are essential and which might be added in a later release.
Application requirements. Identify product characteristics that will meet the needs and expectations of your business. These include:
Functional requirements or how a product should perform in different situations. A specification document can consist of administrative functions, transaction adjustments, types of authorization levels, etc.
Non-functional requirements or application properties include operating systems and device types, performance, permissions, and security requirements.
Step 2: How To Outsource App Development with A Vendor
As the IT industry grows every day, so do the number of ways to search outsourcing companies. The most in-demand channels are:
B2B directories like GoodFirms or Clutch. The list of application development outsourcing companies, grouped by rating, experience, and location. Clutch, the most famous B2B platform, includes advanced search categories, categorization, and testimonials from previous team clients.
Freelance websites are flexible online platforms that bring businesses of all sizes together to proffer solutions to any hiring challenge. The most popular are Upwork, Guru, and Golance.
This largest social, strictly professional network helps to find and connect with the right people and establish professional contacts for development in any field.
Websites and blogs. Development teams typically maintain technical blogs with tips and case studies showcasing their expertise in application development. If the company's experience matches your project idea, you can always contact them through your preferred channels.
Step 3: Vendors Evaluation
Outsourcing is an important strategic step toward competitive advantage. But for the cooperation to be mutually beneficial, you need to make sure that it guides the supplier company in the tasks that will be entrusted to it.
To get a complete picture of your future vendor, you need to study:
Reviews and testimonials
Start by looking at company reviews on specialized websites and ask the supplier which customer to contact for a recommendation.
Solutions stack and required experience
Make sure the team has experience using the technology required for your application, and the company has experience with clients from the same industry as you. Browse their portfolios with appropriate examples of similar projects.
Interaction process
Ask how the vendor provides transparency in the development process, what communication or management tools will be used, and what results will be achieved. You should clarify intellectual property and app approval in stores, as this depends on the app's quality, not just the business.
These four key points will help you list potential outsourcing partner candidates and cross out the least reliable ones.
Industry certifications
Check on the list of independent ratings and see whether your would-be vendor is recognized as a supplier of high-quality software engineering by trusted organizations. Find out if they have partnered with leading companies and developed products for the industry you need.
Step 4: Choose Service Model
There are different approaches to engaging and paying, and you need to choose the most comfortable type for you based on the characteristics and capabilities required. Below are the three most commonly used interaction models:
Project-based model
The design model also named the end-to-end development model, involves a dedicated team building an application from scratch. This typically includes a project manager, designer, business analyst, quality assurance engineer, and developer. All of this provides coverage, flexibility, and ongoing support after product release.
Choose this model if:
You have an idea of a product and want to entrust the entire development cycle to specialists to establish a reliable process and give recommendations for a successful result.
You want to focus on other matters such as marketing or different business needs.
You want to plan the project's cost in the company's annual budget, meet the investment needs, and outline a more accurate financial perspective.
You don't have the right people, and you need a team for the entire development cycle from business analysis to a go-to-market product.
Service model
The service-driven model involves team joining at some point in the product lifecycle, for example, if you already have a finished product or application and want to test it before launching.
As a result, you get a highly focused, high-level expertise that allows you to achieve an accurate result.
The supplier is only responsible for a certain amount of work and not for the entire final product.
Extended team model
Team Expansion, or Team as a Service (TaaS), will come in handy if your team doesn't have enough professionals. This gives you the skill set you need without the cost of hiring new permanent employees or expanding. You are hiring a remote team of experts to work with you directly.
The supplier will be in charge of recruiting, negotiating, and staffing, but choosing whom to hire and the basic requirements are up to you. This could be a new division for your business needs and an improvement to your local team.
TaaS model will be optimal if:
You are tech-savvy and can customize the entire development process yourself.
You need to expand your in-house team with experienced engineers quickly.
Choosing a payment model through outsourcing
After choosing the most suitable type of interaction, it's time to decide on the payment part.
Fixed price model
Using a fixed-cost pricing model, the supplier must ensure that he receives complete and complete information about the final product. Detailed information is required from the beginning before starting work on the project, so all requirements must be defined and recorded. Typically, with a lump sum contract, the business knows the project and provides this data to the service provider from the outset.
Time and material model
This is the most flexible and attractive approach to IT outsourcing, as the pricing model is based on the actual time spent by the service provider. The price for time and materials can be lower than with a fixed price pricing model. The supplier estimates the next iteration by forecasting the budget, so the customer knows in advance how much and for what he will pay. Each time iteration is carried out, the team revises development priorities.
Briefly About Industry-Leading Mobile App Development Frameworks
The mobile app industry is undoubtedly transforming the traditional business process. And besides picking suitable executors, it's also essential to choose the right platform for cheap mobile app development.
Modern mobile application development frameworks have many built-in advantages, such as efficiency, a fully secure environment, and a fast development process. The framework renders the application for the desired platform with developer code using built-in components such as debuggers, programming interfaces, toolkits, and compilers. Here is a list of frameworks that are in demand in 2021.
Ionic
This platform is for building progressive hybrid, web, and cross-platform mobile apps, built using Apache Cordova and Angular. The advantage of Ionic is that it uses multiple UI elements in app design, such as filters, forms, views, navigation menus, and action sheets.
Flutter
Google created this open-source platform for building native Android and iOS apps with a single code base. Flutter is a complete framework that includes a rendering engine, testing, widgets, and API and tool integration.
Xamarin
It is an open-source platform from Microsoft for developing native high-performance applications for Android, tvOS, macOS, iOS, and watchOS by the .NET and C # programming languages. The framework allows developers to build an ecosystem with APIs, back-end, components, and more, using many tools and libraries.
Adobe PhoneGap
PhoneGap is a widely used platform for developing cross-platform mobile apps. The core of the framework runs on HTML5 and CSS3 and allows you to write a single app that will be installed as a native application on multiple devices. When Apache gained this mobile app platform, it was renamed, Apache Cordova. Compared to other frameworks, PhoneGap has a smoother learning curve.
JQuery Mobile
It is a hybrid mobile app development environment that helps you build platform-independent apps. The platform uses JavaScript and HTML libraries to create responsive websites that run on a variety of devices. JQuery utilizes an HTML5 based framework and ThemeRoller to offer custom themes for mobile apps and web apps. JQuery Mobile comes in two flavors, namely a stable release and a custom framework.
React Native
In this cross-platform app development environment from Facebook, developers seamlessly build iOS and Android mobile apps. It proposes reusable components, integration with third-party plugins, and the ability to develop a component-based GUI.
Sencha Ext JS
The framework for developing HTML 5-based mobile application interfaces reduces the burden on developers as it does not require extensive or in-depth knowledge of complex programming languages. Sencha Touch's UI architecture is based on the MVC pattern that decouples view and application data. The exceptional features of this framework are the built-in DOM management interface, highly responsive interface and themes, and a wide range of components.
Swiftic
With this easy-to-use IDE, developers don't need to dive deep into coding. Swiftic comes with many ready-made components and features and offers a user-friendly interface, smooth navigation, advanced analytics, and expert help.
Native Scripts
With NativeScript, you can develop native iOS and Android mobile apps from a single codebase and experience native performance with guaranteed access to all iOS and Android APIs. NativeScript uses JS, Angular, SML, Vue.js, CSS, and provides access to all native APIs instead of using web views to render the UI.
Apache Cordova
An open-source platform that allows web developers to use HTML, CSS, and JavaScript content to build apps for various mobile platforms by displaying them in their own WebView. The benefits are reusable code, support for offline scripting, and access to native device APIs.
Most Used Mobile Frameworks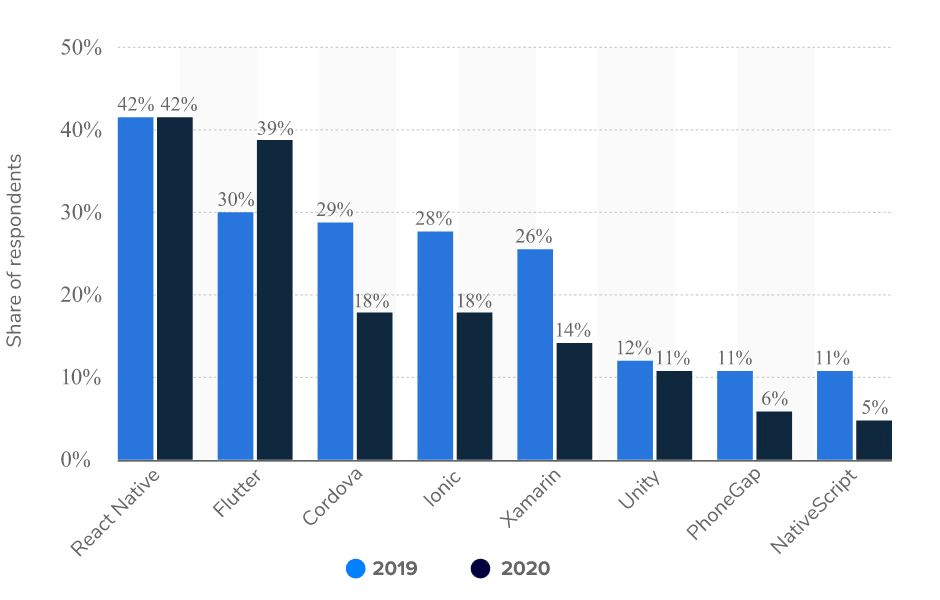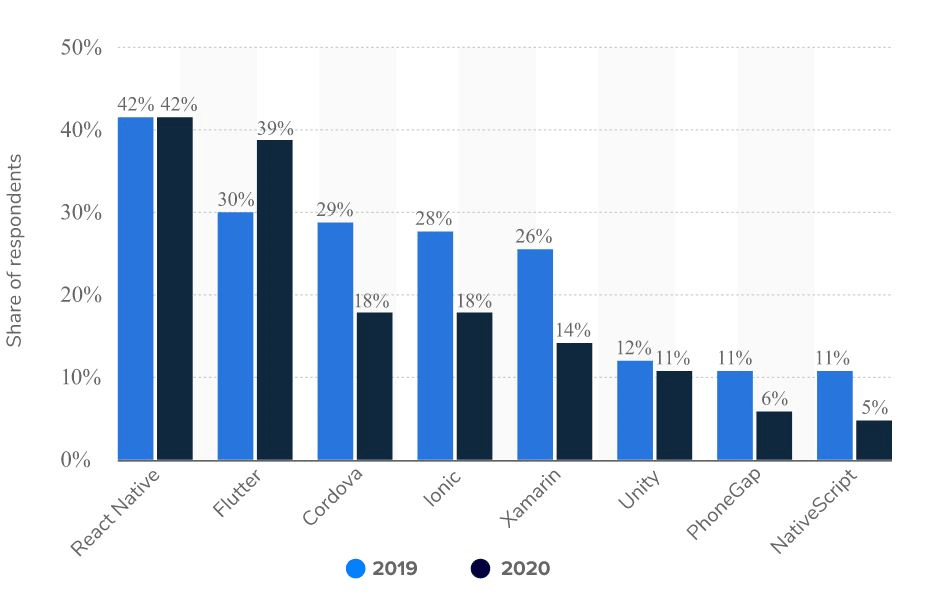 How Much Does It Cost To Outsource App Development?
Large companies like Skype, Slack, and Google have been outsourcing for many years. And most of all, in software development outsourcing, they like the price.
The outsource app development cost depends on many factors, comprising the complexity of the applications, features, platforms, tools, and so on. Even the location of the application development outsourcing company affects the overall cost. As you know, offshore mobile developers from Ukraine charge lower prices than those from the US and Western Europe. Therefore, it is the best place to outsource to reduce your software development budget.
Depending on the functions or type of mobile app, the cost may vary:
Outsource Mobile Developer Salary Comparative Table
Average Hourly Rates

Region

Years of experience
IoS
Android
Ionic
React-Native
Xamarin
Flutter


Ukraine

1+
$35
$35
$22
$27
$32
$37
2-3
$61
$60
$52
$52
$57

$50

3-5

$80
$80
$108
$78
$81
$80


Asia

1+
$41
$26
$22
$27
$27

$25

2-3

$50
$45
$52
$59
$45

$40

3-5

$75
$60
$75
$75
$75

$60


Eastern Europe

1+

$41
$30
$47
$37
$30

$35

2-3

$60
$56
$52
$54
$65

$70

3-5

$100
$70
$107
$70
$80

$90


EU

1+

$61
$70
$70
$70
$60

$70

2-3

$81
$80
$80
$85
$76

$90

3-5

$120
$120
$107
$110
$100

$110


North America

1+

$60
$60
$42
$51
$30

$87

2-3

$80
$80
$52
$61
$61

$112

3-5

$120
$120
$120
$120
$100

$170


South America

1+

$41
$41
$45
$40
$35

$30

2-3

$60
$60
$60
$60
$60

$50

3-5
$80
$80
$75
$75
$70

$70
Conclusion
Outsource app development can be a boon for your business, as it is a strategic step toward gaining a competitive edge and growing the business itself. It is the best solution for startups and medium and large companies. But although the demand for IT services is growing exponentially, finding the best affordable app developers you can rely on is challenging enough.
We can offer you a combination of experience, technology skills, portfolio and confirming customer reviews, and customer-friendly pricing for app design outsourcing projects. With our qualified development team, you will have additional flexibility in scaling your project depending on the development stage, and you can choose the collaboration model that suits your requirements. Please contact us for the cost of getting an app-developed project evaluation or technical advice.