Go back
What Is A Web Portal And Why Does It Win Over A Website?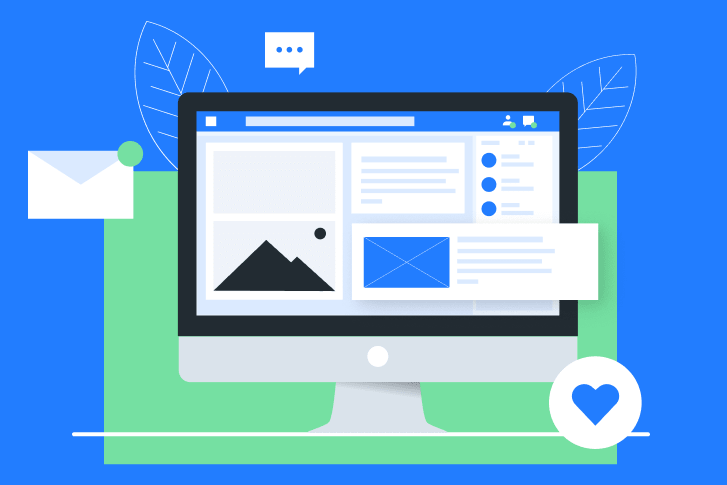 To remain competitive in rapidly evolving markets, businesses are more and more fond of IT-based systems that help them automate everyday tasks, track operations, manage staff, communication, and customers, as well as collaborate, manage documents, etc., in other words, increase operational productivity.
Not everyone can spot the differences between websites and web portals. Both are incredibly useful and important platforms, however, they are used for completely different purposes. Web portals and websites are indeed interlinked as they both are web-based. However, websites are a collection of web pages accessible to anyone, while web portals only offer specific groups of users to dig into their world and benefit from their services.
In this article, we will provide answers to all the questions regarding web portals that probably have been bugging you. But, more importantly, we will discuss in detail the difference between portals and websites with examples in order to find out why web portals win over websites.
What Is A Web Portal, Or What Is A Portal Website?
Web Portal Definition
A web portal serves as a single place of access for data, its control, and procedures. It operates as a web application built into websites, only giving access to relevant people by login into the repositories of business internal data and services.
A web portal design provides the opportunity to customize and simplify the communication between organizations and their customers, and offers such features as business intelligence, application integration, task management, collaboration, search navigation, and transactions, among others.
In fact, thanks to the opportunities they bring, web portals are highly beneficial for enterprises and organizations, improving their efficiency and productivity, saving them considerable costs, and helping them maintain long-term relationships with customers. For example, web portals can be available in the form of dashboards for executives and managers, allowing them to track their employees' activities and better organize the workload. Additionally, they are available on the majority, if not all electronic devices, including smartphones, tablets, and personal computers.
What Is Portal Development?
A web portal development requires advanced programming skills as a portal is the central point of access for a wide range of information for specific users. This process includes both client-side and server-side programming, progressive site building, secure registration system authentication and verification, high-quality security testing, and much more.
Many businesses need different web portal solutions to meet their objectives and benefit from all the possible advantages offered by the platform. That is why it is important to find a well-trusted software development team that will be capable of delivering a web portal with all the necessary features and functionalities, such as document management, event scheduling, contact information gathering, workflow tracking, instant content publishing, etc. Moreover, they must know how to develop a highly functional portal that is easily managed and accurately set up.
Features
Web portals are known for bringing a bunch of benefits to their users through multiple features. Here are some of the most important functionalities and capabilities of a web-based portal that everyone should know about:
Simplicity in accessing information
Simplicity in looking for information within the portal
Single sign-on (SSO)
Forms and workflows that automate manual and time-consuming tasks
High security that can be centrally applied and enforced
Analytics based on user behavior
Mobility
Integration with existing systems
Social networking and collaboration tools
Customization and personalization
Simplicity in content and documents management
News feed and bulletins
Notices and acknowledgements
Different Types Of Web Portals
There are two main types of web portals: horizontal and vertical.
Vertical portals, also known as vortals, focus on one particular market. They provide tools, statistics, research, articles, and other pieces of information according to a specific industry. Someone looking for information about a particular topic will come across such types of portals and find them useful. University and bidding portals are some examples of vertical portals.
Horizontal portals focus on a wide range of topics related to multiple industries. They provide various information to a general audience and guide their users toward more related resources in the spheres of their interest. Educational, governmental, and corporate portals are some common examples of horizontal portals.
Web Portals Examples
Web portals are immensely helpful when it comes to bringing information from several sources and allowing to share content within customers, departments, and so on.
They are very much associated with B2B, B2C, and internal company portals as they match various industries' uses. Independently of their type, which we discussed above, web portals are always embedded into websites that store information in the cloud. In addition, organizations use portals to simplify and automate the workflows. Below are some examples of the most commonly used web within companies.
Sales Portal
A sales portal is used by organizations to plan and conduct their sales. Through the portal, all the sales teams can easily collaborate and track all the activities and interactions with the customers. One of the greatest features of a sales portal is the possibility to share all the documents and other necessary sales tools to keep the performance smooth and robust.
CRM Portal
More and more organizations turn to customer relationship management (CRM) portals for their marketing and sales teams to store important customer data for running smooth operations. Besides, CRM portals help synchronize the workflow of remote employees and internal staff when implementing strategies and campaigns with real-time data.
HR Portal
HR portals help organizations that use collaborative and centralized methods when managing human resources activities. Such systems let HR staff easily communicate with executives who have access to the personnel's data, such as their schedules, compensations, taxes, and so on within the organization.
Intranet Portal
Intranet portals are enterprise-level applications that perform within a company's intranet to help employees access the internal organization's data through the intranet website. To access the company's internal data and services, it is necessary to perform the login mechanisms. They provide the possibility to learn about the latest news within the company without using external sources, to get involved in professional processes online, take part in learning, collaborate, and so on.
Corporate Portal
Corporate portals are something in between a B2B and a B2C portal. They allow access to internal organization data to both business associates and clients.
Extranet Portal
Extranet portals are designed to grant external parties access to internal data and services via a website linked to the system.
Membership Portal
Membership portals offer unique services for subscribed members of an organization. With such, customers can log in to the member area and get access to special materials of the organization, such as documents, entertainment activities, training materials, music, and so on.
Customer Portal Solution
Customer portals allow clients to access data from an organization's services or to pursue their purchases. Simultaneously, they help companies streamline interactions and processes with customers, which may increase customer retention.
Project Management Portal
Project management portals allow executives of different levels to manage the documentation as well as monitor the projects´ timelines and budgets. In addition, such portals allow sharing documents and data externally.
There are much more types of portals depending on the content that they offer and their usages. We can differentiate such web portals as:
Search Portals
Government and Federal Portals
Stock and Financial Portals
Enterprise Portals
Bidding Portals
Cultural and Trade Portals
Website Vs. Web Portal
Exemplified Differences Between Portals And Websites
Even though both platforms have a web-based interface, it is important to differentiate between a website and a web portal. Indeed, websites and web portals are two different terms with each their proper features and advantages.
Websites are located on the internet and can be easily accessed by anyone. They are globally visible and any user can perform any tasks if it is supported by the website. Moreover, there is no need to log in to see the website's content, which in most cases is aimed to educate about an industry, products, and services. They are used for many purposes, such as shopping, making online payments, searching for information, and are useful for businesses to reach out to their target audience and improve their online presence. There are three different types of websites:
Static Websites are those that contain fixed content. Regardless of the time of the visit, the content of a static website always remains the same.
Dynamic Websites are the ones on which the content is updated automatically, which means that each time the website is visited, the content is renewed.
Interactive Websites are the ones that interact with the visitors. Users are allowed to provide feedback and/or leave comments. Interactive websites are rich in appealing content to retain visitors' attention.
Web portals are privately located on the internet and require login IDs and passwords most of the time. They assist organizations in managing their workflows and sharing, reusing, and interchanging information. The content provided by web portals is frequently upgraded and dynamically changed and can be gathered from multiple sources. Besides, its visibility changes from a user to another.
Websites and web portals differentiate in various ways.
On the one hand, websites focus on driving traffic, and on the other hand, web portals are meant for specific users.
Websites are available for anyone and do not require a login ID and password from the users who visit them, while web portals require authentication and are available only to those whose specific credentials are different for every user.
According to the type of website, the content can be both static or dynamic. However, the content on web portals is always dynamic. Therefore, each time a user decides to visit a portal, its content changes.
Because of the information that both platforms obtain, their security mechanisms differ. As the website content is available for anyone on the internet, its security mechanisms are simpler. However, web portals feature internal business data, customer analytics, documentation, and so on. Therefore, the platform requires complex security mechanisms on every layer.
Key Differences Between A Website And A Web Portal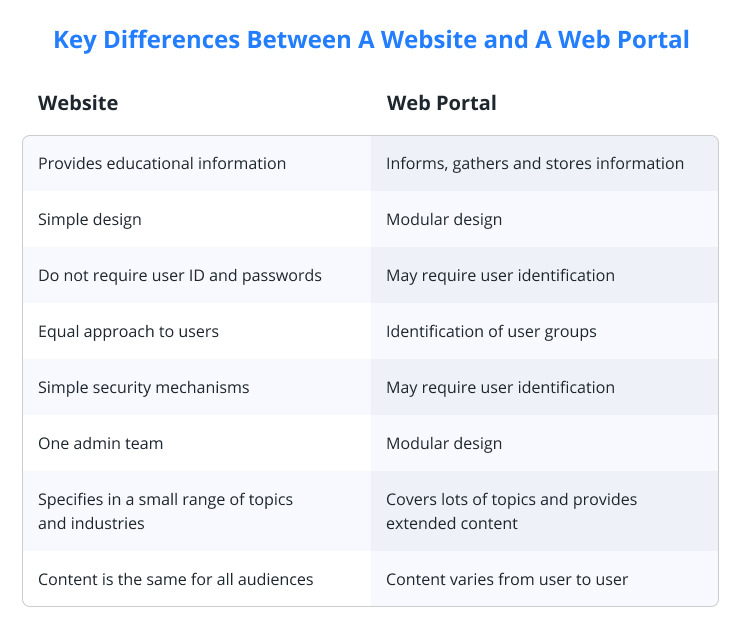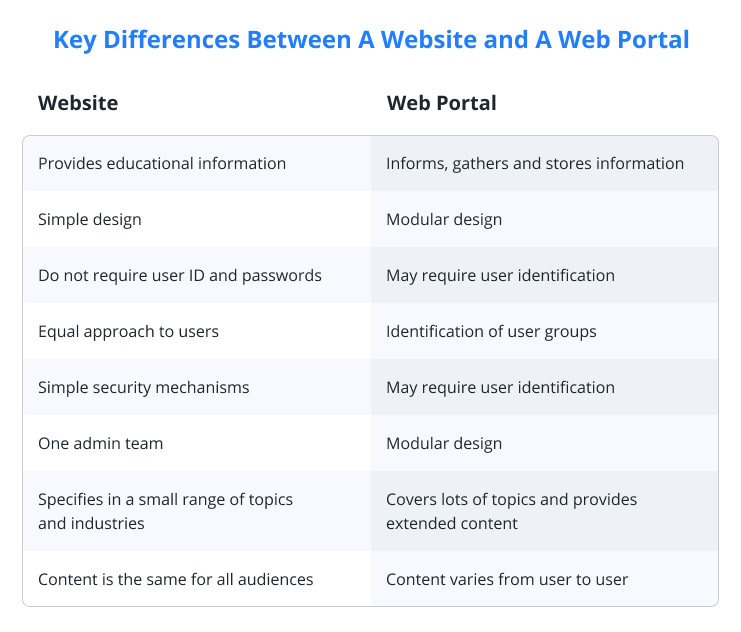 Both websites and web portals are beneficial in certain business contexts. However, there are still some overlapping functionalities when it comes to both platforms. For example, websites can create personalized user experiences by applying content targeting and other tools. Meanwhile, web portals can have some public pages that do not require visitors to log in to see the content. It is very much advisable to identify the goals and necessities of your business before investing in a website or web portal development in order to find a solution tailored to your business needs and industry.
To have a clearer picture of both solutions, here are some of the most perceived advantages and disadvantages of both websites and web portals.
Pros & Cons Of Websites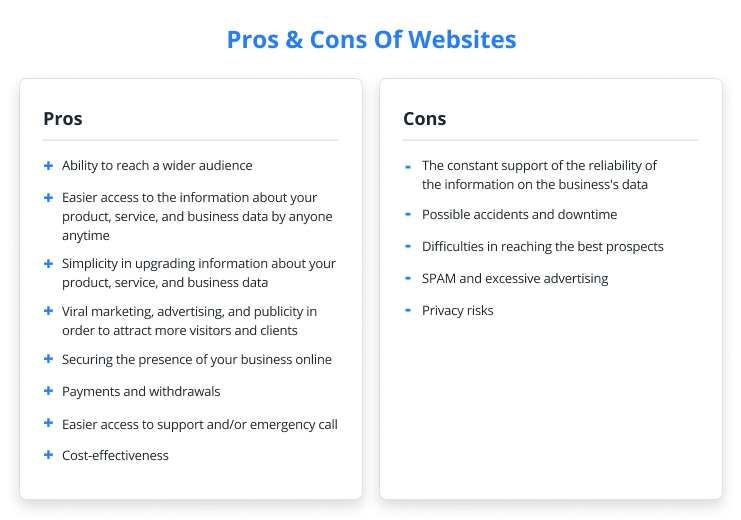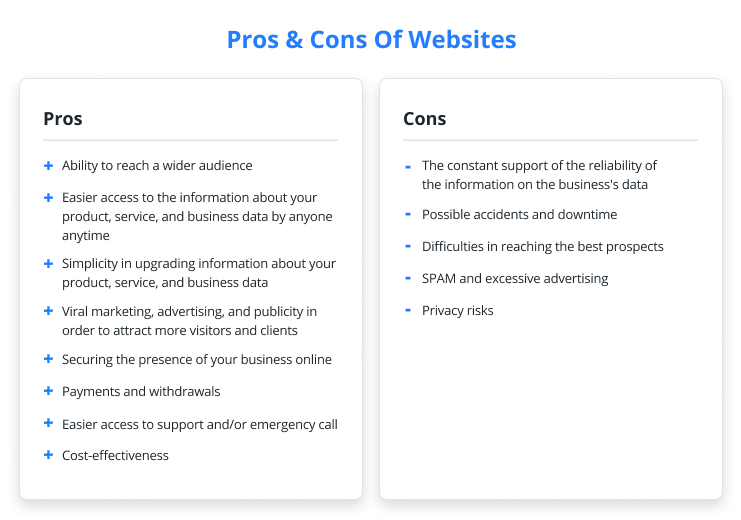 Pros & Cons Of Web Portals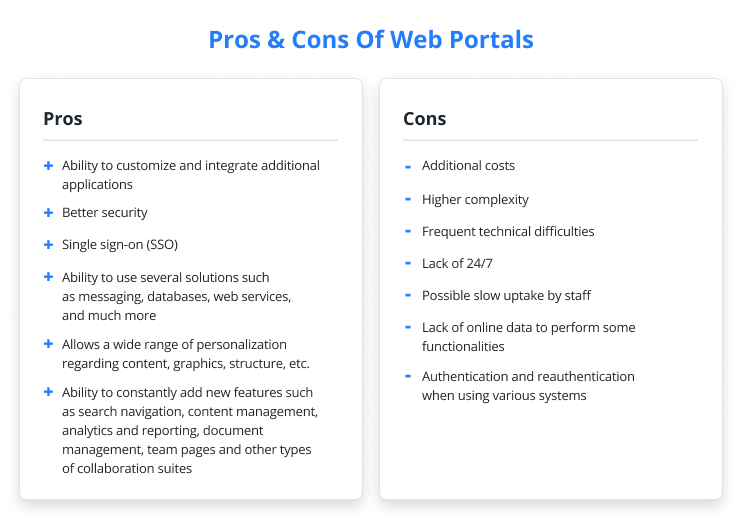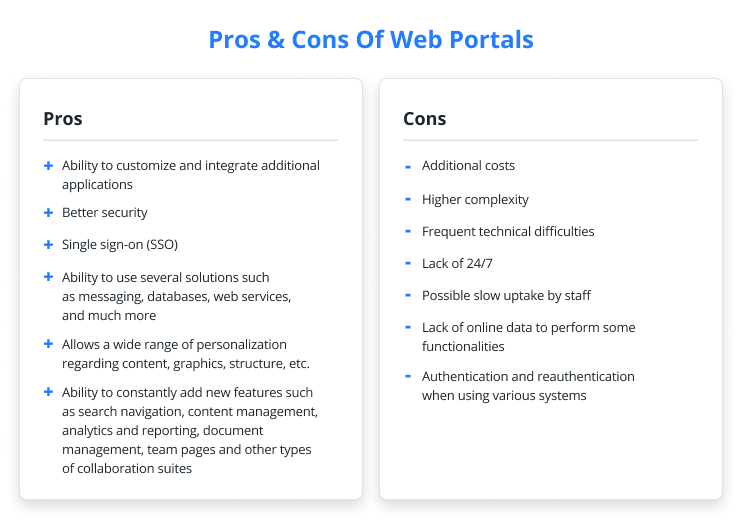 At first, it may be difficult to differentiate websites and web portals. However, after digging into the topic, it becomes clear that they are disparate and serve different purposes. Thus, the main functions of websites may include:
Engaging with audiences to tell about products and services;
Help customers and visitors resolve questions;
Reach out to your target audience and expand your client base;
Build an online presence;
Build credibility;
Provide contact details.
On the other hand, the main functions of web portals may include:
Improving the capability of implementing quality information;
Improving communication approaches;
Enhancing the relationship between a company and its customers;
Providing filtered information on a comprehensive platform;
Helping attract a specific area;
Better targeting a specific audience.
When Does A Business Need A Web Portal?
Numerous different types of businesses have been migrating and implementing web portals to their workflows, which considerably raised the demand for portal development. Having web portal software within an organization allows to significantly improve many key processes, such as customer management and satisfaction, growth of online sales, content publication, staff communication in real time, as well as approaches to payments, to name a few.
If a business is interested in improving its customer interaction, that is when web portals come very much in handy. It is an immensely effective way to rapidly reply to a huge number of queries, which consequently improves customer satisfaction. In addition, the communication between employees is significantly simplified with web portals. They enable them to effectively store and share critical information and documents, as well as safely organize their work.
One of the key objectives of web portals is to provide centralized access to multiple sources of internal information, and the most beneficial way to do so is through the integration of different business applications. All the data from various information systems can be easily tracked and managed within one source system. It saves time and increases security by providing a single sign-on for all the necessary business applications. Moreover, web portals allow you to customize and personalize various tools to improve user experience and get the most value from the system.
By investing in a high-quality web portal development and working with a team of professionals who successfully maintain and manage the system, a company will captivate the most genuine and right customers thanks to the professional look of your business and its credibility.
Keeping that in mind, your business may need a web portal if:
It has multiple offices in different locations, e.g., national and international offices;
You hire remote or home-based employees;
Your company needs to improve the visibility of the information by departments, managers, employees, and so on;
You wish to automate some day-to-day processes;
There is a need to externally contribute data and/or processes, e.g., channel retailers;
Your enterprise needs to provide a scalable IT licensing option.
By integrating web portals to your organization, your business gets to benefit from countless advantages. The following ones are the three major internal and external benefits.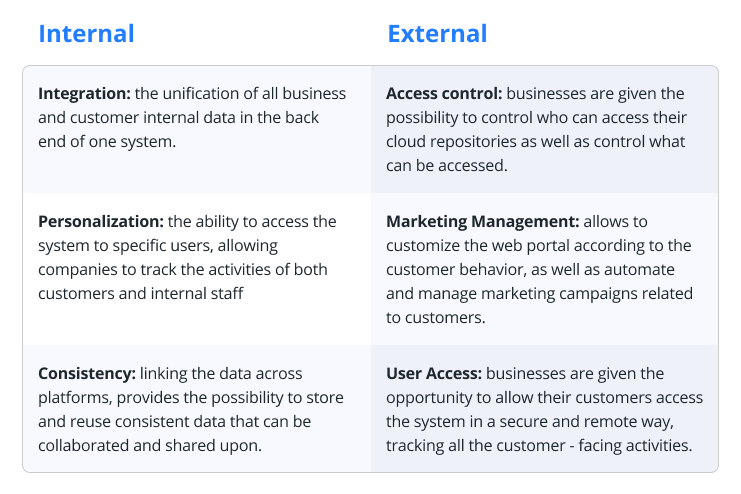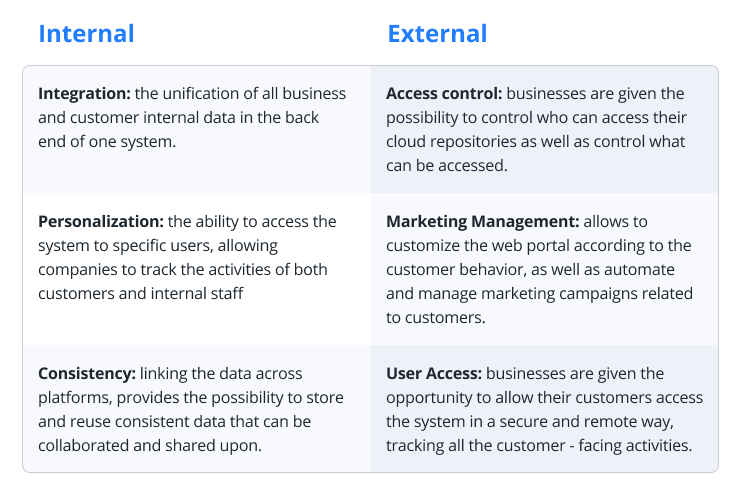 How To Start A Portal?
Web Portal Development Steps
Undoubtedly, developing such complex and scalable systems as web portals requires detailed strategic planning and a strong portal development team of professionals who are capable of creating secure and highly functional web portal solutions. Programmers who take on the development of web portals should consider many factors and test the product before launching it. Developers plan and customize the design, security, stability, and so on of your project to balance the development process.
Below are the most crucial custom portal development steps that must not be omitted.
Before developing any web portal, it is crucial to understand the characteristics it should provide, as they must be tailored to your business goals. Identifying your needs and objectives will make it easier to identify what kind of web portals your company requires. Thus, the software will bring the maximum value to your business and help you meet your goals in the long run.
Choose The Web Portal Type
As discussed above, different types of web portals match different industries. To successfully choose the right one, you must consider the niche of your business and the challenges that you would like a web portal to help you overcome. Thus, despite the type of web portal you pick, they all integrate with a company's marketing and IT systems that automate data synchronization of the entire back-end infrastructure.
Choose The Programming Language
There are many programming languages out there, but not all of them provide the necessary functionalities for a scalable and robust web portal. For the most relevant options, we may include such coding languages as C#, Java, PHP, Python, or CSS, to name a few. Those can create viability for a web portal, as well as availability from engineers with appropriate expertise.
Choose Who Will Develop The Web Portal
Obviously, before starting with the actual development of a web portal website, it is crucial to identify whether it will be an in-house or outsourced project to trusted partners. Both options work well in particular business scenarios. For example, outsourcing can save you both time and money, as well as offer the necessary expertise for the development of the web portal. Moreover, the maintenance responsibilities will be handed over to the outsourcing team, while the in-house developers can focus on other critical tasks. However, if your in-house engineers possess the necessary knowledge and expertise, they can create a web portal according to the internal pains of your organization, which is beneficial for certain business goals.
Obviously, security is crucial for a system that contains the internal data of your business. When hiring a team of developers, make sure they have enough practice and deeply comprehend how to create a secure web portal. Indeed, engineers must include high-level security controls by applying the best methodologies and practices possible. The mechanism of authorization and authentication should be designed according to the same security methodologies as well. Testing must be done on each development layer of any type of web portals. Security should avoid cross-site scripting, prevent SQL injections, offer safe password encryption, SSL/HTTPS for secure login, two-factor authentication, and protection with the latest virus software patches.
In addition, it is necessary to mention that while developing a web portal, one must comply with data and privacy legislation. It means that you will be able to protect the data that will be collected through your portal, such as customer and employee information and other internal business data. This is another reason why security mechanisms must be at a very high level.
Portal Building Options
Engineers can build a web portal from scratch in a few different ways. This is when you get to choose between custom portal development and off-the-shelf options. Each way has its numerable advantages. For example, off-the-shelf options are more cost-effective, while custom portal development will cover all the specific hardships of your business processes. However, all of them should be applied according to the needs and goals of your company and niche.
Custom Portal Development
This is probably the most valuable way of building web portals. Although custom portal development requires a lot of time, every layer is designed according to your business's specific needs. Indeed, coders build from scratch the development solutions that will work specifically for your business case. The custom portal building requires three key factors:
A strong, robust, and scalable programming language with the minimum of security vulnerabilities
A robust database
A powerful front end that will be interacting with the client and customer side of the web portal
Being specifically designed in every layer of a business case makes custom portal development more expensive than other options. However, the benefits it brings in the long run are infinite.
Off-The-Shelf Options
Those are generally integrated with Content Management System software. Such processes offer pre-built web applications that can be included in your company's system, which means that they do not include specific functions that your business may require. In such a way, they may help your organization with customer management, sales, client access, and other general functionalities.
By not creating a web portal from scratch and using already existing mechanisms, off-the-shelf options are budget-friendly.
To Wrap Up
It would be fair to conclude that both websites and web portals offer specific benefits. However, they provide different functions and are used for different purposes. Now that we know what a portal web page is, it must be easier to understand why it is a perfect option for those looking for a private platform to be used by a specific group of visitors. Moreover, if you need to control and manage all the activities of your company, adding some advanced management features to your web portal might be the best option.
However, if your goal is to create a platform accessible to everyone to attract more visitors and build a presence online, you should probably go for a website. A website will introduce your business and its services to a wide audience and drive users from all over the world.
Having analyzed both platforms, it is clear that portals can better assist businesses with internal workflow processes. They offer the opportunity to cut on manual daily tasks and improve productivity and efficiency. Moreover, some additional features may include analysis, which may help you obtain business insights about employees, work processes, customers, and other crucial activities.
You should make your choice depending on the kind of your business you run, its niche, and your goals in order to achieve the most value on both platforms.