Go back
Does Your Business Need IT Consulting Services?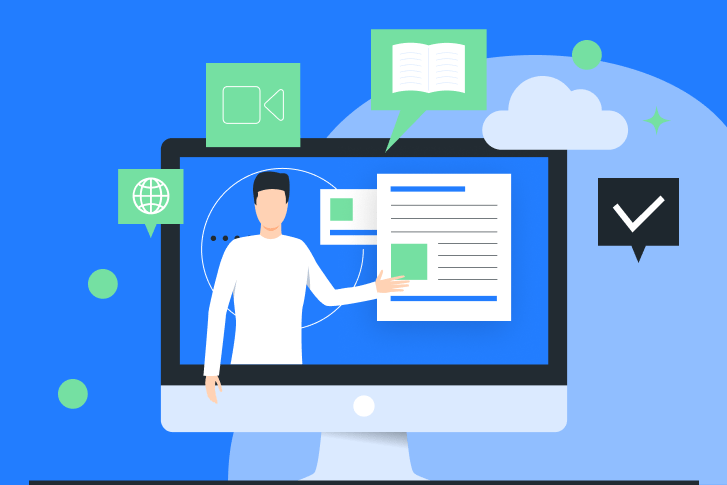 At some point in your business growth, it just hits you — that's not the way it should be. Your company's IT infrastructure requires an upgrade, but your IT guys either lack experience or are too busy with other processes.
Or perhaps you are about to start a new business. In this case, you have limited resources but would like to know how to build a powerful IT environment to streamline all operations right away.
So, you would like to attract tech-savvy minds to help you find the best solutions to your IT issues. That's when IT consulting services come into play.
In this article, you'll learn what IT consulting companies are, what value they bring to businesses, and who benefits from them. Moreover, you'll figure out the basic notions and strategies of IT services and consultancy.
What Is IT Consulting?
Information technology consulting services aim to enable IT transformation to improve the company's performance, boost employees' productivity, optimize costs, and much more with a tech-driven solution tailored to your business objectives.
Tech consulting companies articulate your organization's IT needs, design and estimate solutions, and then introduce a roadmap for their effective implementation.
In other words, such a service advises companies on how to create or improve their IT infrastructures by evaluating different IT strategies to meet their business goals.
According to the latest statistics, the IT consulting market is reaching its prime time due to the increased need for qualified IT experts. It grows by 2.7% every year and has reached the first spot in the scientific and tech niches of the American market.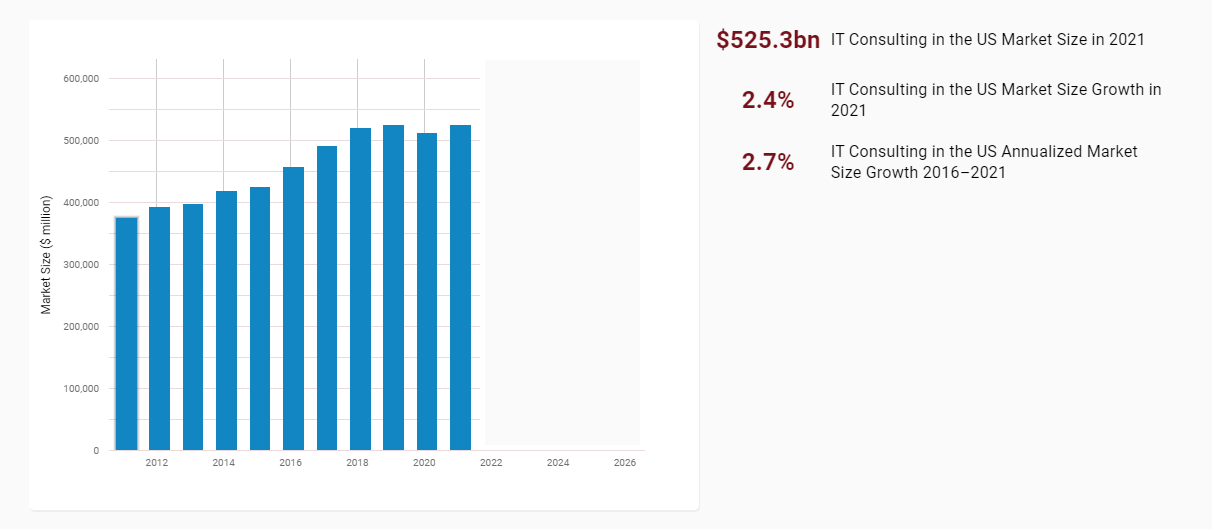 Source: https://www.ibisworld.com/industry-statistics/market-size/it-consulting-united-states/
How Can Your Business Benefit from IT Consulting?
Whether you are launching a startup or already have a well-established organization, getting IT solutions consulting is always a good idea for numerous reasons.
Shaping the IT Strategy of Your Business
The main goal of IT strategy consulting is to enable the digital reconstruction of the IT environment and the whole business model in the long run. These quality changes are obtained by implementing a robust IT strategy that should be orchestrated with business goals at its core.
An IT consulting service provider will help you shape a smart, cost-effective, and full-fledged IT strategy that will help you reach your company's objectives. Besides, it would cover other business facets, including finding a suitable business model, setting up operational processes, improving management, and much more.
All in all, the information technology consulting services company works out a full-scale strategy that defines how the IT environment and operational side of your business would coexist to reach your business goal.
Creation of a Clear Roadmap
Having a top-notch IT strategy is one thing, but it becomes completely useless when you do not know what steps you should take to implement it.
IT infrastructure consulting providers will ensure you have a detailed and clear roadmap that will lead your organization to the desired spot. They will carefully examine your needs, consider your business peculiarities and resources, evaluate the risks, and work out a detailed step-by-step guide on how to reach your objectives using a transformed IT environment.
Enhancement of Internal Problem-solving Capabilities
According to a survey carried out in organizations of different sizes, the greatest challenges connected to the tech environment lie in the lack of the staff's analytical and technical skills needed to ensure the flawless operations of business processes.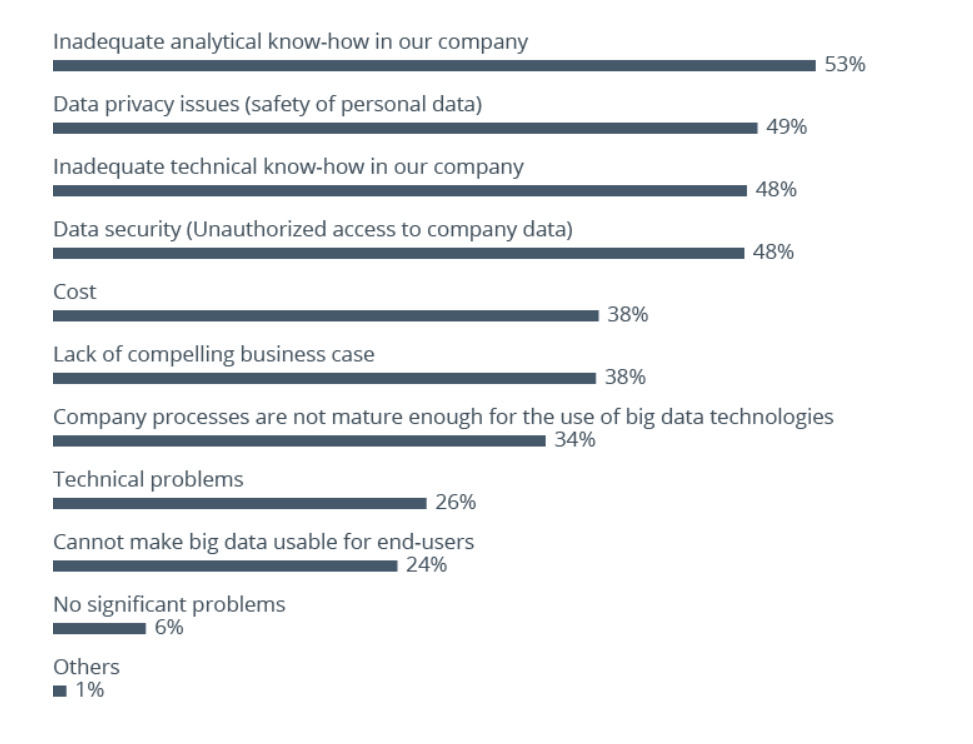 Source: https://bi-survey.com/challenges-big-data-analytics
This data tells us that companies feel the need for experienced and skillful tech specialists who could tackle internal IT issues.
Technology consulting services empower internal IT teams with qualified experts capable of scaling up the capabilities of the in-house tech department at your request. Usually, IT consultants have years of experience working on various projects under their belts and have a considerable record of effectively tackling similar issues. Thus, even if your tech department is not well-versed in the emerged problem, the unique skills and expertise of the IT consultants will help cope with it. The consultant will explain the nature of the issue and suggest the most effective ways of remedying it.
Besides, IT advisory experts are hired for a project or particular issue, which is more cost-effective than an in-house full-time IT guy.
Risk Prediction & Minimization
Do you believe that your IT environment has some weak points? IT infrastructure consulting services will spot them and foresee the upcoming risks associated with these issues. Thus, your internal team will be able to address them before they become serious, which would lead to a loss of revenue and the disruption of critical processes.
Main Types and Approaches of IT Consulting
There are different branches of IT consulting for businesses, so you might feel overwhelmed. But do not worry, we are here to explain the core IT consultancy services, so you can make an informed decision about what range of services your organization needs.
IT Strategy Consulting
If you are just starting a business or if your existing IT strategy no longer aligns with your business objectives, information technology consulting firms will help you create or upgrade a tech plan so that it is consistent with your goals.
The IT consultant will estimate and then suggest an effective strategy for managing the company's IT resources, like the networks, software, hardware, policies, security, and more. This will allow your organization to get a competitive advantage, boost employees' performance, optimize costs, and upscale business.
IT Infrastructure Consulting
Would you like to know how to keep your IT infrastructure scalable and secure? IT consulting services companies deliver IT infrastructure advisory solutions, which include technical audit and the evaluation of the IT resources from the standpoint of general recommendations and industry standards, the estimation of the IT infrastructure management processes, and more.
Once all the data about your company's tech infrastructure is gathered, consultants will present a strategy for the optimization of your IT environment and effective management.
IT Consulting Support
To ensure failure-free workflows in your company, you might need professional IT consulting support. This service will estimate the efficacy of the strategies your IT department currently uses to monitor the performance of your business assets and IT environment, and will also suggest ways to optimize those. Besides, if you are looking for reliable help desk and application support solutions, an IT service delivery consultant will give you clues about optimal IT help desk, NOC, and application support options applicable to your business.
IT Modernization
Do you feel like your IT environment requires a powerful upgrade? Would you like to eliminate obsolete assets and management strategies that negatively impact your business but do not know how to arrange the transformation process?
Then, hiring an information technology consulting company would be a smart investment. It will assess the performance of your IT infrastructure and develop the most beneficial strategy for its modernization.
IT Assessments
Before deciding what route to take to optimize your IT systems, you've got to assess all technology assets and processes. Technology consultation services of assessment will enable you to make informed decisions about your upcoming IT transformation.
Assessment will give you insights into whether your current IT environment aligns with modern technology practices and your company's objectives. You will also learn whether you are protected from disasters, have reliable backups in case of incidents, and much more.
Managed IT Services
Would you like to outsource IT services from a third-party company to save money dedicated to meeting your tech needs? Along with traditional consulting, some information technology IT consulting and support services deliver managed IT support.
The greatest advantage of this solution is that you can outsource any amount of IT support based on what your organization requires. Thus, you will be saving a lot of money. The range of services delivered by managed IT service providers includes managing networks, software, hardware, clouds, desktops, service desks, backups, and more.
Enterprise IT Consulting
Would you like to create a more favorable tech environment in your enterprise that would foster the company's growth? Enterprise IT consulting services specialize in defining the tech capabilities, systems, and employees that well-established organizations require to empower faster and more cost-effective growth.
If you would like to implement a custom and virtuous IT strategy, migrate the entire tech ecosystem to a new environment, or modernize your IT architecture, you will benefit from getting qualified assistance.
Healthcare IT Consulting
Healthcare IT consulting services enable hospitals, care providers, and other medical organizations to leverage technology in order to improve organizational and clinical performance, as well as transform facilities for smarter operations.
The spectrum of healthcare IT consulting services implies assistance at different levels, including developing an IT strategy, solution consulting, or startup consulting.
Financial Services IT Consulting
Keep up with technology trends in the financial industry by getting qualified assistance from financial services IT consulting companies. They will help architect a robust IT infrastructure for your organization so that you will be able to deliver outstanding services to end-users and stay on top of your profit margins. You'll get a detailed plan on how to reach speed, security, and agility in your trading organization, bank, or insurance firm with cutting-edge technology.
IT Projects Management Consulting
This type of IT consulting allows you to estimate and implement tech initiatives within your budget and set timeframes. An information technology and services consultant will evaluate the upcoming IT project, define its relevance, create a roadmap for its implementation, and carry the project's control to ensure all processes run without a hitch. You might also get effective instruments for arranging documentation, managing staff, and assessing the project's performance.
IT Solutions Consulting & Implementation
Some companies deliver end-to-end consulting and implementation services, which means that your company gets a full spectrum of IT assistance, starting with articulating your business needs, analyzing your current IT environment, designing the most beneficial tech strategy, and delivering the solution to you. The company will be in charge of configuring business and technical operations, installing and maintaining the software, provisioning hardware and other assets if needed, and so on. As a result, you do not need to look for third-party IT service providers or engage your in-house team.
Governance, Risk & Compliance Consulting
Align your business and IT infrastructure with the optimal governance, risk, and compliance framework by getting assistance from experienced consultants specializing in this field. This service entitles three core facets:
IT Governance - estimation of whether IT investments are tuned with the organizations' objectives;
Risk Management - prediction and evaluation of potential IT issues, and development of measures that might prevent or help eliminate the negative effects of incidents;
Compliance - evaluation of the company's compliance with laws, policies, and regulations.
Cloud & Data Migration
How will your company benefit from migrating to the cloud? Will your firm gain agility, cost-effectiveness, and higher infrastructure performance once you do so? What is the most suitable cloud model for your business? Can you adapt your current apps to the new environment? These are some of the questions that cloud and data migration consultants can answer.
App Development
IT software consulting services will guide your organization in your digital initiatives from start to finish. You can outsource the estimation of the app concept, including its feasibility, cost, tech complexity, market reach and competitiveness, compatibility, code reuse, and other aspects to help you make an informed decision about the software's performance. If your organization already has a custom app, a consultant will advise on its usability, features, compatibility, or code.
Business Continuity & Disaster Recovery
Natural disasters, hacks, or human error may lead to serious downtime, resulting in financial losses and a damaged reputation. Robust business continuity and a disaster recovery strategy will diminish the risks of downtime in case of an incident and will ensure you are up and running as soon as possible with minimal or no data losses. If you are not certain about your current disaster recovery plan, you can always browse the IT consulting services market to find the right service provider.
Digital Transformation Consulting
Digital transformation consulting services enable companies to leverage cutting-edge technology to enhance and augment staff capabilities with a new tech-based model. So, if you would like to switch to a more advanced customer support or HR model, accelerate digital communication within the company, or take a new approach to run your inventory, a digital transformation consultant will show you the best route to revolutionize your current business model.
Who Should Use IT Consulting Services and When?
A handy piece of advice about the performance of an IT ecosystem can drastically change the course of its development. The type and size of your organization don't matter when you aim to boost the company's efficiency and bring tech innovation to the business processes.
That is why all businesses looking for new opportunities through IT enhancement should use IT consulting and services.
Enterprises Aim for Efficiency / Modernization / Automation
An enterprise might have a talented in-house IT team, but smart CEOs and senior executives understand the importance of outsourcing tech consulting services from third-party service providers. Doing so allows them to implement out-of-the-box solutions, save the IT department's resources, and get qualified assistance and support when the team faces an uncommon issue.
Besides, experienced IT consultants help enterprises avoid digital transformation flops. While the decisions of senior executives might impact an internal IT department, tech advisory will deliver an independent and ideal beneficial plan of action.
Small Businesses to Implement a Tailored Solution and Digitize Processes
There is a common misconception that only enterprises can afford IT advisory. But in fact, small businesses need competent IT guidance more than any other big organization.
The thing is that small business does not have enough resources to invest in tech experiments. Aimless and haphazard actions that eat money but bring no results work act like a slow poison, killing the company's potential. The cost of a mistake is also dramatic and can turn a small issue into a fatal one.
With that in mind, a clear roadmap developed after careful risk, resources, and strategy assessment will minimize the risks of failure and allow for more precise and targeted actions.
Afterword
Let experienced and skillful IT consultants guide your company through the tricky tech transformation process. IT consultants will share their vast experience and expertise to spare your organization from tech failures that lead to financial losses. You will get a clear roadmap based on a thorough analysis of your business goals and available resources so you can reach your objectives much more easily and faster.
FAQ
What is an IT consulting firm?
An IT consulting firm is an organization that helps companies design, streamline, and optimize their IT environment and business processes to boost their performance, obtain a competitive advantage, enhance their communication, and reduce costs.
What are IT consultancy services?
IT consultancy services stand for advisory services that assist companies in evaluating various technology initiatives and aligning them with their business objectives.
What is the difference between IT services and IT consulting?
The key focus of IT consulting is to offer strategic IT advice on how to change or improve tech-driven strategies to get the desired business result. IT services deploy those strategies and, in this way, help companies transform business processes and performances.
Why use IT consulting?
A business benefits from IT consulting in many ways. For example, by working with an IT consultant, your organization could get assistance with developing and deploying IT strategies to grow your business. An IT consultant might have more experience than an average IT guy and, thus, be able to deliver a unique solution to your business.