Go back
IT Relocation: Germany's Hunting for Professionals
As it is quite profitable to outsource employees, a lot of countries are looking for workers abroad. However, the process of IT relocation has to be regulated accordingly. Therefore, some countries have already come to implement the legislation aimed to welcome foreign labor force. An example of such an instance has been taking place in Germany.
Talent Shortage in Germany
Germany lacks qualified workers who are needed to fill a lot of vacancies in the labor market, particularly speaking of the tech fields. These include such specialists as healthcare workers, specialists in engineering, IT staffing, including but not limited to software developers, network engineers, and programmers, artisans in the construction field, and STEM professions. Since Germany experiences a critical software developer shortage, there is a unique migration regulation for them. 
Among the other fields and industries, Germany is currently experiencing a shortage of software developers and other specialists in the IT area, so the government wants to attract new employees from outside the European Union. Now, Germany has more than 1 million positions remaining unfilled, while the experts say that the demographic transformation will provoke positive changes. 
The Solution
For the listed reasons, the government of Germany wants to open its labor market for experienced workers from the non-members of the European Union. In fact, the country is seizing the opportunity to make it easier for specialists in different tech fields to get permission for residence with the goal to find a job. 
Eventually, the government of Germany has developed a new immigration law to regulate the changes. The law is aimed to simplify the process of hiring workers from the countries that are not members of the European Union and make the country attractive to expats. 
The Skilled Workers Immigration Act 
The government of Germany is expected to enforce the Skilled Workers Immigration Act in March 2020. This law is a crucial element of the governmental program aimed to both support German workers and fill the vacant posts with experienced workers from other countries. The experts predict that the enforcement of the Skilled Workers Immigration Act will attract more than 25,000 skilled workers to Germany each year after 2020. 
Foreigners' Perspective
In order to make Germany appealing for the much-needed foreign workers, the new legislation will demand the German companies to provide foreign workers with German-language classes and help them find accommodation at the initial stages of employment and navigate the bureaucracy. 
Hence, the companies will be required to offer jobs targeting the talent lacking ones and help foreign workers to adapt after relocation to Germany. At the same time, the government will be working to speed up the process of visa procurement to enable immigrants to get employment as quickly as possible. Procedures to define and validate the skills and credentials of foreigners wanting to work in Germany will also be improved to more effective ones as opposed to what they imply now. 
In addition, Make It in Germany, which is the official website of the German government, will provide the foreigners-oriented assistance services and will keep updating the job posting list frequently. The site has a central function as a medium between the government, employers and foreign workers.
Overall, the Skilled Workers Immigration Act is expected to welcome and attract qualified workers to Germany.
Skill and Knowledge Validation
With the enforcement of the Skilled Immigration Act, the procedure of defining one's qualifications will be easier and quicker to speed up the hiring process. 
To be determined as a professional in the chosen field, a person should have a tertiary education degree or a certificate of completing a vocational training course that lasted more than 2 years. Regardless of whether one has a university degree or any other professional qualification, the person should expect to get their skills and expertize additionally approved by the relevant authority in Germany. 
Then, a person should get an employment contract or a specific job offer from a company located in the country. The Federal Employment Agency will no longer check whether an applicant is living in Germany or if the workers from the European Union are available for a specific position. However, the responsible body will still check the employment conditions offered by a German company. 
A person defined as a qualified professional by the relevant authority in Germany will be able to get a position for which he or she is qualified as well as get a chance to be considered as a candidate in related occupations. Still, to get a job, one will be required to have a proper qualification with a proven professional background or, at least, education.
Getting a Job in Germany as a Foreigner
In general, professionals with the qualifications and expertise approved by German authorities will be allowed to come to the state in order to look for a job. Such individuals will be provided with a special residence permit valid for 6 months. Those who want to get the permit, however, should have the financial resources required to support themselves during their stay in Germany and German language skills that suit the desired occupation. 
Individuals looking for employment and having a residence permit will be allowed to work 10 hours per week on a trial basis to ensure that they both fit the position and end up wanting to stay in Germany. 
Relocation Trends
To understand the bigger picture of relocation trends, it is useful to consider various demographic features. 
Reasons
According to a study that involved more than 1,000 respondents:
Approximately 50% of people move to other countries in search of better career opportunities; 

20.5% of the respondents relocate to find a job closer to the family;

Nearly 11% relocated due to a transfer within an existing company. 
Workplace
Those who relocate in search of career opportunities work for companies of all sizes, from small companies to big enterprises.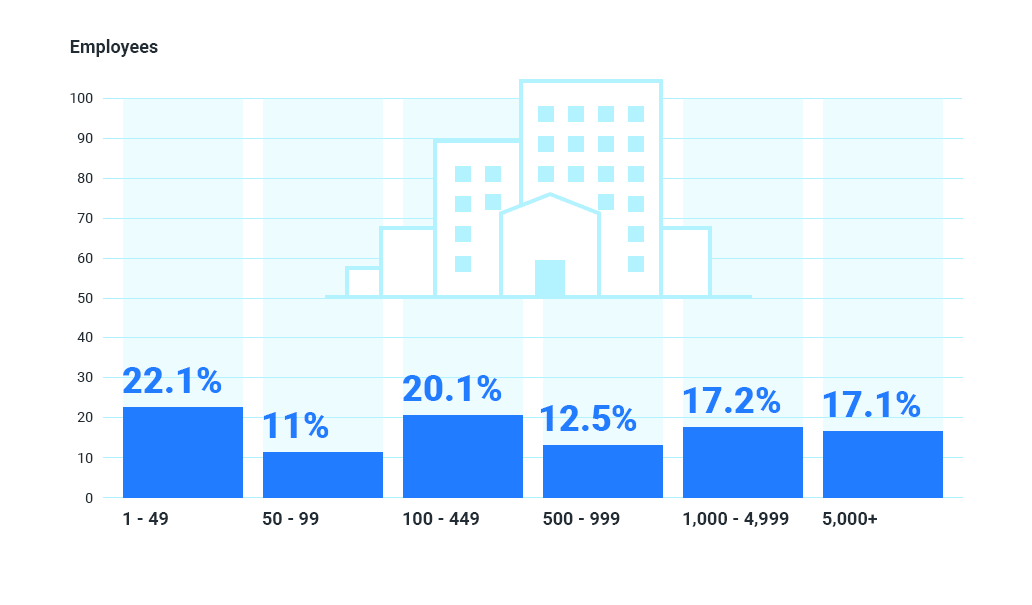 Age
In general, people tend to relocate in pursuit of a higher payment or career advancement, while those who want to move for work are mostly between 25 and 34 years old. The study also confirms that young people are more likely to relocate. Accordingly, there is a low possibility that the people close to the retirement period will transfer abroad in search of new career possibilities.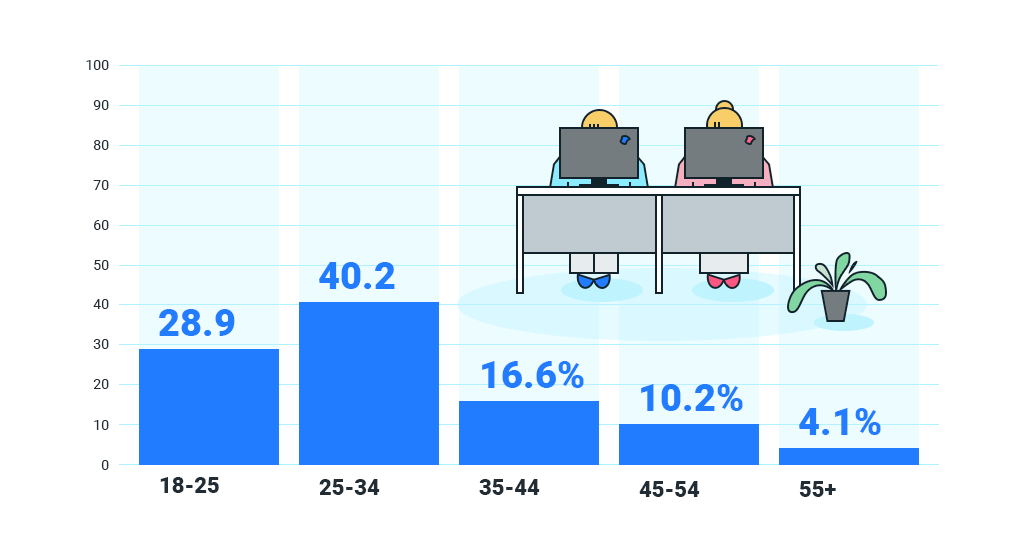 In particular, 40% of people aged 25 to 34 are willing to relocate, while 28.9% of people aged from 18 to 25 want to migrate. 16.6% of people aged 35-44 are ready to change the country of living, while 10.2% and 4.1% of people aged 45-54 and 55+ respectively are willing to move to a foreign state for a job. 
Given these points, one may say that the countries looking for foreign workers should focus their activities on the young specialists since they are more likely to move in search of career opportunities. For instance, the government of Germany may try to draw people who qualify from Ukraine, which has a lot of young specialists, especially in the IT industry.
Ukraine: an Aspiring Source of Labor Force
In the modern world, Ukraine is among the most popular destinations for the outsourcing market as it has a lot of experienced and committed tech specialists who are ready to work on different projects for a comparatively low price when compared to global rates on the market. 
Speaking of the IT industry, and especially the field of software development, Ukraine is also considered to be one of the best options to employ workers for outsourcing or relocation. Currently, there are more than 200,000 experienced and skilled IT specialists, while the IT labor force market in Ukraine is expected to expand even more over the course of the next several years. This creates a competitive atmosphere between the software developers so that a lot of IT specialists in Ukraine are looking for outsource options or better employment opportunities abroad. 
Consequently, considering the dynamics of the IT industry in Ukraine and the demographic characteristics of the local specialists, one may assume that employees from Ukraine are likely to be willing to move to other countries for a better career path.
Not to mention, there still is a big gap between the salaries of the IT specialists in Ukraine and such countries as Switzerland, Germany, and the Netherlands. For instance, a junior full-stack IT developer in Ukraine earns less than $1,600 per month, while a worker with the same qualification can earn more than $11,000 in Switzerland and $2,700 in the Netherlands. 
Accordingly, as the Ukraine-based IT workers have substantial education and qualifications, a lot of them are willing to move for work to more diverse opportunities to fulfill their potential. 
Wrap Up
With this in mind, the Skilled Immigration Act, which is going to be enforced in March 2020, offers a lot of new opportunities to the non-European specialists in Germany. Therefore, it is likely to encourage IT professionals from Ukraine and neighboring countries to migrate to Germany for work. At the same time, with IT relocation, Germany will be able to take advantage of the vibrant labor force of Ukraine.