Go back
Managed Service Provider Industry Trends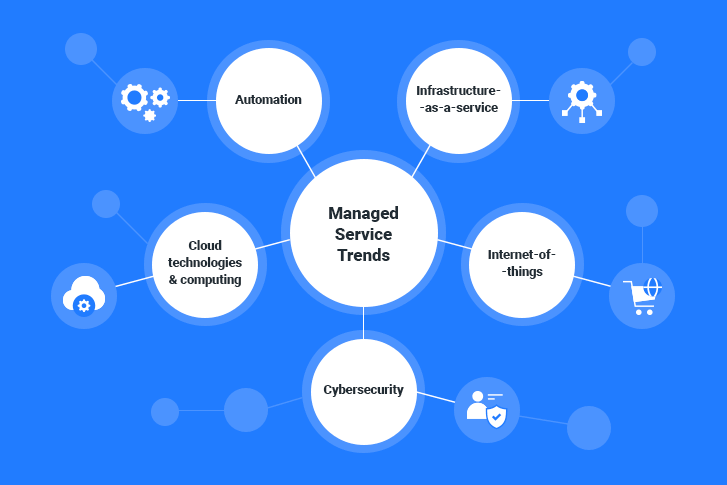 Nowadays, fast technology development poses new challenges for businesses and their owners as they have to keep up with the latest trends to stay on top. There exists a variety of solutions to make business processes easier. One of them is Managed Service.
Everyone has heard of this term, but the definitions vary depending on the context. When running a business, a managed service provider, often referred to as MSP, acts as a primary point of managing a certain set of regular business tasks on your behalf. The main goal of involving Managed Services is to outsource ownership of existing processes and developing new ones to a third-party company that specializes in a particular sphere. This, in turn, reduces stress from operating routine processes on your own. They are especially popular in the IT-sphere. Here, MSPs deal with administration and support of the core functions of server management, such as website uptime, network support, hardware/software performance and other related activities. Along with the high demand in such types of service, we can also spot Managed Service Provider industry growth.
One may ask what the MSP benefit is compared to in-house IT workers. The main advantage is the billing system where you pay only for the work completed and gain fast access to skilled human resources. It's much easier to delegate this type of activity to the team of professionals and spend more time growing your business. If you consider managed services, it's better to have the service providers' trends on your radar to get better acquainted with its peculiarities and make a wise choice during the hiring. So, what can you expect from the market this year?
Here are the most popular MSP industry trends
Automation
To balance between optimizing time and resources without losing quality, MSP automates the processes through different means. It may be installing the monitoring software to watch the server's health and uptime, setting up regular scripts to perform various checks on the server, automatic system updates, and similar important daily tasks. Automation helps to ensure the highest level of service and minimum human interventions for the routine duties while at the same time freeing the resources of server engineers for any urgent matters without affecting their other responsibilities.
Cloud technologies and computing
Being a buzz word on the Internet, Cloud technologies are among the most popular growth trends for MSP. Everyone is obsessed with the cloud, and that's for good reason. Cloud computing is a great solution for a growing business. In traditional hosting, money and resources are spent for the subscription regardless of whether you use them. Cloud technologies, on the contrary, provide services on demand without reserving resources you may not require. It means you pay for the computing resources such as RAM, CPU, bandwidth and disk space only when you actually need them. Plus, it's easy to scale to consume as many resources as you need without traditional hosting downtime when the dedicated server potential is overused. That makes it another great benefit among all the other service provider trends. Along with being super effective for your business needs, it also possesses a certain challenge to manage as advanced technical skills are required. That's why some of the MSPs are providing their own Cloud solutions. Sometimes, they cooperate with some popular cloud providers or even resell the services which are ready to be set up per your needs.
Infrastructure-as-a-service
Part of managed service industry trends includes infrastructure-as-a-service, or as it is sometimes called, Hardware as a Service, which is separate due to its combination of hardware and software components. For this one, it's better to say that it's one of the managed network service trends, as in its core on-demand provisioning of the network infrastructure for your business. It is a basic cloud computing model that gained its popularity during recent years along with Software as a Service (SaaS) and Platform as a Service (PaaS). As a part of cloud computing, it inherits such features as scalability and resources available as you need them. Its distinctive feature is combining physical server capacities with a virtualized environment (achieved by using hypervisor for virtualization of the accessible resources to be distributed on isolated virtual instances running on guest machines). Its administration is often provided by managed service providers who deal with cloud computing.
Internet-of-things
Along with the Cloud, Internet-of-things technology is one of the MSP market trends.
It also may be a synonym of global connectivity. In a nutshell, IoT provides the possibility of information exchange or interaction between the devices in one network. It helps you be in control of everything starting from a fitness band and finishing with smart security systems. As this technology is not new, it has combined with some other evolving service provider trends in AI, helping you to receive powerful insights from the information received from connected devices aiding your business to develop and prosper.
Cybersecurity
Last but certainly not least, one service provider trend is Cybersecurity. In the modern world, it is not enough to have strong and secure passwords, using only licensed software and not opening suspicious emails to state you are secure. With technology advances, malicious attempts to steal sensitive data and other personal information spread like never before. That is why the topic of Cybersecurity is not only just one of the managed service trends but the required step to keep your business safe. It starts with protecting your resources from brute force attacks, taking care of the firewalls to filter incoming traffic and blocking attempts to hack. Besides, you have to take care of the security of your data by restricting access to your working resources solely to internal networks and investing in some anti-malware protection software. The setup and management of all the mentioned aspects may contain a lot of pitfalls. That is where a powerful MSP solution comes in handy.
Managed services by HUD
Since the demand for managed services grows, there are more and more companies offering MSP support or team extensions for in-house IT departments to share expertise.
If you are in search of a qualified Managed Service provider or wish to engage individual specialists as a part of IT staff augmentation or extension of your team, HUD may supply Managed Services based on any project complexity. We provide experts with versatile knowledge in Cloud computing, DevOps engineers, server administrators and dedicated teams comprised of highly-skilled professionals who manage IT services for your projects. Having more than 13 years of experience, we keep up with the newest trends in managed services, constantly increasing the level of service we provide to ensure clients get the services they deserve.
In this article, we collected the most popular MSP market trends. This information will help you to get acquainted with the news and make the proper choice for the development of your business and choosing the ideal provider for managing your services.