Go back
What Makes Ukraine the Best Destination for Software Development Outsourcing?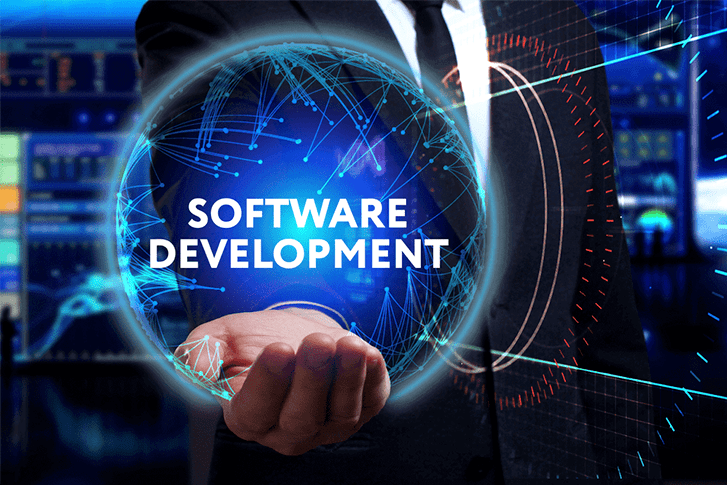 When considering hiring outsourcing developers or extending your team abroad, vendors might keep their eyes on Ukraine, one of the top outsourcing destinations, which is expected to continue growing in popularity in the upcoming years. The country with the most significant number of IT specialists in Europe is an underrated gem when it comes to outsourcing developers.
A growing number of well-established businesses have already placed their bet on numerous IT companies in Ukraine. This long list of factors makes Ukraine one of the most attractive offshore locations for software development. To be confident in the country's potential, it is crucial to consider the factors and take a look at the statistics that prove Ukraine to be a worthy outsourcing destination.
Wide Range of Services
Ukrainian developers are among the most knowledgeable in the global talent pool. This is because interested vendors can discover specialists with skills in most programming languages and platforms, from the most common ones to those that are under the radar. For example, Ukrainian professionals hold an impressive top global rank in Unity3D game developing and C++ engineering. The diversity of local developers reflects in their ability to deliver a wide array of services, from software engineering to program and cloud development.
The growing number and full range of professionals are due to the IT industry in Ukraine rapidly expanding, having grown by more than 25% by the year 2018. According to the latest data, the IT field in Ukraine now employs up to 200,000 professionals and is only expected to grow in the upcoming years.
With this in mind, hiring companies can expect to fulfill their need for any IT-related service at the highest possible quality by outsourcing to Ukraine.
Strong Educational Background
The impressive range of skills of Ukrainian developers is backed by a high-quality educational background thanks to the variety of universities contributing to the growth of the local tech talent pool. The Ukrainian approach to higher education aims to make software development in Ukraine and related fields simpler for the younger generation through university degrees. The variety of courses hosted by the most extensive local IT companies also contributes to the significant talent pool present in Ukraine. United, educational opportunities provide any Ukrainian developer with outstanding job performance.
Higher Education
Ukraine is one of the most educated nations, with almost 80% of the population holding at least an undergraduate degree, and it certainly applies to the IT industry as well. Affordable training is available because education in the country is mostly free or otherwise accessible, giving the pool of young talents the ability to pursue their professional goals without being burdened by loans, unlike in some other countries. The statistics provided by the Ministry of Education of Ukraine reported that more than 400 universities and colleges in Ukraine graduate more new professionals in science-related fields compared to many first-world countries, including Norway, Japan, and the Netherlands.
Ukraine is one of the biggest and most successful international student markets in Europe with almost 5.7 million students. Ukrainians are the fourth among nations in the world with regard to higher education. The literacy rate is 100% among younger generations. Over the last few years, the number of students in schools has reached 4 million, and 1.5 million students are getting their university degrees.
Speaking about the Ukrainian IT industry, we should explore the following data: 87% of women in IT have a university degree, while 82% of men have one. In contrast, women in IT are less likely to have a programming-related diploma at 41%, while the percentage of men who do have one is 61%. Only 16% of people among Ukrainian software developers don't have industry-related degrees, while at the same time Quality Assurance testers have reached 39%.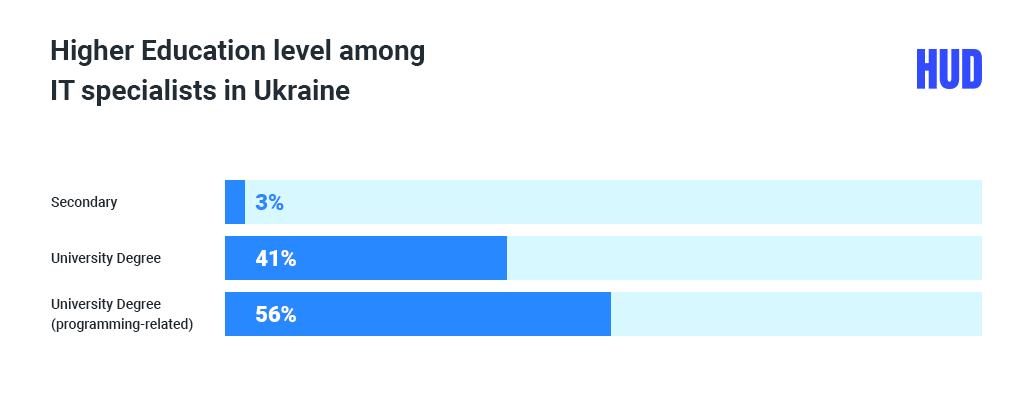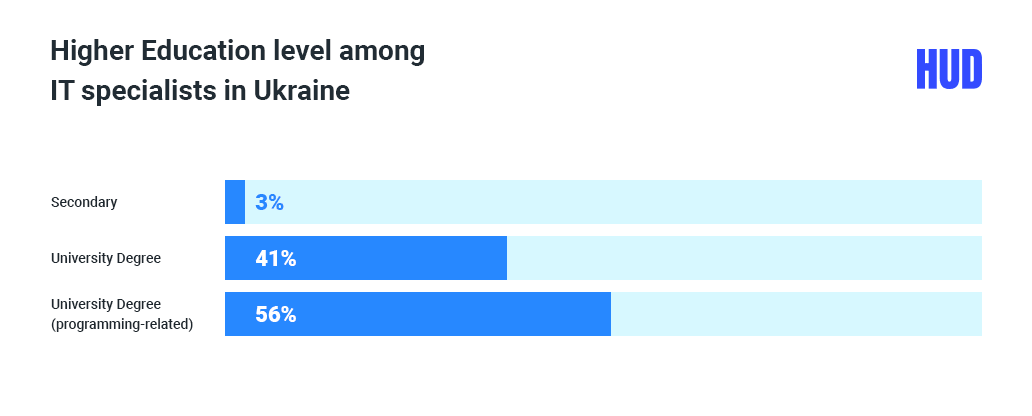 According to Forbes, Ukraine is on the list of countries that have the most significant number of IT graduates. Annually, about 36 thousand students graduate from university with a degree in IT, with most of them shortly landing their first jobs with IT companies in Ukraine. As a result of the impressive quality of education, future Ukrainian developers graduate with a set of practical and theoretical skills in the most popular programming languages, including Python, JavaScript, and C/C++.
Courses
The possibilities for high-quality education in the field of IT extends with university education: Prominent IT companies offer courses for graduates and working IT developers wishing to acquire skills in new programming languages, database development, and other related areas. Newcomers from other professions who feel their soft skills and determination would be of the best use in the IT industry can also find a list of suitable courses.
With the development of Ukrainian technologies and the growth of software development in Ukraine, IT education grows increasingly smarter. Educators and IT companies in Ukraine unite their efforts to create initiatives together and open more opportunities to people of all ages and professional backgrounds. Education in Ukraine is generally efficient, as it aims to encourage young specialists to join the ranks of developers in a short time.
Taking into account all these aspects of IT education in Ukraine, the skills of local engineers are undoubtful regardless of their prior experience.
Additionally, IT experts in Ukraine are enthusiastic about self-improvement and professional development. About 67% of employees regularly read professional literature, 57% prefer online education platforms with different courses, and 34% integrate knowledge and professional trends visiting various industry-related conferences and workshops. Only 12% of developers do not have time for self-improvement.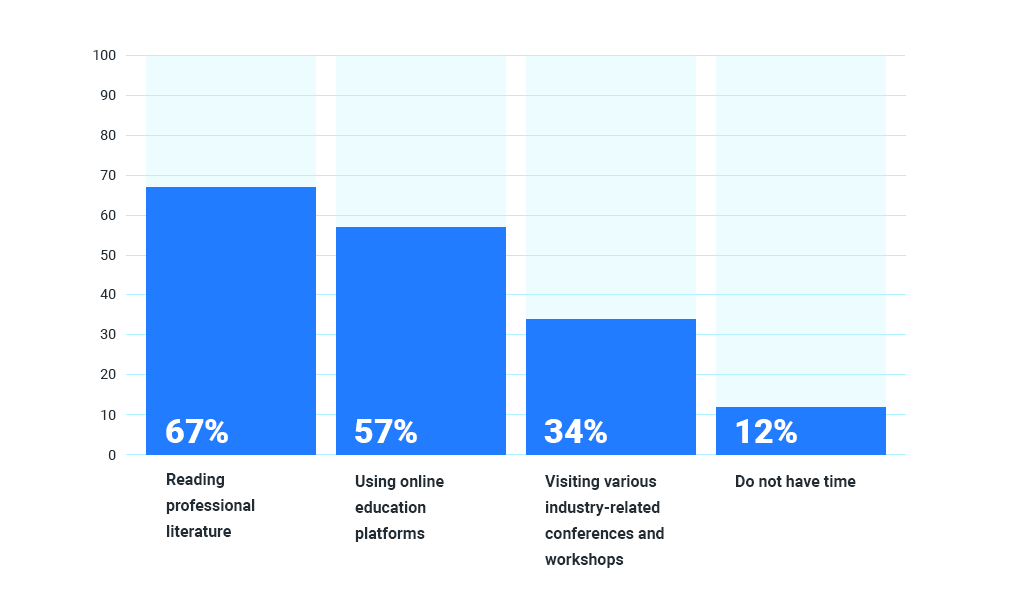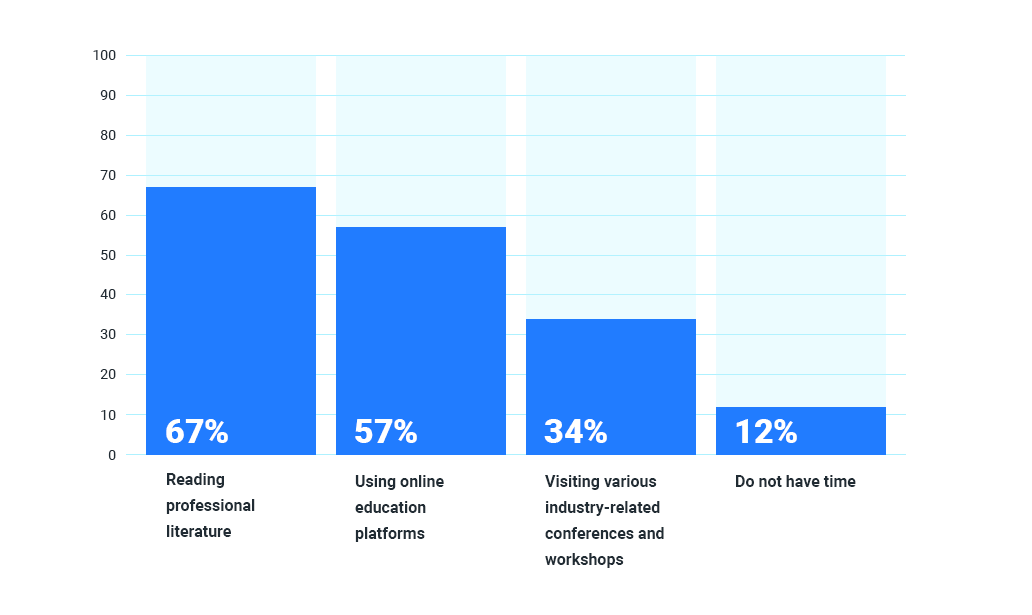 Compatible Rates
Eastern Europe is known for an excellent price-quality ratio that is appealing to foreign investors, and IT companies in Ukraine lead the way in the region as a result. The expected rates are significantly lower compared to Ukraine's outsourcing competitors in the Eastern European market, including Poland and the Czech Republic.
Specifically, the average monthly salary of a specialist in the IT market varies from $500 to $5,000 depending on the level of skills and the expected duties, with the window of a software engineer salary falling between $1,500 and $3,000 monthly. Moreover, while Ukrainian engineers are quite affordable even when compared to neighboring countries, it goes without saying that the rates in Ukrainian software outsourcing are several times lower compared to the rates in the United States.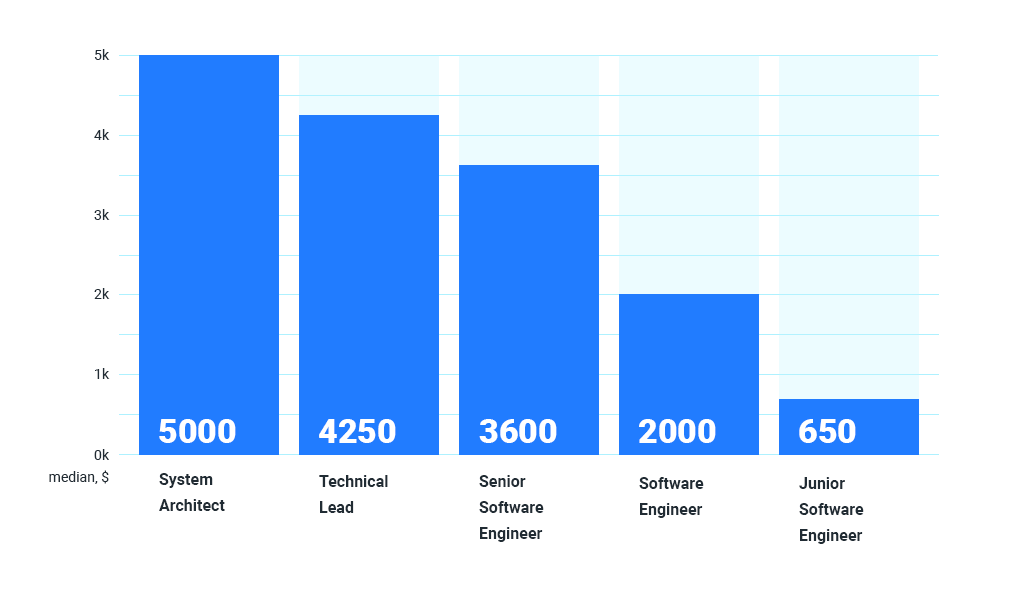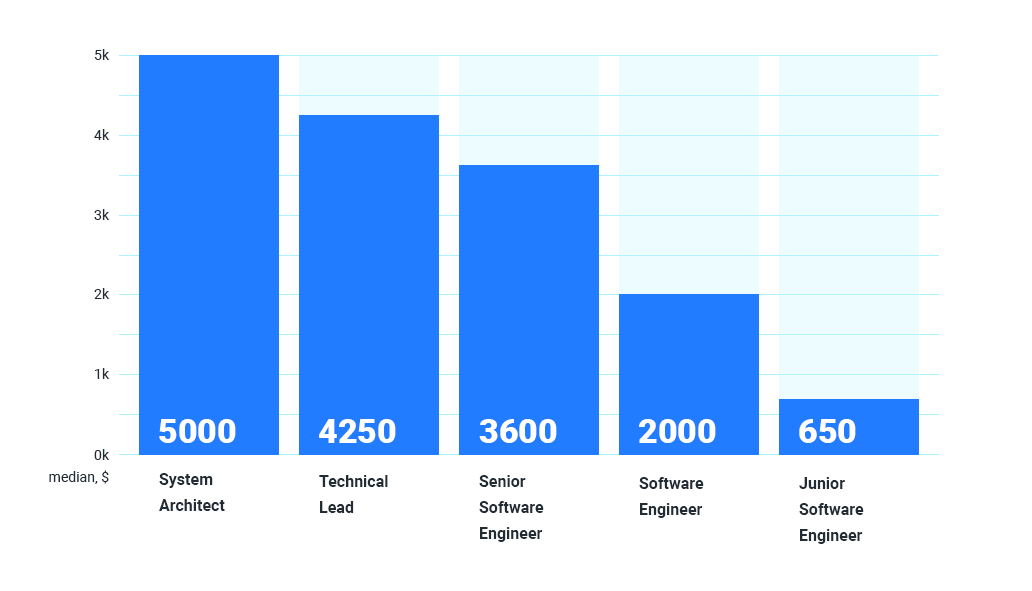 Of course, some of the IT outsourcing destinations in Asia or Africa might offer lower rates compared to Ukraine, but, with both the range and quality of the services, IT outsourcing in Ukraine is your overall best bet.
Rapidly Expanding Market
More than a thousand companies in Ukraine offer some kind of IT services - finding what a vendor needs is not a challenge. The range includes UI/UX design skills, R&D services, big data analytics, and many others. Companies performing outsourcing in Ukraine also show an impressive quality of performance, with several of the Ukrainian companies continually being ranked among the world's top outsourcing choices.
Local Startups
The exciting IT market does not solely boil down to the well-established companies, as Ukraine is home to more than a thousand startups, both the ones currently successfully operating in the IT market and the ones that are about to take off. Some of the most prominent startups originating in Ukraine include Depositphotos, a leading royalty-free microstock photography agency; Petcube, a one-of-a-kind connected technology startup that designs products for pets; and Grammarly, one of the world's leading online grammar-checking and plagiarism-detection software. The fact that these startups are as well-established as they are says a lot about the quality of software development in Ukraine.


If you are interested in Ukrainian technology, you might as well consider investing in one of the many startups in this idea-boosting market. However, keep in mind that competition is on the rise, as many of the world's leading technology companies have already purchased a prominent Ukrainian startup of their own. In fact, one of the most impressive startup purchases is Google's acquirement of the facial recognition software Viewdle.
Foreign Market Integration
In addition to cooperating with the world's top IT giants, IT companies in Ukraine, outsourcing developers and startups have become well-integrated into the European market, receiving investments from and collaborating with most of the prominent IT hubs in Europe. The capital of Ukraine is a popular investment destination, hosting a higher number of investors compared to other hot European destinations, such as Warsaw and Vienna.
Therefore, it is worth it to consider entering the world of Ukrainian technology development by investing in it while there is still some room for new investors on the booming market.
Deeply Socialized Developer's Community
The fact that the market is growing, which can be tracked by the increasing number of startups, as well as the excellent level of professional engagement among the professionals in the industry, local developers face new, beneficial opportunities from the extensive tech community that brings networking in the local field to a whole different level.
Such events as iForum and IT Arena are not just your average networking meetings: They are engaging brainstorming festivities that help to form a community for everyone to be a part of. More than half of the Ukrainian developers and other professionals attend these events regularly, with companies sharing their experience, networking and hunting for the professionals willing to cooperate with them. The large scale of these events and the high levels of attendance are a perfect testimony of the vitality of the everchanging Ukrainian IT market.


The IT events of all levels, from the largest ones in Ukraine to the smaller local ones, are updated on all the hottest topics in the IT industry, including Big Data, AR, AI, and data science. With this being said, investors have a guarantee that Ukrainian outsourcing is improving because the developers are familiar with the significant industry trends and are willing to apply this knowledge in their job.
Ease of Cooperation
Investors that have already collaborated with the top Ukrainian companies cite the ease of cooperation with Ukrainian developers as one of the factors encouraging them to continue doing business in Ukraine and consistently come up with new deals. Several overlapping factors are the reason for worry-free collaboration, including professional ethics, time zones that are convenient for partners from the Western Hemisphere, a high level of English proficiency and the country's business market rapidly becoming more attractive for international investments targeted directly at IT companies in Ukraine.
Work Ethic
Ukrainian outsourcing developers possess qualities that make them one of the best outsourcing professionals to work with. Diligent and resourceful, they put much effort into their work and treat it responsibly, as most of them also happen to love what they do. While there might be some cultural differences in the personal, non-work-related communication with Ukrainians, they are not translated into the professional environment in which Ukrainians are true masters of international business communication. The working ethics of the local developers are close to the ones accepted in Western culture, with a focus on business matters and enjoying professional challenges over everything else.
English Fluency
An additional bonus you should keep in mind is that 81% of Ukrainian outsourcing developers possess at least intermediate knowledge of English, which makes business communication a blast for international investors. IT companies in Ukraine emphasize English proficiency as one of the critical factors of success both during the recruitment process and throughout the working process with their developers. All major local IT companies host English classes for their employees, which results in more than half of the stuff being fluent in English. The lack of a significant language barrier allows collaborating with Ukrainian professionals for any international project efficiently.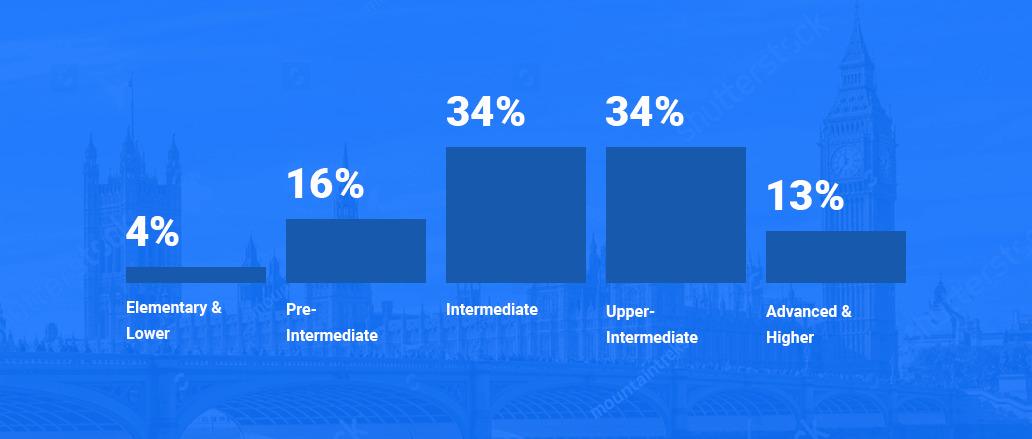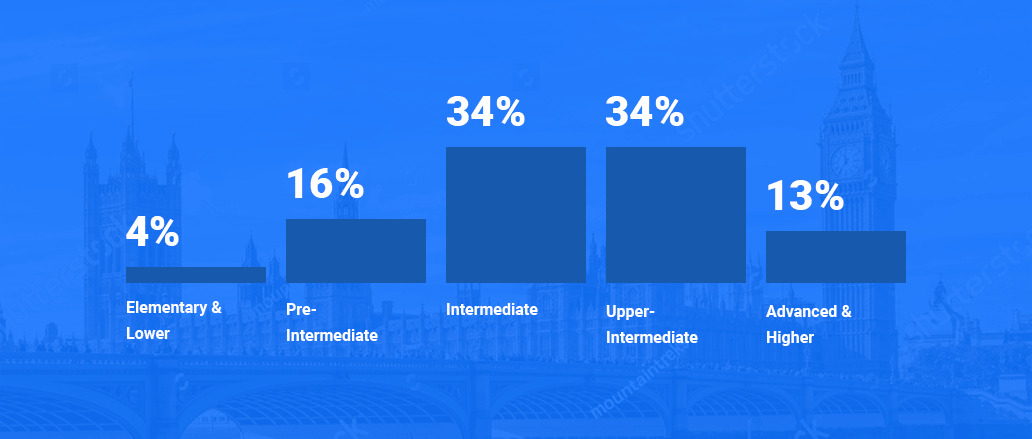 Time Zone
Moving further, while the time zone in Ukraine (GMT+2) is far enough on the scale from the majority of time zones in the Western Hemisphere, the overlapping of business hours makes it easy to catch up on the project during hours convenient to all participants: These are usually the last working hours in Ukraine that coincide with the first working hours in the United States and Canada. At the same time, the local time zone makes IT outsourcing in Ukraine a perfect option for partners and investors in all European countries because of the lack of any significant time differences.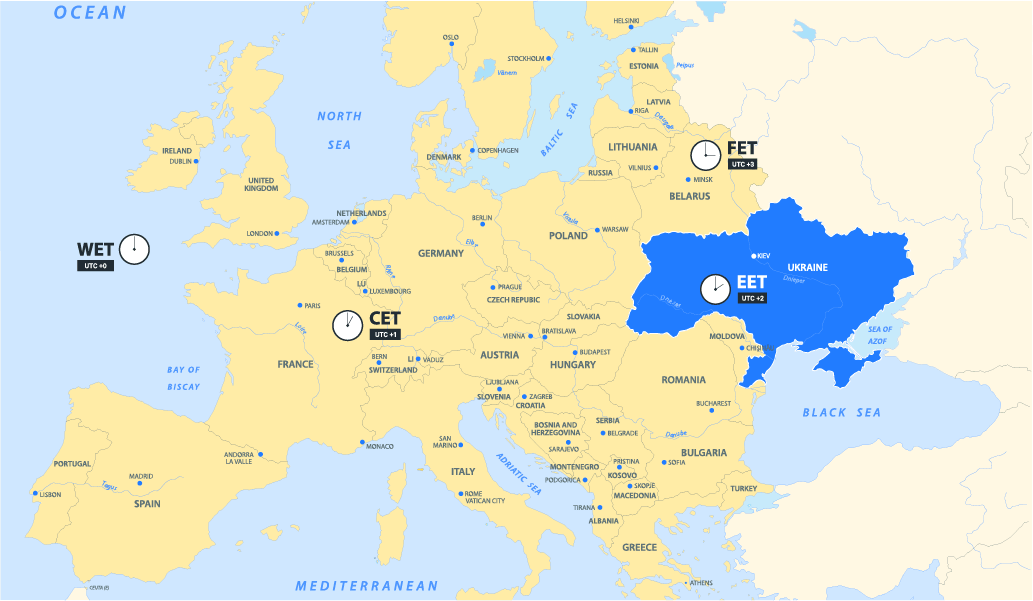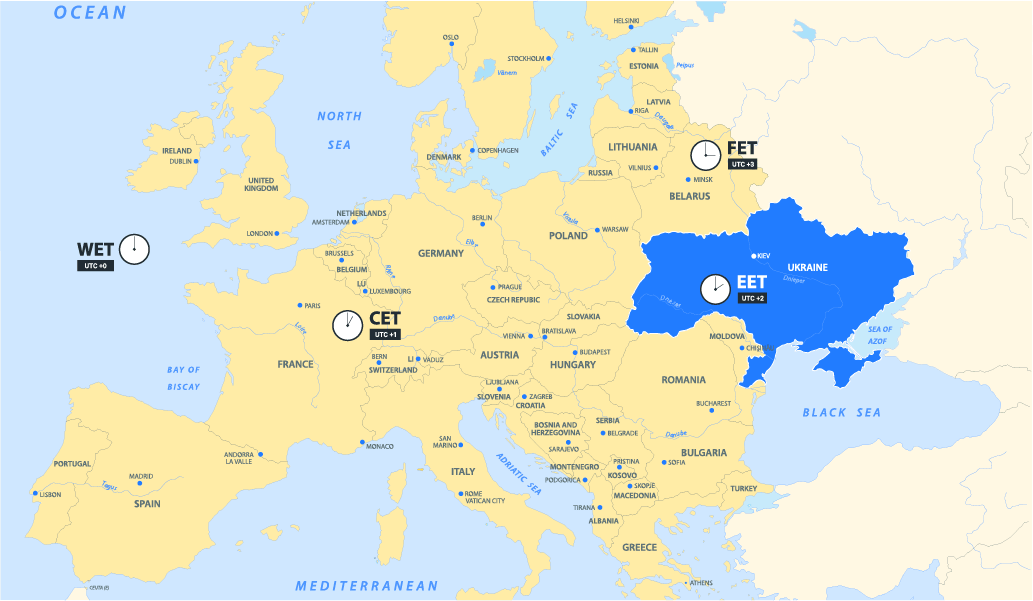 Business Climate
Lastly, the ease of doing business in Ukraine is continuously supported by a stable business climate. In recent years, Ukraine's policymakers have made steady efforts to have business policies keep up with the striving market of international investments. The government has previously approved Strategic Action Plan 2020, which focuses on canceling almost five hundred outdated regulations in favor of initiatives promoting international business, including the market of software development in Ukraine.
With these initiatives implemented, Ukraine is likely to become an even more attractive market for foreign investment as the government seeks to cooperate with businesses to attract an even bigger market of investors to the country.
Wrap-Up
The changing business environment in the IT market pushes investors to seek opportunities in IT outsourcing, as it is rapidly becoming one of the most convenient business models on the market. Ukraine is a captivating player on the list of outsourcing destinations that, indeed, has a lot to offer. An impressively high quality and range of services, convenient business rates, ease of cooperation and a rapidly expanding IT business capable of surprising investors with its scale and content all have contributed to securing Ukraine's top position as a worthy outsourcing destination.
Perhaps the most attractive quality of doing business in Ukraine and collaborating with IT outsourcing in Ukraine is the pool of opportunities that exists on the local market. Despite its rapid expansion in recent years, the market is still fresh and overflowing with creativity and potential, making it possible to encounter some of the best products in the industry without expecting it.
Sources:
https://www.export.gov/article?id=Ukraine-Education
https://dou.ua/lenta/articles/portrait-2019/