Go back
Hire Developers in Ukraine: A Guide for Beginners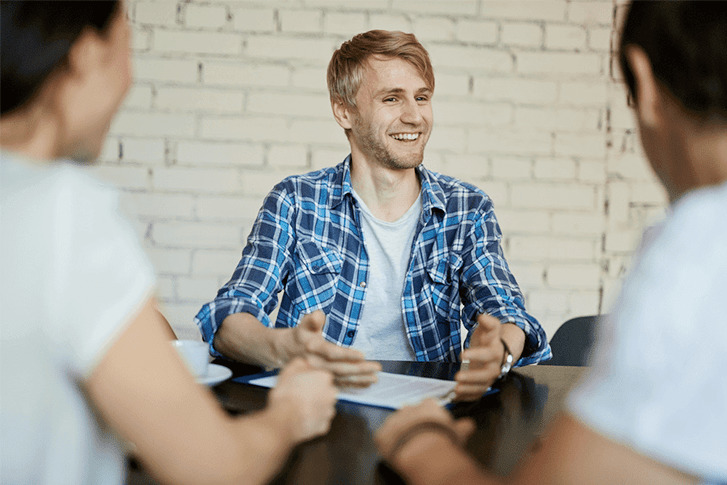 In Ukraine, developers are rapidly becoming the top choice for the companies that choose to outsource because of the price-to-quality ratio one gets from partnering with them. Ukraine offers a large pool of well-educated IT professionals across several local major IT hubs. Startups, software development companies, and R&D centers across the country keep the IT market in Ukraine both relevant and innovative
While working with Ukrainian software developers is a choice that is likely to pay off, it can be difficult for a vendor with no experience in outsourcing to find a way around the dynamic Ukrainian market and successfully find developers for their startup. That's why it is helpful to get advice on how to how to find developers for their startup in Ukraine beforehand.
How to Find a Programmer for Your Startup
One can use various strategies when trying to find the perfect programmer for your startup in Ukraine. The most common practices include hiring freelance developers via platforms, reaching out to developing agencies that would hire professionals for you, and building a unique team of Ukrainian programmers with the help of a staffing company.
Hiring Freelancers
Choosing to work with freelancers is the best option when working on a short-term goal with an urgent need for developers. Hiring a freelancer usually implies that cooperation ends as soon as the project is completed.
Ukrainian freelancers can be found on trusted international freelancing platforms, including Upwork, Freelancer, and Toptal. The interfaces of these websites allow searching for Ukrainian programmers according to the relevant skills, experience, and ratings. Naturally, reviews of other clients come as proof of expertise.
Freelance websites provide the opportunity to choose professionals according to the price that is optimal for a project. However, it is necessary not to compromise quality for the sake of price.
Cooperating with a Software Development Company
Outsourcing to a talent development company can be an option if there is a need to establish a team or two of freelancers quickly, but there is no time to look for each of them individually. However, one needs to do some research on the talent development company regardless.
In particular, it is necessary to check and confirm the level of expertise of a talent development company in the first place. To ensure that the partnership is successful, one should come up with a cooperation plan that features all of the necessary steps from start to finish. All legal requirements are to be placed into a contract as well.
Creating a Dedicated Development Team
A development project created from scratch requires a more efficient service quality. If this is the case, one should consider hiring a staffing company capable of building a unique team according to the demands of the project. A team of developers for long-lasting projects should closely cooperate with other units of the company, which should be considered when navigating the hiring process. Furthermore, collaborating with a staffing company allows for working with the developers directly.
Two strategies in creating a development team include hiring a dedicated team and an offshore team. The former means that the developers work on a particular project only, without having other obligations weighing them down. An offshore team, in turn, implies that developers work on several projects for different companies at once.


Attracting Ukrainian Developers
Ukrainian developers are never short on offers, which means they have reasonable preferences when it comes to their expectations regarding the position. Hiring software developers in Ukraine requires taking into consideration the motivation that drives them to the jobs.
Motivational factors that make Ukrainian programmers consider taking on a job include the integration of the latest technologies, the ability to work with an efficient team, competitive pay, the possibility of career growth within the company, and the ability to communicate with the client directly and effectively.
In Ukraine, developers prefer to engage in green-field projects that are not restrained by the previous code. Since there is a regular flow of offers among Ukrainian programmers, money cannot be their only motivation when choosing between comparable employers. Company status and corporate culture matter to successful Ukrainian developers to a high degree.
Cities for Hiring Software Developers in Ukraine
Ukraine has several IT hubs, including Kyiv, Lviv, Dnipro, Odesa, and Kharkiv, each with different opportunities.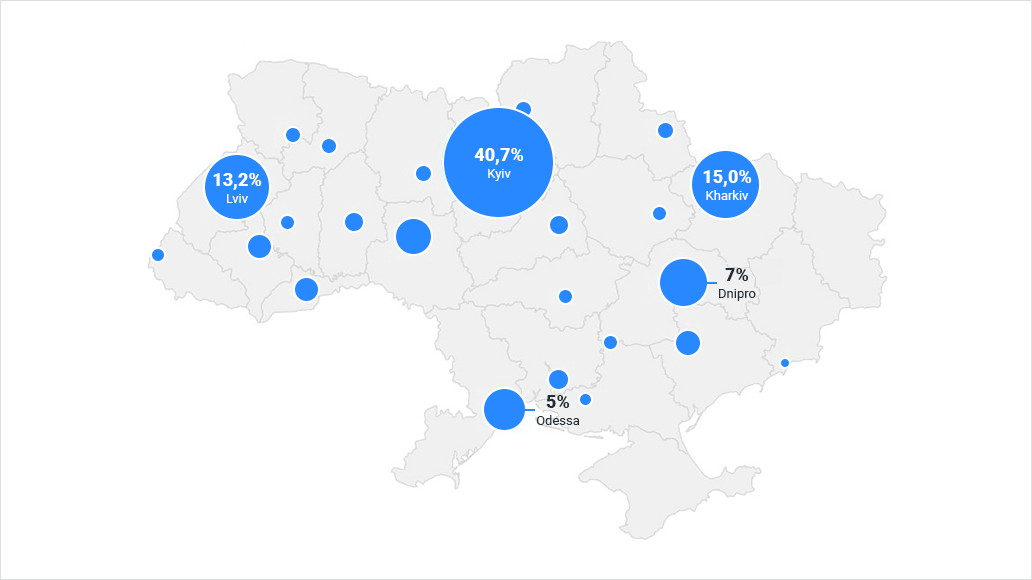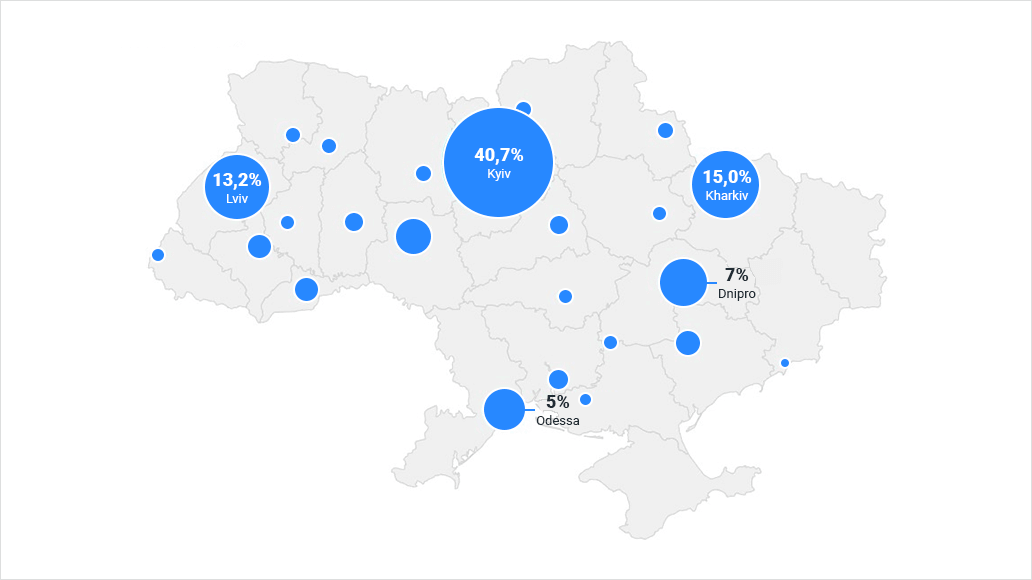 Kyiv is the most prominent outsourcing destination that hosts almost half of all Ukrainian developers, which makes it a great location to explore the talent pool and figure out how to find a programmer for your startup. The city is a major educational hub, with Kyiv Polytechnic University and Taras Shevchenko National University graduating hundreds of programmers each year, which is beneficial for those looking to hire Ukrainian software developers and minimize professional training.
Since the city is a major hub that attracts developers from all over the country, it is possible to find a specialist proficient in any programming language, including the rarest ones. The presence of specific events and initiatives makes the place an ideal spot for Ukrainian programmers to educate themselves.
Kharkiv, the second largest IT hub in Ukraine, is a smaller-scale market that has plenty to offer.
Lviv, another large IT hub in Ukraine, is known for being primarily engaged in outsourcing for companies from Europe and the United States.
In Ukraine, one can expect to receive a consistent quality of services regardless of the location, so it is best to choose a freelancer or a developing company according to some other unique preferences.
Recruiting Ukrainian Developers
At first, one should narrow down the choice of potential candidates by selecting several particular companies. In the case of preferring to find developers for a startups individually, the same applies to the freelance candidate list. Selecting three to five outsourcers is usually enough to make a conscious choice. Use trusted online resources to evaluate possible choices and look for the reviews of the companies that worked with outsourcers before.
Consider being present in the interview process. For best results, supervise the recruiting process together with the hiring managers to ensure that the particular candidate is right for the job.
Consider being present in the process of interviewing. For best results, supervise the recruiting process together with the hiring managers to ensure the particular candidate is right for the job.
Give your assessment and approval. Make sure to be involved in the hiring process up to its last stage and in the onboarding of the freshly recruited candidates to make sure the process goes as smoothly as possible.
Cooperate with specialists throughout the process. Though it is essential to be fully involved in the process, you cannot do the job alone, especially if you are unaware of some of the technical aspects of the job.
Afterword
Building a strategy of working with overseas developers on one's project can be overwhelming without prior experience. For this reason, one should be ready to invest more effort into building a team or hiring freelancers the first time around. Once the goals are formulated and the recruiting tasks are completed, one is likely to succeed with hiring Ukrainian IT professionals. Working with Ukrainian programmers is a gratifying professional experience if all the relevant facts are taken into consideration throughout the hunting and recruiting process.