Go back
Where to Hire a Dedicated Development Team?
Most successful software development companies have already succeeded in creating strong teams of professionals that can embark on literally any task. However, what if you are only looking for several professional software developers to join your team? In that case, outsourcing your projects to foreign teams might be a good idea. Ukraine, located in central Europe, has managed to become a prominent IT hub in less than a decade, so it might be a good idea to look for a dedicated development team in Ukraine.
Why Is Dedicated Development Team Model a Good Choice?
First of all, a dedicated team model is a specific approach to recruiting teams in which the offshoring companies provide customers with access to a large pool of talents from around the globe. In most cases, companies hire international teams on a long-term basis, which creates a strong bond between the vendor and the client.
Secondly, it is a rather flexible approach that accounts for the interests of both clients and vendors, so that everyone gains benefits out of the cooperation. It allows you to bring about an agile team that comprises specialists in different areas. This way, the clients can be confident in the efficiency of the teams they hire and the performance they can expect.
Ukraine – A Powerful IT Service Market
It is safe to say that Ukraine is the fastest developing IT market of the decade. With the ever-growing number of highly qualified developers and companies that specialize in offshore software development Ukraine is reasonably considered one of the leading IT markets in Europe. Some of the well-known corporations have already benefited from hiring the best software development team among the great number of those that Ukraine offers. In recent years, the number of software developers in Ukraine rose to more than 200,000 people and is expected to double within the next few years. So it might be a good time to hire developers.
There are five major IT hubs in Ukraine: Kyiv, Kharkiv, Lviv, Dnipro, and Odesa. Each of these cities can offer thousands of highly professional developers to join your team. For the companies that aim to hire software development team from abroad, Ukraine might be the number one outsourcing destination due to a wide variety of available offshoring companies there.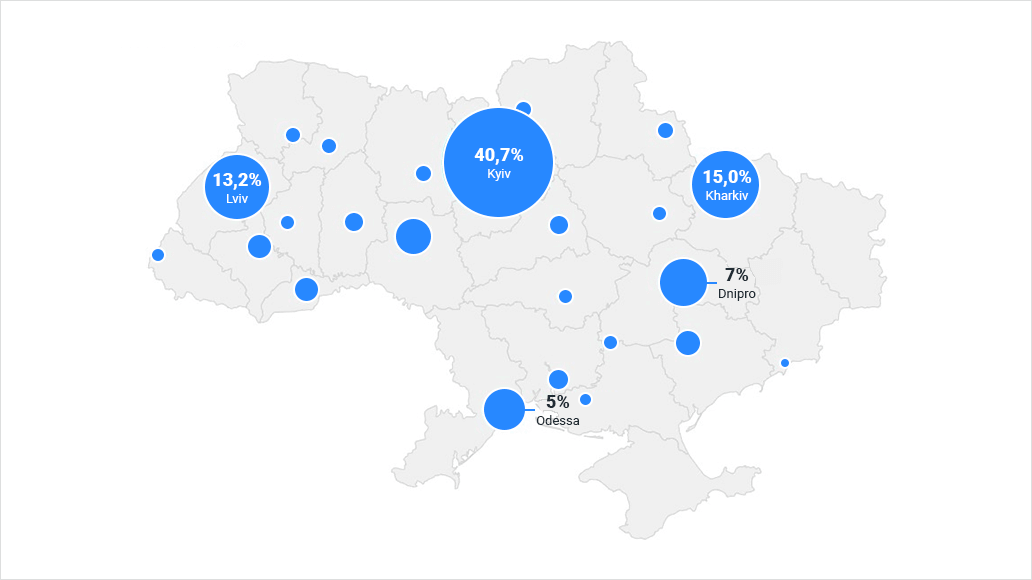 Business Climate in Ukraine
Though Ukraine is under the state of hostility since 2014, it seems that the business climate has become more welcoming to foreign investment than ever. The government of the country keeps working on making business operations more accessible and open to foreign investors. The IT industry, at this point, plays a significant role in boosting up the economic development of the country.
Labor taxes have been reduced for the workers of the IT industry, which attracted even more young people to apply for the jobs in Ukraine offshore development teams. The business climate of the country has changed dramatically compared to what it looked like over there less than 5 years ago, and for many successful companies who seek to hire software developers Ukraine is the market of choice.
The Perks of Hiring a Dedicated Team in Ukraine
The companies that want to hire a development team from abroad often disregard the importance of the dedicated team model. Whichever offshore software development company Ukraine provides, all of them are strictly client-oriented so that you can be sure of the quality of the result you get. So, the task here is to choose the team that suits the needs of a particular company.
Dedicated teams have a set of characteristics that make them exceptionally efficient. Hiring a team of professionals from abroad can provide your company with the following advantages:
Access to a limitless talent pool
Like there are thousands of developers in Ukraine, there are even more of them around the world. Using the dedicated team approach, you can access hundreds or thousands, if not millions, of highly skilled professionals in any field you need.
This approach is excellent for team augmentation because you can throw in a couple of extra specialists in the team you already have. If you are looking to gather a superb development team Ukraine might not be the only market to review — see what other countries can offer and create your international professional team.
Companies doing offshore development in Ukraine mostly aim for long term cooperation with the contractors. So, if you aim to hire a team that will be able to work on several projects for your company, considering Ukraine as your leading destination might be a good idea.
Access to the technologies unavailable in-house
Some companies might lack cutting-edge technology that is essential for accomplishing specific goals. In Ukraine technology development industry is top-notch, so you can rely on the team you hire to have all the necessities for accomplishing your goals.
As you can see, offshore development teams can give your company a considerable advantage over competitors while remaining a cost-efficient solution. You can indeed save money hiring teams from abroad, especially when it comes to developing countries like Ukraine.
Cost-Efficiency Is the Key
The main reason why so many successful companies turn to outsource their projects to foreign contractors is cost-efficiency. Most offshore contractors are located in developing countries where people are ready to work for a relatively low wage. Ukraine is a developing economy, and the wages most western companies offer to the outsourcers significantly surpass what domestic companies would offer for the same type of job. If your goal is to avoid redundant spending and hire software development team Ukraine might be your best choice.
The developing economies like Ukraine prompt people to look for better employment opportunities, and most talented people turn to work for foreign hirers, which is much more rewarding for them. Living standards there are lower than in the developed western countries, so Ukrainian developers will work for a much lower wage than your average in-house developer would.
Wrap-Up
As you might have already noticed, hiring a good development team might be a real challenge. If you know that struggle, then it might be time to consider hiring a dedicated team from abroad. Luckily, when it comes to offshore software development Ukraine and other developing countries can offer a wide variety of teams that can embark on literally any task and accomplish them even better than some of your internal teams, not to mention the cost and quality ratio.
If you want to hire software developers then Ukraine has to be one of your primary search areas. The good thing about Ukrainian developers is that they are highly motivated to establish long-term relations, they are as good or even better than any of the western teams you would be able to find, and they are committed to doing their job correctly.
Dedicated teams are perfect when it comes to establishing long-term cooperation so you might want to give this approach a shot. You must also remember the importance of team augmentation, so do not forget to throw some international talents into your team to make it shine. Do not hesitate, since the world of offshore software development is open for you to explore.