Go back
Why Clients Choose Lviv for IT Outsourcing: Research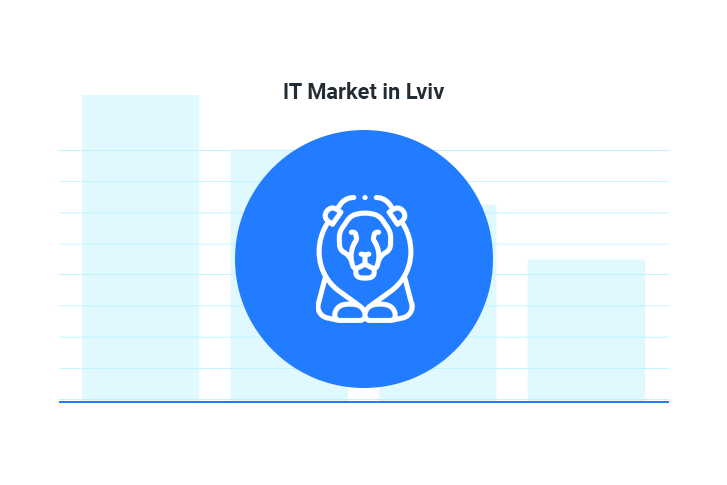 Nowadays, more and more countries are on the lookout for outsourcing opportunities, and this trend can easily be explained after taking into account the benefits that significantly outweigh the drawbacks. With outsourcing, a business can get any IT specialist or even an affordable team on office maintenance and employee wages receiving the same high quality as it would get from people hired in a local region.
Ukraine started gaining more popularity as a nearshore country for services related to information technology, as its cities are rapidly growing their IT industry. In this study, we will review Lviv's IT potential, since it is considered one of the important centers of digital development.
Lviv is often called the IT capital of Ukraine, and for good reason. Some time ago, Lviv started its development as a city connected by technology. According to the regular statistical research conducted by the Lviv IT cluster, during the past four years, the number of people working in the IT industry increased by 85% percent.
With the growing number of individual specialists, the number of companies providing services related to information technology is also increasing. In 2015, their number was 192 while in 2019 increased to 461. Looking at these numbers, one can see that the demand for skilled experts is rising. Among them are developers, project managers, QA engineers, and other specialists within the IT sphere.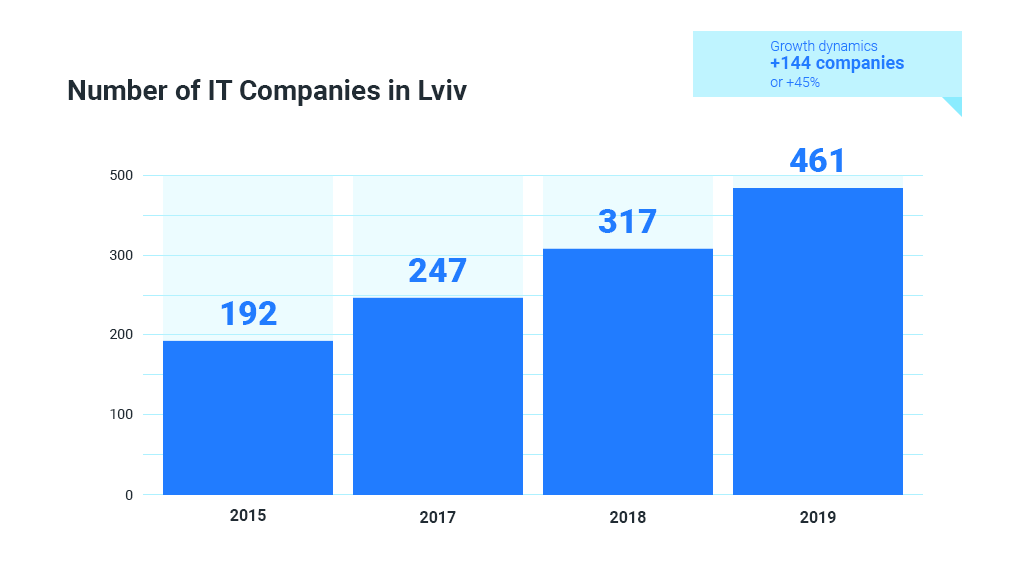 More and more companies are starting to show interest in our experts. Compared to other Ukrainian cities, Lviv has certain benefits for foreign investors and companies searching for nearshoring opportunities. Among other big IT centers in Ukraine, its proximity to Europe is closer than in other cities. Thus, the flight times are shorter that facilitates business trips and personal communication.
The business owners understand such interests from foreign clients, which is why they engage by creating competitive and attractive conditions for them. Responding to this demand, the number of nearshore outsourcing companies is only growing. Among the representatives of the IT sector in Lviv are big Ukrainian Software companies such as Global Logic, SoftServe, Epam, Ni-X, as well as Ergonized, HUD, Binariks, and many others.
Core services
Among the most popular services provided by companies specializing in outsourcing services are:
Web development and web design (from a web application to the enterprise's website)
Artificial intelligence and machine learning
Software engineering
Research and development
Cloud and IoT services and their support
Quality assurance testing
Remote dedicated teams or team extensions to the existing projects
Legacy system migrations and adopting innovative solutions
Blockchain
This list shows that the range of services outsourced by companies is pretty extensive. Depending on business needs, clients choose an offshore software outsourcing company that corresponds to their requirements. In most cases, these are corporate ethics, adherence to contract terms, and previous experience with similar projects. Positive feedback from other customers also matters and can sometimes play a crucial role in the decision-making process. Considering these factors as well as the potential of Lviv's specialists, any client can find a vendor that meets their demands.
Some clients may opt for companies that have more than 20 years of experience. Others that are looking for cutting edge technologies prefer companies that are new to the market and have a fresh look on a business side. Regardless of needs, here everyone can find the contractor that satisfies them.
Using the services provided by reliable and accountable IT companies based in Lviv enables potential customers not only to make smarter investments and reduce costs spent on office maintenance and hiring their local specialists, but they also get a benefit of hiring recognized experts with substantial expertise and experience in working with international or local companies.
Lviv's specialists proved themselves as professionals, which is why Lviv is widely known throughout Ukraine as an IT hub. On the one hand, developers from Lviv receive many relocation offers to bigger cities famous for their IT growth. They move to Kyiv, Kharkiv, Odessa, and even abroad. On the other hand, many specialists from different Ukraine regions are moving to Lviv to start or continue their IT career. It's not a coincidence. Following the recent research, there are 41.6% of middle specialists and 31.4% senior ones. This means that people entering the field are interested in career growth. The number of junior specialists is a bit lower, at 26%. These statistics show that people increase their knowledge areas and raise the level of their competency.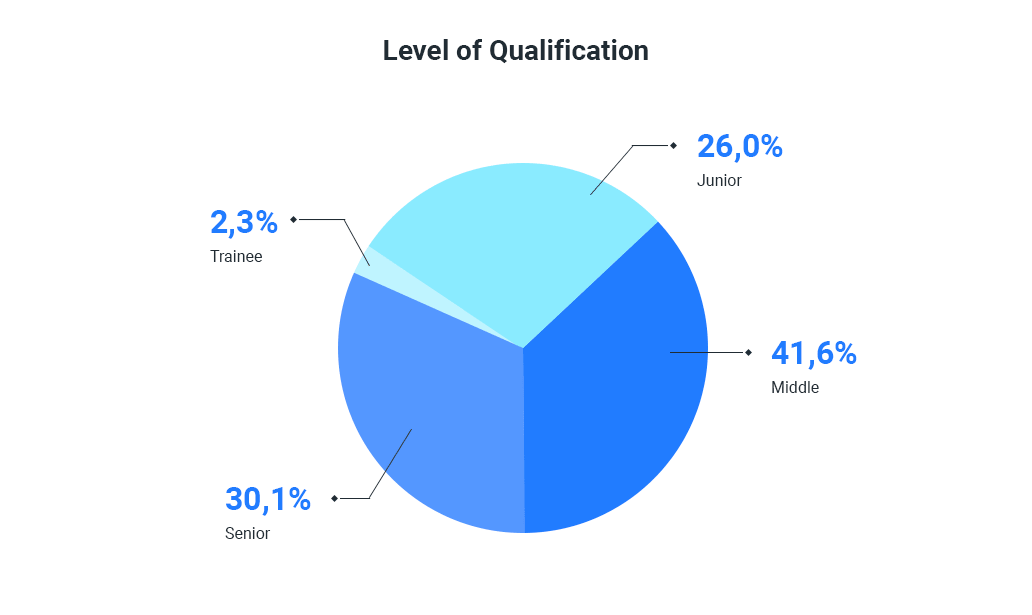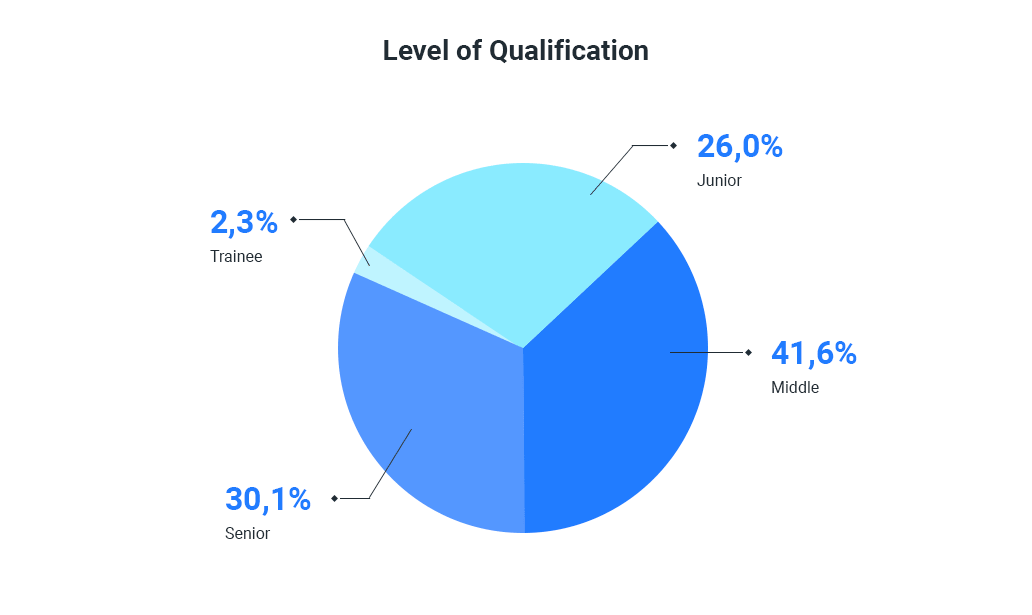 How companies outsource
Following the success of many of Lviv's IT companies, it's interesting to observe the flow of cooperation with their clients to find patterns that empower great results and client satisfaction. The case studies of recognized outsource vendors from Lviv prove that they cover a versatile spectrum of needs, starting from one-member team extension, support, or a part of the software engineering process to full product cycle development. In addition, a positive first impression can lead to a long-term partnership and the support of various projects for the same client.
Companies that provide such services are flexible and ready to supply the highly skilled professionals as well as fully equipped dedicated teams, including all the roles for successful delivery: developers, QA specialists, project managers, UX/UI designers, and others. Lviv vendors are also ready to work at any project complexity, and some of the case studies prove that Ukrainian nearshoring vendors can supply teams from three to more than 30 members to support one project. In addition, the companies are working on transparent service provisioning, establishing clear processes of hiring so that clients can be confident in the reliability of the partner they choose to collaborate with.
In terms of nearshoring cooperation, clients tend to organize business trips to local Lviv offices at the beginning of the project to get acquainted with the leaders and teams that will be working on their projects to ensure better working processes. There are also cases when outsourcing teams are invited to visit client offices so that people are more involved in the process and can feel the atmosphere and core values of the companies that hire them. Thus, ensuring more personal communication and building strong relationships that can last for many years. In 2019, 65% percent of Lviv's IT specialists traveled to Europe on business, meaning that this trend is becoming more popular.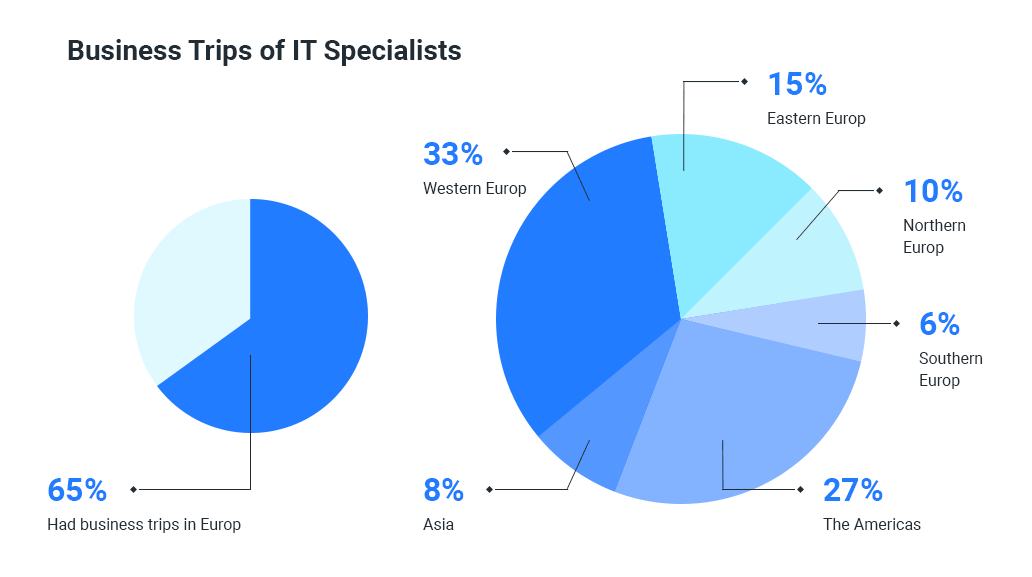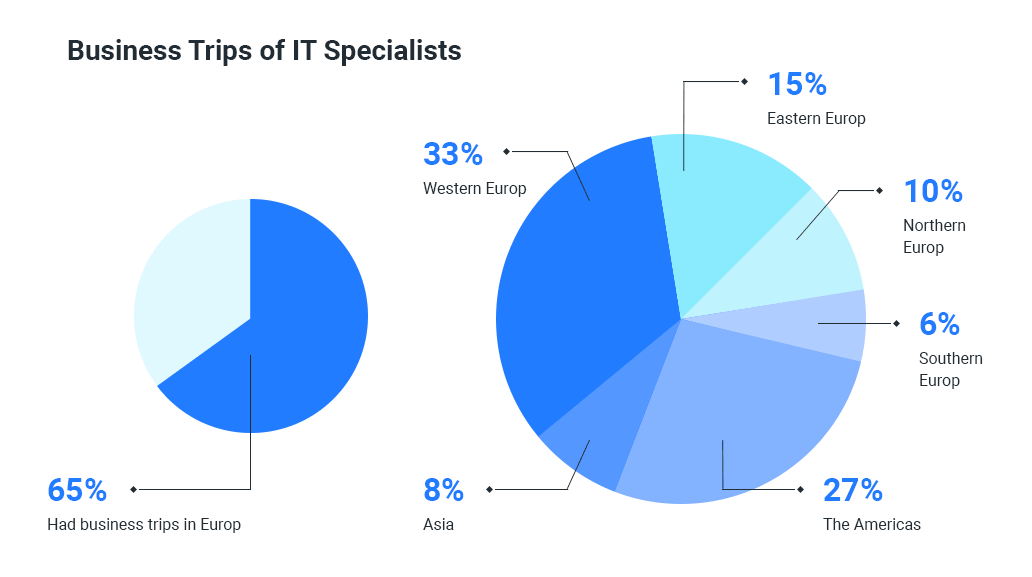 Given the experience Lviv IT companies can share, it's clear that local Ukrainian companies are developing in the outsourcing field. In turn, this growth is attracting interest not only for the clients that are interested in these services but also foreign investors. So we can expect that in the next few years the list of software outsourcing companies in Lviv will increase even more.