Go back
Staff Augmentation vs. Managed Services: What's Better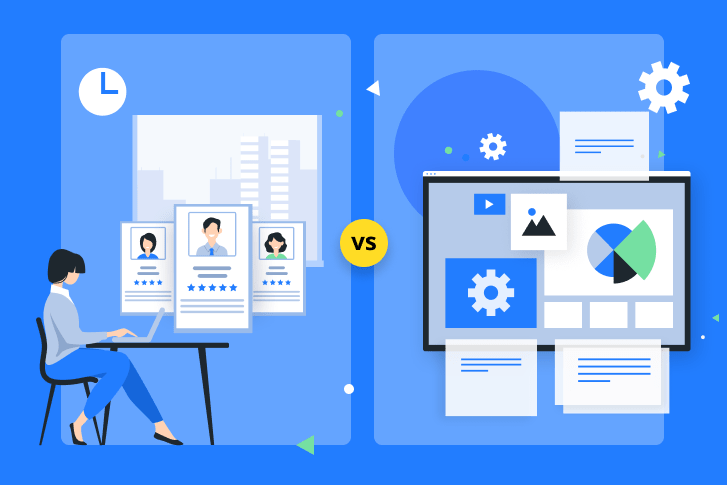 IT outsourcing is one of the main business topics nowadays. More and more companies are interested in creating software for both internal or external needs. At the same time, customers don't want to build their own in-house development departments but think of hiring skilled, already-existing teams that are able to fulfill the project with a good price and low risks. But before giving your task to another company, it's better to find out how outsourcing actually works, what types of services you can choose, and how to do it.
3 Types of IT Outsourcing
Nowadays, there are 3 most common and popular types of IT outsourcing you should definitely know about.
Staff Augmentation
A special model of IT outsourcing that is based on the temporal extending of the company's staff. Management evaluates the skills of the team and figures out what expertise is missed for a particular project. According to this information, companies hire people with the needed knowledge or skills for a certain period of time. More detailed information about staff augmentation is available here.
Project Outsourcing
Under this term, specialists usually understand an ordinary type of collaboration that is normally called outsourcing. In a few words, it's the situation when a company needs to complete a project and hires an entire team.
Managed Services
One more special type of IT outsourcing that means not just hiring a development team for special purposes but also long-term collaboration involving all the aspects of creating new projects from brainstorming an idea to security, planning, IT training for employees, etc.
Actually, the difference between these three models lies much deeper than what was described above. Let's take a closer look and compare a bit to find out all the key features of every above-listed IT outsourcing type.
Staff Augmentation vs. Managed Services Model
Staff augmentation, as we already know, means hiring people with particular experience needed for one or several projects. This approach has a lot of advantages. Among them are:
No extra costs – the company hires specialists only when they are needed
No changes – all the processes within the company and it's operational approach remain the same
Easiness – thanks to a wide IT labor market, finding appropriate candidates is not an issue.
At the same time, staff augmentation has some serious cons, like high costs due to the expensive rates on the IT market, risk of management-style conflicts when internal team members are used working at another rhythm or structure, no benefits for other employees because they are not able to study new skills from temporarily hired employees.
Managed services also have their pros and cons. Speaking of benefits, it's worth mentioning the following:
Long-term collaboration with the possibility of getting extra services and permanent support
Transparent line of work organization
Lower costs thanks to a lasting contract
Among the disadvantages are:
A lack of expertise. If the company you work with using a managed services model operates only particular skills and knowledge, they won't be able to solve the issues with other types of software they are not specialized in
The managed services approach can cause problems if the physical presence of the contractor is needed in your office. Usually, outsourcing companies are not local to your business
There is no clear answer as to what type of collaboration is really better when it comes to managed services vs. staff augmentation. Normally, it depends heavily on the type of project and the goal your particular company wants to reach at a certain period of time. A full comparison of both models across all key parameters is described in the table below. So, managed services is a full set of different projects and products the company can get from one provider. At the same time, staff augmentation is only about hiring developers with certain skills for an estimated time.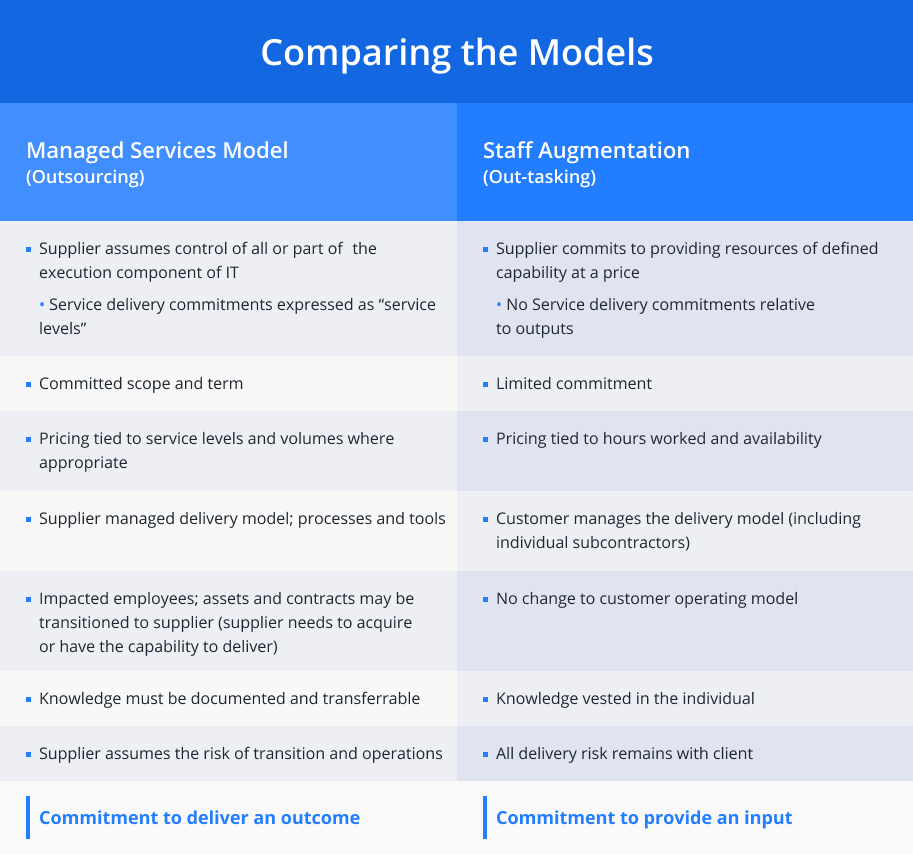 Source: cgi.com
Staff Augmentation vs. Project Outsourcing
Staff augmentation is also widely compatible with another collaboration method called project outsourcing. We already mentioned above that project outsourcing means involving the whole aside team in project development. Usually, project outsourcing is cheaper than staff augmentation but it has several disadvantages.
When a client company chooses project outsourcing for its tasks, all the responsibility for these tasks lays on the contractor. And all the success directly depends on the qualification and skills of the contractor. In case of staff augmentation, for example, the customer is still involved in the project development at a very high level and is able to take care of its quality at every single step.
One more downside to project outsourcing is the inability to fully estimate the competency level of the development team and it's expertise before the project starts. A lot of contractors will just assure you that all work will be definitely done and then will tell you about new and old problems. To avoid such issues, try to figure out beforehand what projects this team has worked on before and how it will act in case any other skills or experiences will be needed during the project.
Staff Augmentation vs. Independent Contractor
Some companies also prefer not to hire a team of developers but a single freelancer who is able to fulfill all of the tasks. This approach seems to be cheaper and faster than staff augmentation or a managed service model. However, this may cause many problems that would not appear by choosing another collaboration method. First of all, independent contractors may have a lack of experience, not meet the deadlines, or just disappear without explanation. So choosing freelancers is a good idea when you need some small changes or a project completed that is not too big or difficult. But in case you need a software system, it's better to look for a team of experienced employees to extend your staff for some time.
Staff Augmentation vs. Professional Services
There is also one more way of IT outsourcing called professional services. It's used quite often alongside staff augmentation but it has another meaning. By choosing professional services, the company gets a team of specialists in one dedicated area. These specialists have to solve the particular problem the client currently has. Comparably with the managed services, professional services are more specified. They are not ready to provide a variety of services and support but can be helpful in particular questions.
Which to Choose?
In principle, every company should choose on its own what way to choose and how to use IT outsourcing to reach the main goal - lower the price and get the results. For one customer that needs a partner for a long period of time, the best decision will be to stop at managed services. For small businesses, it is much easier to involve freelancers. But at the same time, more experts suggest choosing staff augmentation first. This model helps companies stay in touch with contractors on a daily basis, control their results, and make corrections if needed.
Staff Augmentation vs. Time and Material
In case the company makes a decision in favor of staff augmentation, it's crucial to discuss beforehand the price of the service and the way it will be calculated. There are two common formulas to figure out price. The first is called "Time and Material" and the second is "Fixed Price". The difference between them is described in the table below: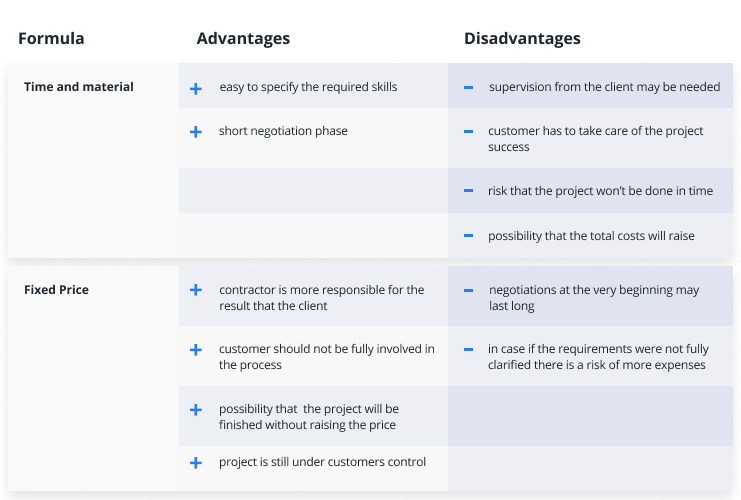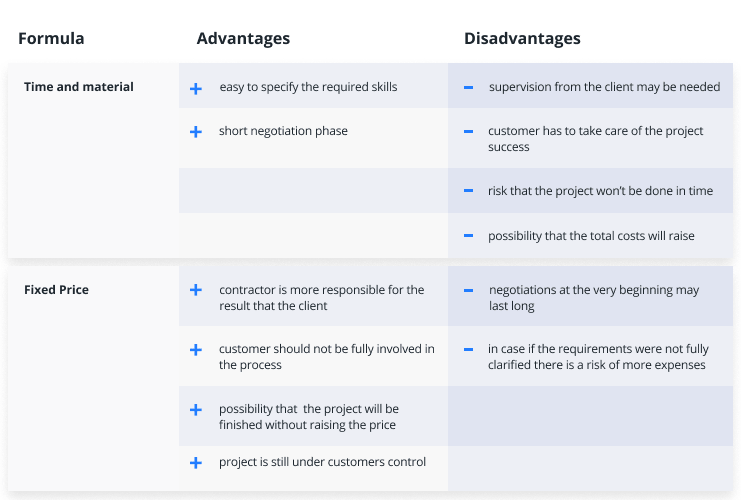 Source: experts-exchange.com