Go back
Staff Augmentation with Eastern Europe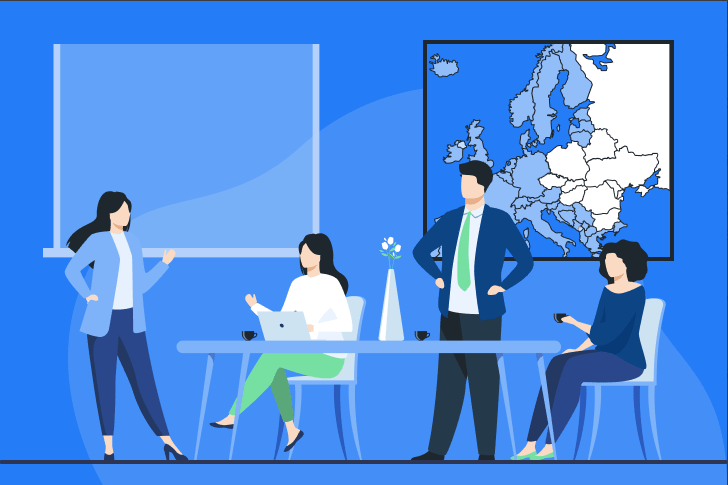 Nowadays, the opportunities for business growth are becoming more expansive than ever. Following the recent trends for working remotely, many CEOs and business owners will turn to the methods that allow rapid development and productiveness combined with optimized investments. Staff augmentation is one such strategy, as it allows for the effective distribution of tasks to professionals globally as well as among the domestic specialists working on your project.
Apart from just offering the means for development, according to recent studies, the staffing industry proceeds to grow; it was able to reach more than $225 billion in revenue generated by the top staffing and staff augmentation companies all over the world. Due to the economic crisis in 2020 that forced business owners and investors to optimize their spending, outsourcing overseas became more popular and the staff augmentation market size is projected to only increase.
Stick around to find out what staff augmentation is and how to use it for your project.
Overview
While the trend of outsourcing some operations or projects is not new, it is most frequently used in the IT industry. Many international companies engaged in software development outsource their projects to developing countries due to the numerous benefits of staff augmentation services. The crucial one is cost-efficiency, as specialists of the same level charge much less compared to leading countries in the European Union and the US.
That's about traditional outsourcing as we know it. But what does staff augmentation mean, and how it is different from outsourcing?
Since there is no unanimous approach to the definition of staff augmentation services, some people use these two terms interchangeably. However, the main distinction lies in the amount of service outsourced and the status of the personnel. Taking into account that usually in the augmentation, there is temporal working personnel that works only on some part of the project, the potential risks of the absence of full project picture that we can observe in traditional outsourcing will be mitigated; however, if we take partial outsourcing, the functions of staff augmentation may be pretty similar.
Despite the fact that cost efficiency is luring to most project managers, it often compromises the quality of the end result. That's where staff augmentation services come in handy. It allows managers and other project leaders to include a number of global professionals in-house together with the augmented staff to create a hybrid team.
IT staff augmentation services and other industry offerings
Staff augmentation vs. outsourcing
In attempts to forward the project to managed service providers or outsourced personnel, your participation in the project flow is a high-level effort and the time investments are minimized. It may lead to a great number of corrections that need to be introduced and some details may be missed. So the main difference between managed services and staff augmentation is in the level of control. Opting for augmentation, in turn, will give you full control over the project and active participation. Certain operational activities, customer support, and other services do not require much control and effort. In this case, outsourcing or hiring a managed service provider will be the right choice as it will help you save a significant amount of time. Otherwise, if the services done by outsourced contractors should take the periphery role, you seriously need to consider business augmentation.
Staff augmentation vs. Independent Contractor
The main difference in the definition of staff augmentation and the concept of independent contractors is the recruiting process. The latter one may also entail additional risks due to insufficient checks on the independent contractors. When it comes to business, an independent contractor can perform the same function that augmented staff personnel do. Usually the latter ones are recommended by trusted and reliable agencies that specialize in business augmentation. Engagement of such agencies allows to facilitate the process of hiring and onboarding of a new candidate. In addition, it simplifies all the legal procedures flows including staff augmentation agreement between both companies and staff augmentation contract between the target company and the candidate. These documents help to ensure that all the aspects including NDA and project time-frames are covered. Here, the choice is clear; however, for companies that have strict budgetary limits and are willing to take the risks, hiring an independent contractor on some freelance platforms may turn into long-term working relationships.
Staff Augmentation vs. Consulting
When it comes to defining these two terms, the distinction between staff augmentation and consulting is the most vivid. This difference lies in reaching the end goal. Consulting does not lead to the achievement of the end result as opposed to staff augmentation. Consulting companies act like advisors and can offer the best ways for the implementation of this or that project. However, they are not responsible for most projects they work on. So they cannot be held accountable whether the project reaches its goals or not. Contractors, on the other hand, must always adhere to your requirements and do their best to meet your expectations. It may happen that you involve both consulting and staff augmentation services for one project.
What cases call for resource augmentation?
Having a great diversity of the services on the market helps to optimize IT processes flows and facilitate routine work, so one may be hesitant knowing when to turn to staff augmentation services. Now, when we managed to define staff augmentation, let's see when will be the perfect option:
1. The necessity of team extension
It may happen that a time-sensitive project requires an urgent team extension for various reasons: either the drastic scope increase or when core team members decide to move on and leave the company. It can occur in organizations regardless of their size, and sometimes you just don't have time to go through all that recruitment hustle and bustle. That is exactly why you might want to contact a staff augmentation vendor who can provide you with the additional workforce in short notice. They also take care of all the recruitment and onboarding procedures as well as the documents and other legal aspects of your staff augmentation proposal.
2. Making a budget
For small startups and companies that are aimed at reducing their project costs without the impact on quality, staff augmentation will be the perfect option since it entails fewer salary costs and operational expenses on office maintenance for new employees. Taking into account the popularity of offshore staff augmentation, the amount of money saved can be really surprising.
3. The necessity of full control over the project
In case you work on a really crucial project and you cannot give it to the outsourced specialists entirely, you can turn to the staff augmentation, sometimes called partial outsourcing, for help. One can have complete control over the project, and the essential tasks will be distributed to the domestic specialists. Your overseas contractors will maintain the less important tasks while remaining under your control, which can provide a much better outcome than just the outsourcing projects you work on.
4. Lack of specialists in your region
Once a company does not have enough in-house resources, and the local talent pool does not suffice, staff augmentation can be really helpful in filling those talent gaps. A trusted staff augmentation vendor can find for you the exact number of developers and other team additions needed from all around the globe.
Staff augmentation opportunities and obstacles
In order to be able to make an effective decision, you need to weigh the advantages and disadvantages of this approach to be able to see the full picture and know what the risks are.
The benefits of staff augmentation are:
Increasing your team expertise by hiring people who will be fully dedicated to your project There can be situations when you are forced to hire people who are already engaged in other projects. This happens if their skillset is critical and there is a lack of such talent. Staff augmentation with foreign specialists solves this issue
Improved working relationships and more personal contact - Having augmented staff members means that they temporarily become part of your team and can directly communicate with in-house specialists and project leaders to ensure better results.
Time-saving - Building a team takes much less time and you can easily hire a team for short-term projects.
Cost optimization - Hiring foreign specialists, especially the ones living in developing countries, is much more affordable than covering domestic talent. Besides, by augmenting your team with foreign specialists, you avoid spending money on recruiting and training new staff.
Flexible team size - Add and remove team members easily due to a flexible model depending on the workload and the necessary skills during the development of the project.
Easier adoption - While traditional outsourcing may cause some resistance from in-house team members, receiving better feedback on augmentation contributes to the fact that the local employees stop treating foreign colleagues as enemies to ensure the highest level of collaboration and great results.
Along with the benefits, there are some drawbacks in staff augmentation you should keep in mind in order to minimize them:
Over-reliance on internal management - You will work with people who might operate in different time zones. This brings about certain inconveniences in your collaboration, as there might be some emergencies or inability for the augmented staff to work on the task, as they miss some details due to language or culture barriers. Such situations may create difficulties to manage the employees who work remotely.
Cultural and language barriers - Different cultures and lifestyles may create certain inconveniences in collaboration, so it's better to find out about the cultural peculiarities of the country you plan to work with in order to minimize miscommunications.
Finding quality staff - It may be harder to correctly assess the expertise in a remote environment. That's why hiring the wrong contractors is a big risk. So don't forget to carefully verify the previous clients' feedback and official credentials.
Where to find augmented team members
One of the most popular locations for finding staff augmentation talent is in Eastern Europe. It's not as popular for partial and complete service outsourcing as it is in Asia yet, but during the recent years the workforce and service quality started to attract companies interested in augmenting their teams from all over the world. Being slightly more expensive than Asian countries, it also entails some advantages one can enjoy by turning to European talent.
Peculiarities of staff augmentation outsourcing to Eastern Europe
Eastern Europe software development outsourcing and staff augmentation fields are growing, meaning that the new vendors and independent contractors appear on this market. That's not a surprise as the demand for Eastern European specialists is increasing. Taking into account the close proximity to other European countries, the clients from the EU get a lot of benefits from partial or full-service outsourcing and hiring augmented staff using nearshoring tactics.
6 reasons to outsource to Eastern Europe
1. Attractive labor market
Affordable, high-quality education, lower employee wages, and a large number of skilled professionals all contribute to the rapidly developing labor market in the countries of Eastern Europe. This makes outsourcing to Europe comfortable as there is always a possibility to find professionals with the required skill set for any project. The staff potential of each specific country corresponds to its size. For instance, Ukraine, the largest country of Eastern Europe, is home to more than 200,000 IT professionals.
2. Financial benefits
In terms of outsourcing IT work, Eastern Europe has the perfect balance of quality and costs. According to research, outsourcing in Eastern Europe can help businesses in the United States bring 40% cost savings. The average rate of a specialist in Eastern Europe is $25-35 per hour depending on the particular country while their proficiency remains at a high level. In turn, it makes staff augmentation outsourcing really attractive from a financial perspective. The rates also depend on the specialists' level and may increase if your personnel have to work overtime.
3. High software outsourcing readiness
Following the estimates in the same research guide, it's clear to see that Eastern Europe has a high level of outsourcing readiness. This means that companies seeking to outsource their services are more inclined to trust partners to outsource their projects in Europe. Among the Eastern European countries with the highest marks in 2018, on the scale where 1 is the highest and 3 is the lowest, Armenia, Ukraine, and Belarus scored a 1. Also, when we take a look at Central and Western Europe, in Romania and Slovakia, there is the medium readiness for outsourcing, thus scoring a 2.
4. High global competitiveness index and technological readiness
Many famous companies, such as Magento, Grammarly, and many others, have offices in Ukraine and the startup unicorns from Eastern Europe are getting more famous; thus, the skills of specialists from this region are rising in demand. In terms of IT outsourcing, Eastern European developers and software engineering resources are becoming more and more competitive. The companies that assess the level of technology development indicate that the level of technical proficiency is rising too. That makes outsourcing software development to Eastern Europe lucrative. Regarding global competitiveness, Eastern European countries like Czech Republic and Hungary are taking their place in the top 50 for the most competitive economies and workforce competitiveness.
5. English proficiency
Since English is considered to be the business language, it's important that augmented staff members speak it well. It's a common belief that the general level of English in Eastern Europe is between moderate to low, however, with higher outsourcing demands the level of English is constantly increasing. Following the numbers, English proficiency in Hungary is 62%; in Poland - 60%; in Ukraine, Russia, and Belarus the percentage of English speaking people is 52%; in Bulgaria it is 65%. These are the general rates, however. Taking into account that the whole IT cluster is English speaking, even for local companies, it's a primary requirement for candidates to have at least an intermediate level of English.
6. Business traveling opportunities
Since all of the countries are located in close proximity to one another, when it comes to outsourcing, Eastern Europe is a great choice. Business trips are becoming easier to arrange for European clients. It's great to have the opportunity to meet your outsourced vendors or employees if a flight takes 2-3 hours. One more benefit of the location is a minimal difference in time zones, meaning that there won't be jet lag and the productiveness of such trips, especially short-term ones, will be much higher. In addition, many countries have a visa-free regime, including Ukraine, so the document management for arranging a worksite visit takes little effort.
7. Problem-solving engineering culture
The culture of engineers is different from body-shopping practices. The core of this approach is to ensure effective solutions rather than just making money. If you are happy to work with people who have that goal in mind, you will always receive ideas and suggestions along with estimation for several solutions to your problem and advice on what solutions are better. The good news is that Eastern European specialists have a reputation for highly developed problem-solving skills.
Pitfalls in staff augmentation and outsourcing, and how to avoid them
1. Communication issues
In most cases, when it comes to outsourcing services, contractors communicate with the in-house team only via the mediation of a project manager that may result in the lack of context and have a negative impact on project delivery. Instances of miscommunication are quite common in outsourcing to Eastern Europe just as they are common in any business partnership, such as technology failure, language barriers, or simply a limited timeframe.
In order to avoid miscommunication, it is crucial to outline your goals clearly and take control of the project to make sure that the team has set targets that reflect your vision of the final result. It is also for the best to share one's business goals as it gives practical value to one's expectations. In addition, it helps to find a proactive business partner who would be willing to share the aspects of responsibility for the projects.
2. Lack of commitment to long-term cooperation
The compatible market of Eastern Europe Software outsourcing makes it difficult for investors to retain the employees as developers prefer to leave when they find something that is more suited to their needs. High turnover calls for the investor to come up with a great recruitment strategy that would attract employees for longer. Thus employees have to take care of additional benefits for their workers, such as health insurance or online education resources. Also, loyalty can be earned by ensuring transparency in the relationship of an employee with a company.
3. Paperwork complications
Contracts in Eastern Europe are often signed on the go, so there is a risk of them missing sensitive information. Investors are to check the contracts more thoroughly when negotiating with partners in Eastern Europe. Project objectives often do not offer the desired flexibility. This problem may be caused by the overall quality of management. Therefore, there is a need to always check for management compliance by comparing what is offered to EU regulations for quality management documentation and other worldwide standards.
Eastern European outsourcing countries overview
Although the main trends of outsourcing in Eastern Europe are similar, the IT markets in different countries have specific characteristics that one should look for when choosing a particular country for doing business. Favorable taxation policies contribute to increasing the number of outsourcing companies in Eastern Europe. According to research, the situation of the IT markets in the following countries is listed as follows:
Belarus
Belarus is a country with large governmental support for the IT industry that results in the elimination of taxation. The market of this country shows steady growth despite the economic and political turmoil that the country finds itself in. The country employs 45,000 specialists among many companies, some of which are state-owned. Though not a popular location for outsourcing in Europe, Belarus is worth considering due to the ease of doing business.
Bulgaria
Bulgaria is a country that might be the fastest-growing destination for outsourcing as the IT sector of the economy has grown six times over the course of the past decade. The country hosts around 50,000 IT specialists, but their qualifications may vary greatly and the shortage of adequate talents remains the problem in the country. One of the specifications of the Bulgarian IT market is that the talent pool in the country consists primarily of young people, more than 90% of whom are younger than 35 years old.
Czech Republic
This country hosts over 100,000 developers, even though the IT market is not the fastest-growing segment of the economy of the country. The IT industry of the country is especially well-known for its international R&D centers that work for many of the world's largest companies. The clients of the R&D centers in the Czech Republic include Microsoft and IBM, among others.
Hungary
Hungary currently employs around 150 thousand specialists in the IT industry, with 80,000 of them being certified software developers. The country's IT industry mostly focuses on security development and the creation of the anti-malware software. Like the Czech Republic, this country also hosts international R&D centers for IBM, Microsoft, HP, and several other companies.
Poland
The IT industry in Poland is currently one of the fastest-growing destinations in the region, with an expected production value of over $25 million in 2025. Poland is a great location for outsourcing in Europe, as outsourcing occupies around 5% of its IT industry. Poland also hosts more research and development centers than any other Eastern European country (approximately 40%). More than 250 thousand engineers are employed in Poland, which makes the country the perfect destination for searching for talent in various areas.
Romania
The Romanian IT industry experiences rapid growth, with a 30% increase in the export of services and products. The number of people working in the IT sector is over 120,000 specialists according to 2018 data, and it is projected to reach 300,000 by the end of 2020. This booming industry makes Romania an excellent destination for outsourcing.
Ukraine
One of the most popular locations for IT outsourcing in Europe, Ukraine has over 200,000 IT specialists, as per data from 2019. The vast potential in terms of number of specialists allows foreign investors and clients to find specialists in any branch of the IT sector. The taxation system in Ukraine is one of the best in Eastern Europe, offering the lowest taxation rates for partners. The rate per hour is usually lower compared to other European countries, taking into account the lower costs of living and market salaries for other industries, which does not compromise the quality in any way. Ukraine is mainly known for its innovations that result in collaboration of the country's startups with Fortune 500 companies and opening their own R&D centers for companies like Oracle and Grammarly.
Final thoughts
Being a great way to save resources, outsourcing will empower your company to hire the talent that it may lack. Taking into account the current health and the economic situation around the globe, outsourcing will only become more popular.
Choosing Eastern Europe as a destination for outsourcing enables businesses to benefit from high quality at competitive prices. It's necessary to consider various factors, such as the availability of developers in particular fields, specific technologies, legal climate, and taxation before the final decision is made. But once it's done, rest assured in knowing that Eastern Europe will inspire you with its everlasting innovative potential.