Go back
Engineer Shortage: Software Outsourcing May Help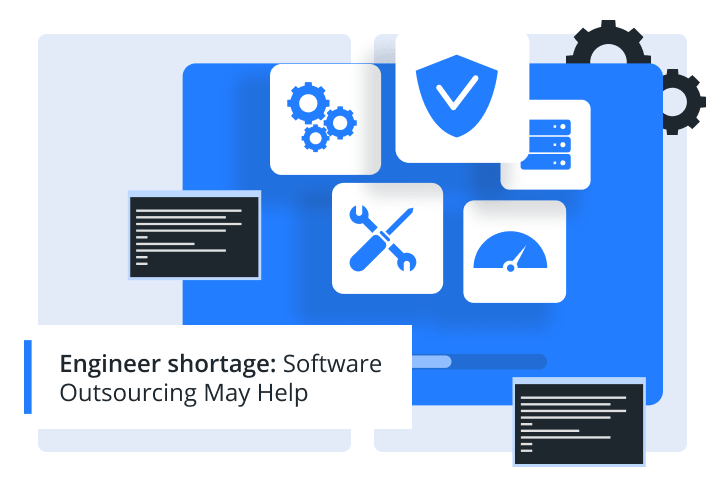 Since companies within all niches change, unfilled tech jobs in the United States and Europe are rapidly changing as well. According to a Statista survey, 24% of respondents stated that they were encountering skill-shortage development functions. However, based on data from the US Bureau of Labor Statistics, software engineer growth is projected to increase to 22% from 2019 to 2029. Based on an Evans Data Corporation survey of IT specialists, the number of software engineers in the USA is leading in the world, which is currently at 4.2 million.
To hire the most qualified workers, employers should consider versatility in terms of time and place of work that is essential to potential candidates. Aside from that, decent monetary compensation and health aspects are not up for debate. Let's review what else is crucial for employees and what are the major difficulties that all employers must overcome.
Major Difficulties: What Do All Employers Experience?
Modern employers make strenuous efforts to find software engineers who have relevant expertise. Unfortunately, a database of potential job candidates for the software development position is shortening. Let's review the five common reasons why software engineers can ruin any chance of participating in a project:
Low level of expertise
Lack of soft and hard skills
Lack of higher education
Outrageous wage expectations
The more often such issues arise, the more challenging it is for companies to find the software engineer who meets their requirements. What appeals to employees in the company can turn out to be what captivates and makes them stay. Because demand for a facility and expertise has only increased, getting it in advance will be profitable in the long run. Let's examine employee demands based on the ManpowerGroup Talent Shortage research: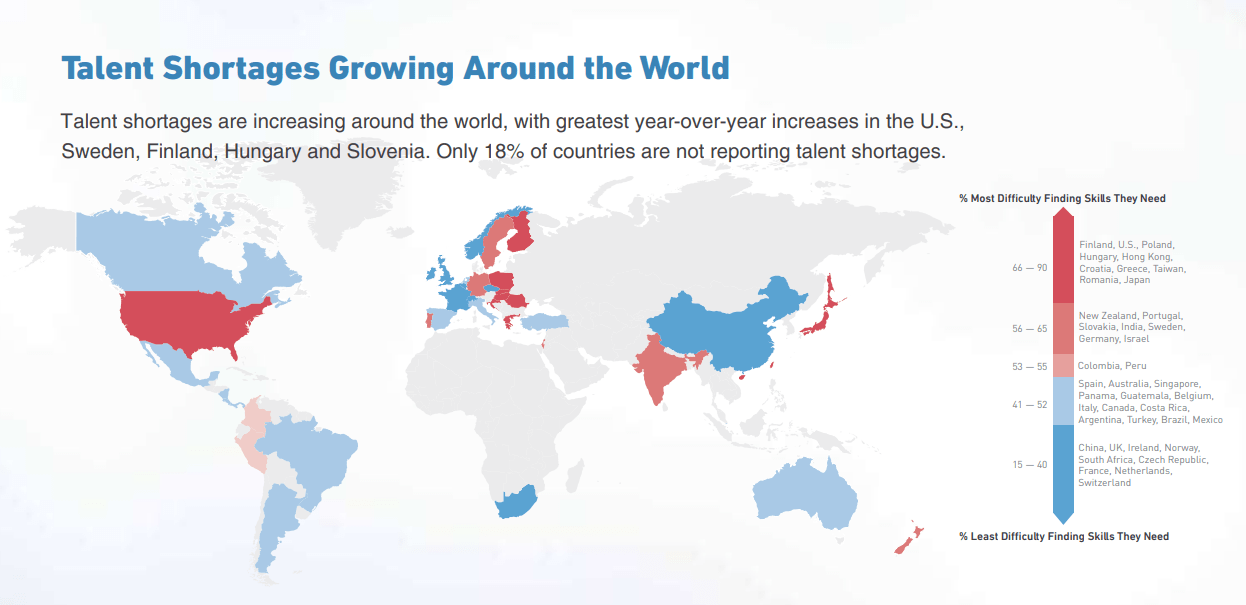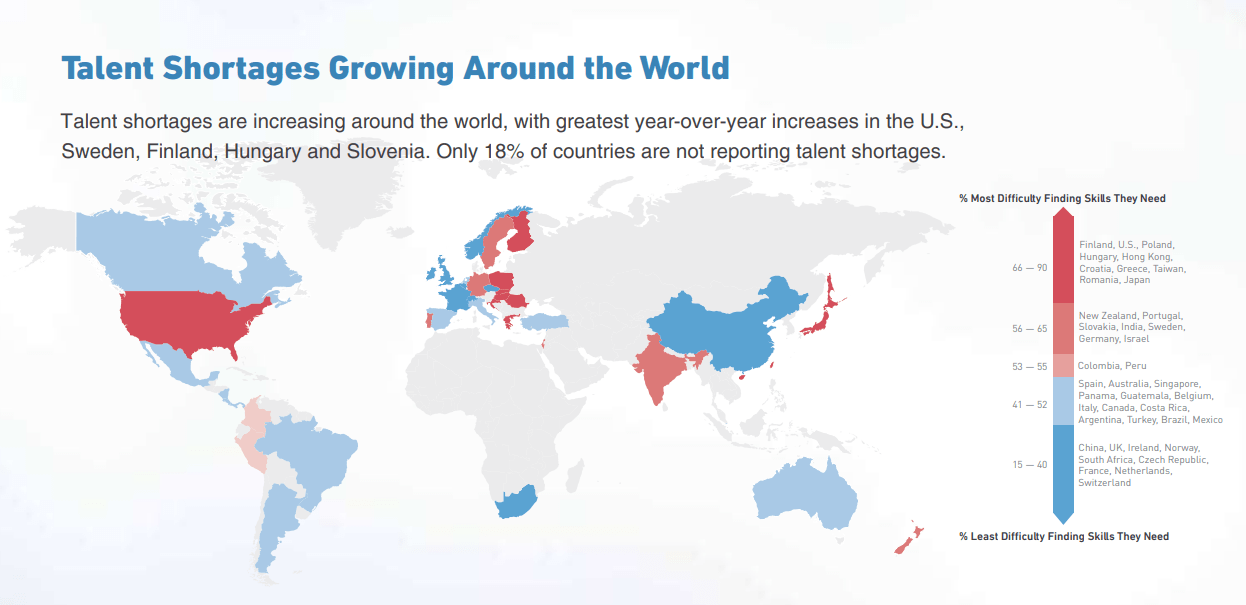 Payout is highly appreciated, and the way it is issued to workers is far more significant. Pay is the most important aspect for all staff members, regardless of gender.
Out-of-work self-development is essential for modern workers. They aim to constantly develop their skills and expect their employers to encourage them financially.
Flexibility in terms of schedule and format of work comes third on this list. Given the strong competition amongst IT companies, it is necessary to take into account the comfort of the workforce.
Career growth is a must for modern workers. The constantly developing world disposes to having great ambitions and career growth is necessary to allow yourself to live better.
The brand name plays a significant role in choosing a company. Understanding that the employee will keep up with the times and current trends after becoming a part of this organization is crucial. In addition, the modern workforce aims to have the best portfolios.
Software Outsourcing: Top 3 Ways How it Can Help
In face of the current developer shortage, hiring new engineers is a formidable task. Therefore, companies should think carefully about IT outsourcing. According to the Worldwide Developer Population and Demographics Study, the current number of developers in the world is 26.9 million. Therefore, let's examine the top three reasons why software outsourcing can be helpful for companies.
Outsourcing software development enables you to reach out to pools of highly accomplished engineers. Remote cooperation enables you to quickly outsource your carefully planned task to a group of software developers who have specialist expertise. Aside from that, you will not have to undergo a laborious hiring process. You pick a reliable candidate (the service https://hireukrainiandevelopers.com/ can help you with this) and then specify the domain of work, the conditions, and turnaround time. You can find out more information about software developers' demographics on DataUSA, as well as get to know how many engineers there are in the US. If you are cooperating with a worthy software engineer, the work on your project may start in a couple of weeks.
Remote cooperation suggests fast scalability in the quality and scope of work. It means that as soon as the first phase of the software development life cycle is finished, you decide whether or not you want to carry on working with a third-party engineer. Once you are unsatisfied with the engineer's work, you can terminate cooperation and keep going about your business. However, if you consider the outsourced software engineers for the long term, you can expand the team, replace some team members with other specialists, or completely drop certain employees. Undoubtedly, it is a rather viable and soft option compared to managing your own team of IT specialists.
IT outsourcing is a one-size-fits-all solution for businesses of any size. It does not matter if you own a business that is not related to technical subjects and requires application development, or if you run a startup with great potential but without widespread publicity. If you are looking to expand your team, software development organizations will meet your requirements - as a rule, for a lower budget than you would require when employing a land-based team of IT specialists. You will have to conduct painstaking research to find your future outsourced partner. Luckily, you can use specialized instruments to find a vendor with the qualities and expertise required to tackle your project (e.g., Clutch). It is far more secure than employing software engineers in-house.
Ukraine: Why is it the Top Country for Employing Software Developers?
As a rule, business people who frequently utilize outsourcing services understand that Ukraine is the top country for doing this. According to a Stack Overflow survey of the developer demographic, 70.8% of respondents are people of European descent. Now let's quickly review some of the reasons why you should opt for Ukraine when outsourcing:
Lower hourly rates - This is typically the most important aspect that organizations consider when applying for engineers from Ukraine. As for the hourly rates of software engineers by country, Ukrainian specialists charge less for their services than their European counterparts due to the different currency prices.
Specialist expertise - The better half of developers in Ukraine continually expand their expertise so you can rest assured knowing the end result will be well worth your investment.
A proven track record - Ukrainian software developers have been developing their IT skills for years. Aside from them, a majority of them have a solid track record in developing software.
Such arguments in favor of Ukrainian developers should give you a clear understanding of where to find software engineers, and encourage you opt for Ukraine as the top country for IT outsourcing.
Conclusion
Although we are witnessing the competition for the best software developer and a shortage of web developers, software engineer job growth is expected to max out in the IT field. The size of your company doesn't matter - IT outsourcing still remains the ideal solution regardless. Hire leading experts on software development, further your goals, and complete ambitious projects together with your outsourced partners.