Go back
IT Outsourcing Services: What, How, & Where to Outsource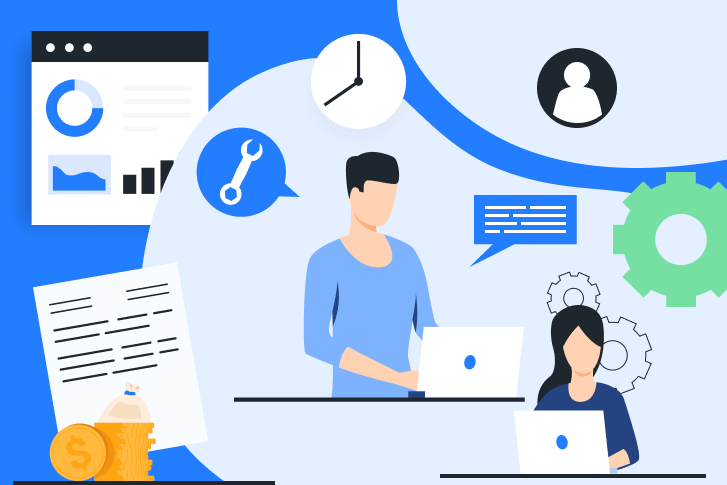 Outsourcing occurs when a company outsources functions that might have been done by internal workers and resources. In this article, we will focus on all the aspects of IT outsourcing services. We will discuss the types and models of outsourcing, the services that can be outsourced, the pricing models, and the tasks that startups most commonly outsource. Moreover, we will evaluate the pros and cons of outsourcing a project or tasks, as well as take a closer look at the most popular and advantageous outsourcing destinations.
What Is IT Outsourcing?
IT outsourcing services are provided to companies that want to buy IT-related functions from an external party instead of performing them in-house. The main idea behind this business model, and the reason why it became extremely popular, is to obtain the best technology possible at the lowest cost. IT outsourcing can help any organization looking to reduce expenses and focus on its core strengths. The idea is to outsource in a way that supports the company's overall objectives.
What Are IT Outsourcing Services?
IT outsourcing services allow companies to obtain the greatest IT assistance without having to spend money on creating their own in-house solution. In some cases, outsourced IT assistance can be used in conjunction with an in-house IT department. Additionally, some businesses deal with just one IT outsourcing firm, while others work with several of them.
Insourcing vs. Outsourcing IT Services
To understand the main differences between insourcing and outsourcing, let's take a closer look at the advantages and disadvantages of both models.
Insourcing

Outsourcing

Pros

Offers complete control over the project, tasks, and workflow
Helps the local market by establishing new positions
Allows for hands-on service
Promotes better communication

Provides industry sector access to cutting-edge technology
Enables a robust security protocol for sensitive data
Reduces operational costs
Offers better expertise and knowledge to work with
Provides free resources for a variety of uses
Offers more possibilities to adjust to changing circumstances
Improves IT management
Improves corporate financial measurements

Cons

Presents gaps in technological talent and skillset
Is more expensive
Creates difficulties in headhunting

Results in partial loss of control
Makes miscommunication more likely
Can lead to inconsistency in the goals of the business and IT
May have hidden costs
What to Outsource
Outsourcing IT services is a wonderful way to improve your company while lowering staff costs. The outsourcing industry, above all, provides a large pool of knowledge. As a result, businesses no longer have to worry about a shortage of resources. An outsourcing provider can supply you with the correct skills, whether you need a part-time UX professional or a QA to test your product.
In fact, outsourcing is sometimes misunderstood as a small-business solution, a helping hand extended to those that don't have enough staff. Yet, giant companies like Oracle, IBM Companies, Ford, and Microsoft, among others, are fans of IT outsourcing services. Here is some detailed information about what services and tasks you can outsource.
Services to Outsource
IT outsourcing services companies usually specialize in different categories. Depending on your needs, you can choose a provider that offers both development and innovation as well as other traditional procedures, or rely on an outsourcing agency that specializes in consulting and strategy as well as some development. In any case, before collaborating with a provider, you will want to do some research so that you will know whether an agency aligns with your company´s needs. Here are some services that you may come across quite often if you plan to outsource:
IT Security
IT security professionals usually focus on corporate systems and core networks. Their services include recovery from cyber attacks and the strengthening of the environment against attacks on the company's infrastructure. Some IT security providers offer regulatory compliance services to ensure that an organization's infrastructure is well protected.
IT Service Management Outsourcing
Managed services include any type of traditional in-house IT process that can be outsourced to a third party. It offers a general set of services that includes a certain level of task management and monitoring to simplify your employees' workload. However, the set of features varies from business to business.
Custom Software Development Outsourcing
Outsourcing software development is a lifesaver for small companies and startups, as well as for large enterprises. Agencies provide professionals who help companies of all sizes with the strategy, design, implementation, and deployment of their software development projects.
IT Service Desk Outsourcing
IT service desk outsourcing is the involvement of specialists in providing internal technical support. Such programmers usually resolve employee IT-related issues such as problems with a malfunctioning application or issues downloading programs.
Infrastructure Management
IT infrastructure outsourcing services are meant to synchronize and set up all the systems of an organization including the physical and virtual environments that operate together to support all the company's activities. IT infrastructure outsourcing services provide third-party specialists to evaluate, test, and maintain all the individual components of the infrastructure and update them so that they function at their best.
Tasks for Startups to Outsource
Non-Automated Tasks
Tasks that cannot be automated are the most common to outsource. Taking care of them in-house can be very time-consuming while recruiting someone could be out of the budget, especially if you are a startup, as you need to focus on the core processes and your budget is often tight. If you decide to outsource such tasks, be clear with your outsource team about what you expect and how you need the work done.
Projects Out of Expertise
Often, companies do not possess the skillset for every project. Usually, programmers specialize in a specific area, and their knowledge and expertise might not fit a project's requirements. This is when outsourcing comes into play. Agencies will provide the necessary specialist who will cover the skill gaps for a certain project. Moreover, your in-house team and the vendor could collaborate to deliver a project more efficiently.
Quality Assurance (QA) Testing
It is common for companies to outsource to a third party for product testing. When there are a lot of development projects, vendors can help you achieve the perfect variant of your project. Outsourcing is the best way to keep the in-house team productive and avoid birding out, as part of their work is delegated to a third party.
Website Development & Management
Once a website is created, it must be maintained. For that task, it is a good idea to outsource a programmer who will manage your website, make necessary changes when required, and keep it up to date. Outsourcing will keep your in-house team focused on other core processes and projects with tight deadlines.
Web Design
Many organizations outsource web design and development to ensure that these tasks run smoothly and that the site has an appealing look. It is a good idea to invest in a product that will work right from the start and satisfy website visitors. In fact, instead of wasting time and money in hiring and onboarding front-end developers, startups should invest in third-party professionals who will create highly functional websites.
Outsourced IT Support
Many organizations have IT support in their in-house teams. However, even if they do, it is still a good idea to outsource additional support. Such services improve cybersecurity and offer access to the latest technologies for difficult cases. Moreover, by outsourcing support, the organization can focus on other vital processes that improve profitability.
App Development
Many organizations find themselves needing an application. Obviously, if the company does not have an in-house IT team, creating an app might be too expensive, especially for startups. It is always a good idea to outsource this type of task. Many outsourcing companies can provide highly experienced developers and will find a solution that matches your budget. In fact, outsourcing teams can customize infrastructures according to your business operations, needs, and goals.
How to Outsource IT Services
IT services and outsourcing have been going hand in hand for a long time. When deciding how to outsource, you should consider certain points. Below, to facilitate your searching process, we describe the types of outsourcing, outsourcing models, and possible pricing models. However, before hiring any type of outsourcing agency, you should identify your project goals and needs. This will help guarantee the success of your collaboration with the provider.
Outsourcing Types
Onshoring
If a company needs a certain skillset or must grow its engineering staff to fulfill a project deadline, but not enough local expertise is available, this cooperation approach is ideal. An IT staffing firm might suggest onshore staffing, which involves working with competent developers in a separate town or city but based in the same country.
Offshoring
A company's in-house team can be supplemented via an offshore outsourcing strategy. Essentially, this involves recruiting temporary workers from countries that are many time zones distant from your business headquarters. For example, a firm located in the United States working with programmers from Ukraine would find this outsourcing strategy to be ideal.
Nearshoring
Nearshore outsourcing differs from onshore outsourcing in terms of geography. When adopting a nearshore model, your provider of software engineers should be located in a neighboring country, with a time difference between the contractor and the rest of the team of no more than three hours. A good example of nearshoring is when a company in the United States collaborates with programmers in Mexico or Canada.
Multisourcing
Multisourcing involves several different vendors supporting one company or project. Its main aim is to improve the efficiency of IT operations. A business can pick the best outsourcing provider for a certain IT assignment with the help of multiple vendors.
Outsourcing Models
Offshore Development Center
An offshore development center is an office that might be located anywhere on the planet. Businesses prefer to relocate to a nation where the cost of living is lower than it is in their own country. This acts as a worldwide extension of an organization's existing IT staff while offering cost-effective services.
Project-Based Model
The main idea behind the project-based model is to delegate the whole project or a great part of it to the outsourcing team. Outsourcing service providers are accountable for completing the duties specified in the contract within a certain time frame.
Outstaffing
When a company is looking to expand the software development team's capacity and speed up the development process, outstaffing comes in handy. Outstaffing is when a customer hires overseas personnel for remote software development to speed up the process.
Staff Augmentation
Staff augmentation is the addition of third-party professionals to an in-house team in order to respond to a business requirement. In general, this model is used in specific projects to cover skill gaps in the in-house team. Working with an agency makes it much easier to locate the appropriate skillset and eliminates the need for recruitment and onboarding.
Dedicated Development Team
Dedicated developers or dedicated software development teams originate from full-time software development companies that provide a broader variety of services. In most cases, such a broad collaboration turns a temporary service provider into a reliable partner.
Pricing Models in IT Outsourcing
Time and Material Model
In terms of both budget and project needs, the time and material pricing approach is more adaptable. The project's overall cost is unknown. Depending on the time and work required to accomplish a project, the cost remains unclear until the end. The final cost might differ from the initial estimate. The time and material model offers the following benefits for businesses:
Flexibility
Prioritization of tasks
Simplified agile development
More client control over the project
Fixed Price Model
The fixed price model is a traditional one, with a well-defined goal and a consistent set of requirements. Fixed-price contracts are aimed at deferring payment until the assigned task is done, which is a handy way to keep your budget safe. This approach is suitable for long-term projects, and it provides significant benefits to the outsourcing partner by encouraging them to finish the project efficiently. The fixed price model offers the following benefits for businesses:
Reduced client monitoring
Specified requirements
Costs discussed before the start of the project
Predictable scheduling and planning
Low risk because of predictability
Cost Plus Model
When you want to know exactly what you're paying for, you might explore the cost plus outsourcing approach. This model offers exceptional pricing transparency, allowing you to choose how much to pay each developer. You make a predetermined payment to your outsourcing provider in addition to each member's compensation, which covers services such as hosting, employing, and maintaining your remote staff. The cost plus model offers the following benefits for businesses:
Simple to calculate
Ensures that a company will not lose money
Price stability
Mixed Mode Pricing Model
When you don't have precise specifications but need the project done quickly, a mix of fixed pricing and time and material models can be the perfect option. This model combines the best of both worlds—namely, a fixed duration and cost incurred and a dynamic set of requirements supplied by the time and material model. The mixed mode model offers the following benefits for businesses:
Avoids extra expenditures as a result of unexpected project timetables
More easily controlled timelines
Benefits and Risks of Outsourcing IT Services
Let's take a closer look at what to expect if you rely on IT outsourcing service providers. IT outsourcing has existed for decades, which means that it offers many benefits for companies. Yet, while there are few risks, you should still consider them. In addition, to help you better understand what are the benefits of outsourcing IT services and what risks to consider, we will discuss both short-term and long-term pros and cons of outsourcing.
Advantages of Outsourcing IT Services
Better IT expertise
Outsourced IT provides technical know-how and advanced IT services to explain all possible IT alternatives, evaluate which solutions are the greatest match, and describe how the data center can help the company achieve its objectives. The IT staff is experienced enough to manage the company's hardware, software, network, storage, and any other IT issues at a lower cost.
Cost-Effectiveness
Outsourcing reduces expenses for IT resources and eliminates the cost of recruiting and onboarding internal employees. It is usually done on a monthly basis for a fixed price, though this might vary (as discussed in the section on the pricing models of IT outsourcing), taking into consideration the business goals and needs.
Scalability
As a general rule, companies plan for their present IT requirements and include a minor growth factor. However, when the business evolves, it faces a set of IT issues such as new servers, new software, and storage devices. The new data must be compatible with the old data—an ongoing process that proceeds according to the pace of business growth.
Flexibility
Nowadays, companies must adapt to a constantly changing business environment, which means their IT departments must efficiently respond to quickly changing needs. Vendors frequently have access to a diverse set of resources, skills, and competencies, whereas internal IT personnel might have some skill gaps and restricted capabilities.
Seize a New Market
Outsourcing IT services companies from different marketplaces allows you to build a footprint before your competition does. As a result, you'll be one step ahead in terms of grasping new possibilities and delivering innovation. Being the first to market is critical in today's fast-paced industry.
Tax Savings
If you employ developers through IT outsourcing service providers, you will save time and money on paperwork. With outsourcing, you don't need to worry about taxes, insurance, vacation, or paid leave. As a result, there are fewer legal difficulties as well as unpaid work duties. When you engage a vendor, they handle all the paperwork and legal concerns, regardless of where they are situated in the world. From that perspective, it is reasonable to conclude that outsourcing is extremely cost-effective.
Risks of Outsourcing IT Services
Miscommunication
Depending on the geographical location where you are trying to outsource a vendor, there is a risk of a language barrier, cultural misunderstandings, and differences in work approaches. It is always recommended to look for providers who have good English skills and whose working culture is similar to your own.
Possible Inconsistency Between Business and IT Objectives
Outsourcing vendors lack knowledge of your company's operations. They are familiar with IT and general business concerns, but they do not interact directly with your stakeholders. This is one of the most important topics for discussion when you are signing an IT outsourcing service level agreement.
Less Control
Outsourcing means trusting a third-party provider as much as you trust your own team. However, expectations are not always satisfied. If a company is dissatisfied with the third-party provider, it must coordinate what the outside provider has already accomplished with future IT plans, such as recruiting a professional or employing a different vendor.
Possible Quality Issues
Cost-effectiveness is excellent, but not when it comes at the expense of quality. To avoid problems like this, you'll have to be extremely cautious during the recruiting process. To choose the right service provider and avoid mistakes during the hiring process, you can apply certain tips and tricks that will help you get the most value.
Short-Term and Long-Term Advantages of IT Outsourcing
Short-Term

Long-Term

Pros

Reduction in operating costs
Improved IT management
Improved corporate financial measurements
Access to the latest technology and more resources

Access to a wider pool of technological talent and world-class capabilities
Improved business focus and core processes
Free resources for multiple purposes
Better able to adapt to changing opportunities
Accelerated reengineering benefits

Cons

Loss of control
Possible hidden costs
Miscommunication

Possible threat to security and confidentiality
Possible quality issues
Inconsistency between business and IT objectives
Where to Look for IT Outsourcing Services
Emerging Outsourcing and IT Services Destinations
Eastern Europe has become one of the most attractive outsourcing markets in the world. This region was named one of the Top Outsourcing Destinations for 2021 for a variety of reasons, including a large talent pool, high levels of competency, and cost-effectiveness. Obviously, India and China will continue to be the major outsourcing countries, but Ukraine, Poland, Belarus, and Romania are competing fiercely.
According to several sources and insights, the Top 5 Outsourcing Destinations for 2021 among Eastern Europe, Asia, Latin America, and Africa are the following:
Ukraine
Ukraine is well-known around the world as a destination for software development outsourcing. The nation has become Europe's top supplier of IT services, according to a 2021 IT sector study. Any technological stack and seniority level can be found in Ukraine. Furthermore, the hourly development rates are fair as compared to those in the United States and Western Europe. Ukraine is a popular software outsourcing location because of its convenient time zone, open culture, and a high degree of professionalism.
Hungary
Because of its excellent economic climate, Hungary is a preferred location for R&D facilities. As a result, data show that businesses managed from overseas produce the majority of the technology industry's revenue. IT outsourcing is popular in Hungary for several reasons, including the fact that Hungary is a member of the European Union, which implies that its services meet all European requirements and that Hungary has a steady market and offers extremely high-quality software development services.
Poland
Poland's software development industry is well-established. The nation is situated around the geographic center of Europe, making it highly accessible. Poland's success in the outsourced software development industry is due to a favorable political climate, robust economy, and highly skilled technical staff.
India
It's no secret that outsourced software development services have been one of India's most important exports for a long time. Banking, financial services, insurance, telecommunications, manufacturing, and healthcare are some of the areas with which Indian IT outsourcing firms engage. Low development rates are a clear advantage of outsourcing to India, but many firms confront cultural and language hurdles.
The Philippines
Working with the Philippines has several advantages for Western nations. One of them is that English is the official language. Furthermore, due to the country's history, Filipinos share many cultural traits with Westerners. As a result, communication will be simple. The Philippines can be considered one of the best software outsourcing countries.
IT Outsourcing Services Ukraine
Ukraine is, without a doubt, one of the best-known countries for IT outsourcing. Ukraine's IT business is thriving. According to dou.com research data, it grew by 27 percent in 2017. Ukrainian developers have earned a worldwide reputation as competent and highly talented experts. According to Stack Overflow, Ukraine has around 166,000 developers, and the number is rising year after year thanks to excellent technical education. As a result, the quality of your project will not be affected if you outsource to Ukraine; the only choice is how much you want to pay.
Because a variety of factors impact the price range, it's impossible to pinpoint the exact cost of outsourcing software development. Indeed, the technology utilized for project development, developer's expertise level, location, sort of software you need to produce, and so on all influence offshore billing rates for software engineers. Obviously, the project's characteristics will have an impact on the final cost. However, if you are interested in learning how big the investment could be, you can use our developer's outsourcing calculator to estimate the price of your project.
Conclusion
Based on the information discussed above, it is fair to conclude that IT outsourcing is one of the best ways to collaborate. Before looking for the perfect outsourced IT support services for your company, take the time to clearly define what you want to achieve. Consider in detail the project budget, deadlines, and intended output. Only after that can you start looking for suppliers, as you will have to communicate with them about what you expect from the collaboration. Always keep in mind that the more details you provide, the better the result will be.
After you have identified your business's or project's goals and needs and found some relevant outsourcing companies, you can return to this article and identify the tasks you can outsource, the pricing models that could be relevant to look for IT outsourcing services. If you need even more help, there are tips and tricks on how to choose the right service provider, which can help with your search.
We strongly recommend paying attention to the top outsourcing destinations, especially Ukraine. Ukrainian developers have earned a worldwide reputation as competent and highly talented experts.
At this point, you have all the information you need to make the best possible selection regarding an IT outsourcing provider for your next project.