Go back
Pros and Cons of software development outsourcing to Ukraine
Ukraine is quickly becoming Europe's top software development outsourcing destination. With more than 200,000 professionals on the market and a welcoming business climate, Ukraine must be on the radar of all software development companies looking to hire a new development team or augment their in-house talent pool. In less than a decade, Ukraine has become one of the world's leading IT hubs. But what to expect when outsourcing software projects to Ukrainian development teams?
Why Ukraine?
There are numerous software development companies in Ukraine that provide outsourcing services to western businesses in the IT industry, and there are many reasons as to why western businesses prefer to work with Ukrainian partners. When it comes to software development Ukraine is easily one of the leading European countries due to a massive population of software developers and generally higher education standards. Apart from that, there are more reasons to consider Ukraine as the next best outsourcing destination:
1. Ukraine is a Developing Economy
Yes, Ukraine is far from being a leading economy in Central Europe, which is beneficial for the western companies that might be interested in outsourcing their projects there. Inevitably, this means that hiring Ukrainian specialists is much more cost-efficient, which might be a good thing for the project managers looking to save up some of their projects' budget.
2. Welcoming Business Environment
The Ukrainian government has been working on establishing comfortable and efficient cooperation with the western partners for years. As of now, investing in Ukraine has become easier than ever with the reduced taxation of foreign businesses and IT companies in Ukraine. That is why any software company entering a Ukrainian market gains a considerable advantage.
3. Culture and Values
Ukraine is a European country, which means that it is related to other western countries to a degree. This means that European partners will be working with people who share their worldview, values, and understand their culture. Working with any Ukraine software company, it is easy to see why it is always better to work with people who understand each other and cherish similar values.
4. Great Price to Quality Ratio
Considering the current condition of the Ukrainian economy, the average wages there are relatively low compared to that in other European countries. It means that software developers there would agree to a lower wage than their counterparts in Western Europe would. At the same time, this does not translate into a lower quality of the product they deliver. In fact, Ukrainian software developers have proven their ability to deliver the results that surpass the expectations over the years. This means that the companies can pay less for as good of a job as they would have to finance in the western countries.
5. In-House Team Augmentation
Almost any software development company Ukraine has to offer teams of highly qualified professionals who can embark on any task in any company's roster. In case a company lacks in-house talents, they can throw in a couple of Ukrainian software developers to boost up the efficiency of a domestic team. It is also rather efficient to delegate some tasks to the Ukrainian developers in case of lacking internal human resources and time to finish the task on time. That is how a software company can augment already existing teams with professionals from the top IT companies in Ukraine.
Augmenting a team is also a wise decision for when the company needs to save up some of its budgets. Hiring outsourcing software companies in Ukraine is a great opportunity to save money because these companies generally request lower wages than average western companies do. Cost-efficiency is one of the key components of successful project management, which is why many western companies start to consider hiring Ukrainian professionals.
One of the downsides of team augmentation is that when hiring the outsources from abroad, they might live somewhere on the opposite side of the globe, which means the members of the team cannot work simultaneously. This is a huge problem that disrupts progress. When outsourcing to Ukraine, there is no such issue because it is located just a couple of time zones away from any other European country. In fact, they might be just one hour apart so that most European companies will face no problems working simultaneously with Ukrainian outsourcers. So, outsourcing to Ukraine has some major advantages over other countries.
6. Combination of High-Quality Standards and Cost-Efficiency
Ukrainian software developers rank high in the world's ratings. In fact, Ukrainian developers rank higher than even German professionals in their field, and that fact alone speaks for itself. While there, of course, are other countries with highly developed IT industries of their own, all of them are Western countries, which makes outsourcing too expensive. Ukraine, on the other hand, is a relatively affordable destination for outsourcing. At the same time, Ukrainian outsourcing companies deliver an outstanding quality of the product, which is a great combination.
7. Ever-Expanding Market
The IT industry has become a popular and lucrative target for young people in Ukraine. With the wages much higher than the nation's average, software developers form a sort of an upper-middle-class in Ukraine, making this field extremely attractive to thousands of youngsters. Ukraine has more than 400 tech universities and colleges, which is more than in other tech-oriented countries like Japan or the Netherlands. These educational facilities boast around 30,000 graduates annually, a significant portion of which become truly professional developers.
So far, Ukraine is home to such globally recognized companies as:
EPAM
Game World
Grammarly
Noosphere
Plarium
SoftServe
Jooble
Ciklum
ELEKS
Infopulse
As of now, it is possible to expect the IT industry to develop further in Ukraine, making this country even more attractive as an outsourcing destination. With higher competition and the abundance of professionals, the companies will have to improve the quality of their products and drop their prices so that it will become even more advantageous for the western companies to outsource to Ukraine.
Are There Any Risks?
Those who have already outsourced some projects abroad know of the possibility to face certain problems with this type of business cooperation. For those who are only considering this move, there are some issues to consider:
1. Less Managerial Control
Evidently, people who work on the project will be somewhere in a foreign country, which means that a manager will have little control over how they work and what they do during their work hours.
2. Time Zones
When outsourcing to a country that is located somewhere on the other side of the globe, the time zone incompatibility is inevitable. The outsourced workforce might be working during the hours that are not necessarily comfortable for the in-house teams.
3. Cultural Incompatibility
Sometimes, differences in the worldview and cultures can make cooperation much harder than it has to be. When working with people who represent an entirely different culture, it is crucial to be prepared for the unexpected issues that might arise because of people having different worldviews and attitudes.
How To Deal With the Risks?
Sure, there are risks related to outsourcing to Ukraine, but these risks might be successfully mitigated thanks to the geographic location of the country. Almost any Ukraine software development company that is already on the radar can guarantee timely delivery of the project as well as the proper quality of the end-product. More so, almost all the risks that are inherent to outsourcing become irrelevant due to a favorable geographic location of the country.
More Managerial Control
Ukraine is a European country, which means a project manager can actually go there to visit the team and work with it for the duration of the project if there's a need to. If the company is located somewhere in Western Europe, an hour flight is all it takes for the project manager to visit and communicate directly with the nearshore team. This is the benefit of so-called nearshoring, a type of outsourcing in which the companies delegate their projects to the developers in countries nearby.
Unlike in offshoring to India, for example, the project managers can actually go and see their partners personally, manage their performance, and communicate with the team, which also creates a much stronger bond between the hirer and the outsourcer.
One of the reasons why European project managers might actually visit their team is that they can fly to Ukraine from any European capital and other large cities across Europe. Major airports in Kyiv, Lviv, and Kharkiv host all the major European airlines so that managers can fly to visit their partners in Ukraine on any chosen day.
More so, it is possible to fly to Ukraine from the major airports in the US too, it is not expensive at all, considering the duration of a trans-Atlantic flight.
Time Zones
Working with outsourcing software companies Ukraine can offer, westerners will also be able to enjoy the compatibility of the time zones between their country and Ukraine. Regardless of which European country they live in, Ukraine will be just a couple of time zones away so that the vendors will be working at the same time as the outsourcers. This seems like an insignificant detail, but in fact, it is critical for the efficient performance of the project. It is especially critical for when companies augment their in-house team with Ukrainian outsourcers. This means that they will not be troubled by any night calls or other problems related to time zone incompatibility.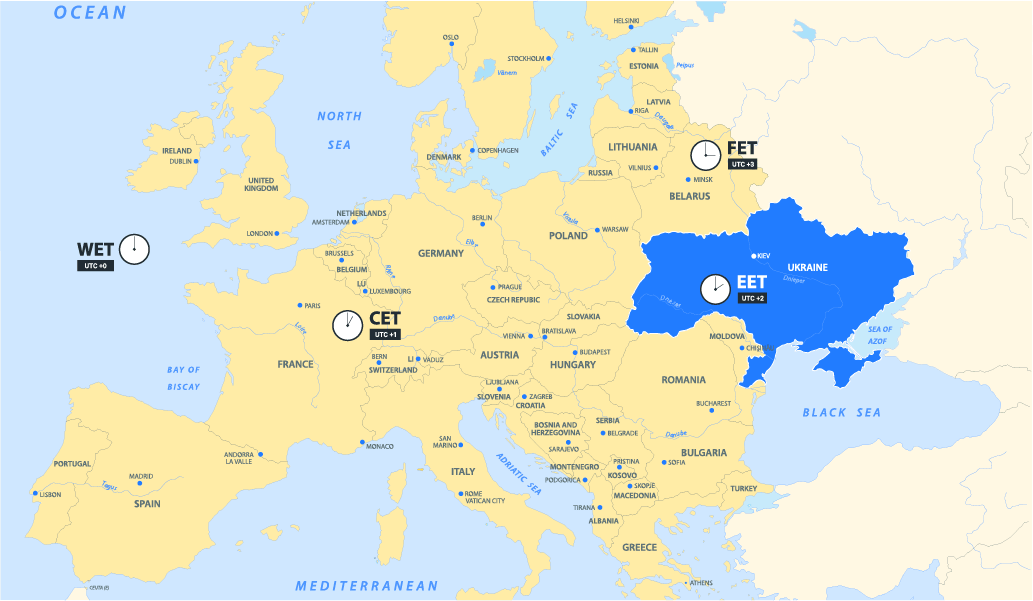 Cultural Competency
Ukrainians have always been a part of European culture and western civilization as a whole. This means that Ukrainians are just like any other European nation in terms of their values, worldview, and general attitude. Simply put, it is easy to work with Ukrainians because they understand and share European values.
No Language Barrier
The majority of young Ukrainians speak English, and most of those working in the IT industry are fluent in English. This is yet another perk of working with Ukrainians: English-speaking companies will face no language barrier.
Most of the problems generally associated with outsourcing become irrelevant when it comes to nearshoring to countries like Ukraine. Most software development companies now aim at working with nearshore outsourcing, and that is exactly why Ukraine becomes a leading software development outsourcing destinations in Europe. Contracting a development company in Ukraine is the best choice for Western European companies due to the numerous benefits of such cooperation.
English proficiency of Ukrainian IT employees according to the dou.ua data: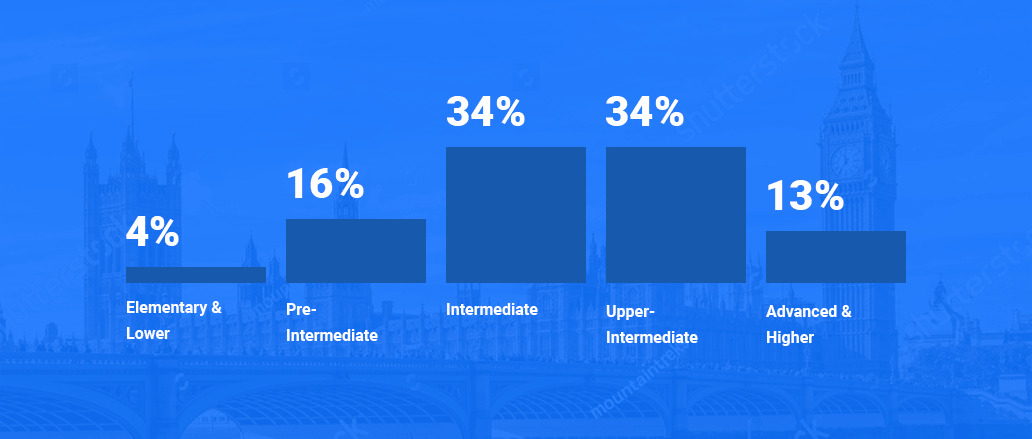 Outsource the Entire Project to Ukraine
Apart from hiring teams of software developers or augmenting the in-house teams, companies can also hire project managers that will take a full scope of responsibilities and lead the project from A to Z delivering the end-result of outstanding quality. Software developers in Ukraine are more than capable of taking care of the most complex projects, and that is exactly why they are rated among the best in the world.
Project management outsourcing is a great way to save time, money, and in-house resources of the company by hiring a foreign company to complete the project. This, however, does not mean the managers have to give up control over the project to the outsourcing company abroad completely. In fact, the manager will still have the most control over the performance of the project. Again, managers will also be able to oversee the performance of the partners personally.
With the country's favorable geographic location, managers will have no problems managing a project either remotely or personally. Ukrainian developers are versatile and capable of handling literally any project.
Wrap Up
Indeed, Ukraine quickly grows into Europe's leading software development centers, and that is exactly why this might be a good time to start cooperation with one of the Ukrainian development companies. Starting a cooperation with the top Ukrainian development companies guarantees a reliable long-term partner.
As of now, there are already hundreds of companies in Ukraine, making the competition even fiercer. For the western company, this might be a perfect opportunity to bargain for favorable contracting conditions. With all of the mentioned factors in mind, it might really be the best shot to contract one of the Ukrainian development companies ASAP and ensure partnership with a loyal, productive, and highly professional partner.